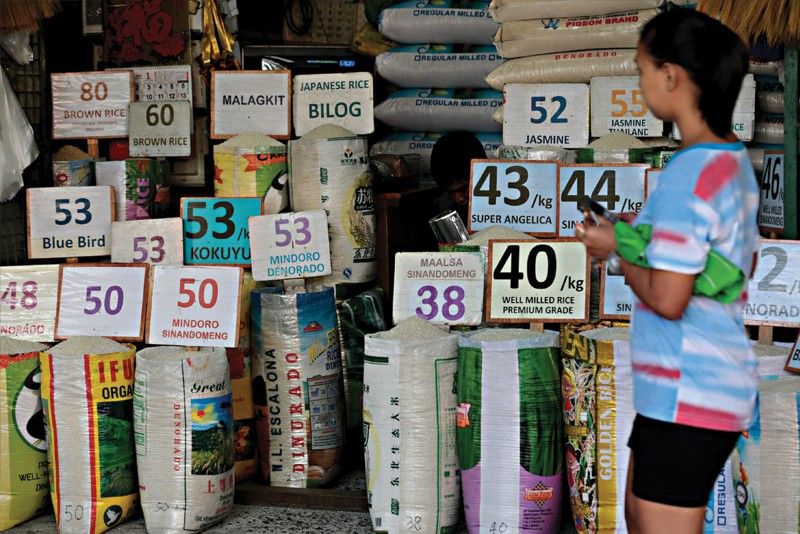 The wholesale price of regular-milled rice was P40.08 per kg, 13 percent higher than the previous year. Its average retail price also increased 11 percent to P42.26 per kg.
Michael Varcas/File
Rice prices up for 8th straight month
MANILA, Philippines — Despite the continuous arrival of rice imports, prices of the Filipino's main staple remain in an upward streak for eight months now, the Philippine Statistics Authority (PSA) reported.
In its regular update on palay, rice and corn prices, PSA said the average wholesale price of well-milled rice rose 10 percent to P43.18 per kilogram at the start of this month versus a year ago while week-on-week prices inched up by a percentage. Its average retail price also increased to P45.71 per kg, up by nine percent year-on-year.
The wholesale price of regular-milled rice was P40.08 per kg, 13 percent higher than the previous year. Its average retail price also increased 11 percent to P42.26 per kg.
For palay, the average price went up to P22.11 per kg from P19.59 per kg last year. Week-on-week, prices were also up by almost two percent.
State-run National Food Authority (NFA) earlier admitted that the imports still have no effect on the expected lowering of prices.
"As of now, no effect. There are areas that have minimal reduction but here in Metro Manila, where we do not have rice production, there is none. If only the whole 500,000 MT arrived all at the same time, we could have seen some reduction," it said.
NFA rice serves as a market stabilizer, minimizing the jacking up of prices in commercial rice.
The Department of Agriculture is hopeful though that the prices of rice would stabilize by end-September with an expected decrease of up to P3 per kg.
The PSA said the country's rice inventory remains on a downward trend as it is now at 1.44 million metric tons as of last week. Based on the average daily consumption of Filipinos of 32,000 MT, the current inventory is only sufficient for 45 days when it is supposed to last for 90 days.
Agriculture Secretary Emmanuel Piñol called on the government to make use of its power to arrest market manipulators amid the continued hike in prices of basic commodities.
He maintained that the current problem is because of traders, middlemen and speculators who are riding on the tax reform issue to justify their market and price manipulation.
"What needs to be done now is for government to exercise its full powers in checking profiteering and price manipulation in the market," Piñol said.
He added that Trade Secretary Ramon Lopez texted him to say that while farm gate prices have dropped, there was no change in the retail prices of commodities in the market.
"This development confirmed what the stakeholders of agriculture and fisheries have been saying all along—the increase in the prices of food commodities happens in the market and does not benefit the farmers and fishermen," he also said as he cited the PSA report that the increase in farm gate prices of food items was only one percent while increase in the prices of food in the market was at over five percent.
"This is the best argument against the proposal of some of economic managers that lifting the tariffs on imported food items would result in lower prices of food commodities. Eliminating the tariffs is not the answer. It is a knee-jerk reaction to a problem which needs institutional reforms like cutting down on the tiers of middlemen and traders who control the food supply chain in the country," he argued.
The DA has already implemented counter-inflationary measures to help ease prices of commodities, including the lifting of the special safeguard mechanism that sets a trigger price of P93.96 per kilogram for poultry, which means that imported chicken brought in at P70 per kg will be charged an additional tariff of P23.96 to place the price at par with P93.96.
It also allowed the importation of round scad or galunggong to fill supply deficiency especially during the implementation of the closed fishing season.
Additional importation of pork under the minimum access volume to ensure that there will be enough supply during the Christmas season has also been set.– With Rhodina Villanueva