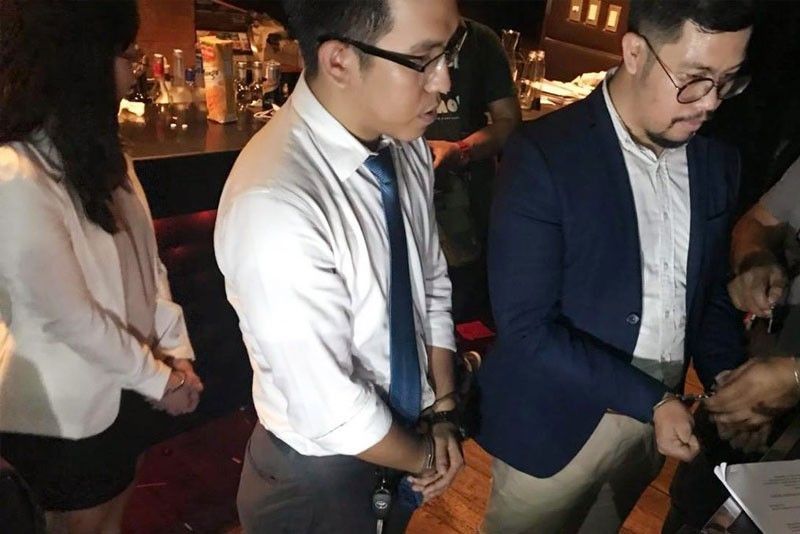 Lawyers Lenie Rocel Rocha, Jan Vincent Soliven and Romulo Bernard Alarcon are handcuffed following their arrest at the Time Bar in Makati City Thursday afternoon.
Image released by the Southern Police District
PNP chief backs cops who arrested Makati bar owner's lawyers
(Philstar.com) - August 20, 2018 - 11:14am
MANILA, Philippines — Director General Oscar Albayalde, Philippine National Police chief, said on Monday that the police are ready to provide Makati police officers who detained lawyers last week with the best legal assistance.
The police chief, in a press conference, stressed that in any operation, there is a presumption of regularity. He added that the Makati cops had a "compelling reason" for detaining the three lawyers.
Albayalde assured the officers involved that legal assistance will be given to them if they cannot find their own lawyers. "Those who can really defend them...they're doing their duties," he added.
Lawyers detained for 'obstruction of justice'
Last Thursday, lawyers Lenie Rocha, Jan Vincent Soliven and Romulo Alarcon were detained for "intimidating" the police conducting a search at TIME bar in Makati.
Makati cops brought the lawyers to the Makati City's Office of the Prosecutor on late Friday afternoon. They filed complaints of obstruction of justice, resistance and disobedience to authority, violation of a city ordinance, and "constructive possession" of illegal drugs against the three lawyers.
The inquest prosecutor recommended further investigation into the case and ordered the lawyers released on Friday evening.
The lawyers' detention drew criticism from lawmakers, lawyers' groups and the Commission on Human Rights. CHR chairperson Chito Gascon said that they sent a quick response team to look into the arrest of the lawyers.
Albayalde, on Monday's flag-raising ceremony, awarded the members of the Makati police unit for the raid at TIME bar that resulted in the seizure of several sachets of illegal drugs.
Lawyers should have presented 'explicit' authority
Albayalde explained that lawyers are allowed to observe while a search operation is being conducted. They should, however, be mindful of the sensitivity of the case.
He said that he has served warrants before where lawyers of the accused are present.
"He could not say that he or she is representing the owner [of the bar]. You cannot march into the police line [while] the search is ongoing," he said in Filipino.
He also stressed that the case is sensitive and tampering of evidence may also happen.
"You should have explicit authority from the owner," the police chief added.
Diane Desierto, partner at the Desierto and Desierto law firm, stressed that the three lawyers were in the said bar "to just monitor the search implementation and inventory-taking as part of standard procedures."
She also stressed that the three identified themselves as counsels for the bar owner.
Albayalde declined to comment on the details of the operation, saying the case is now in court. — Kristine Joy Patag