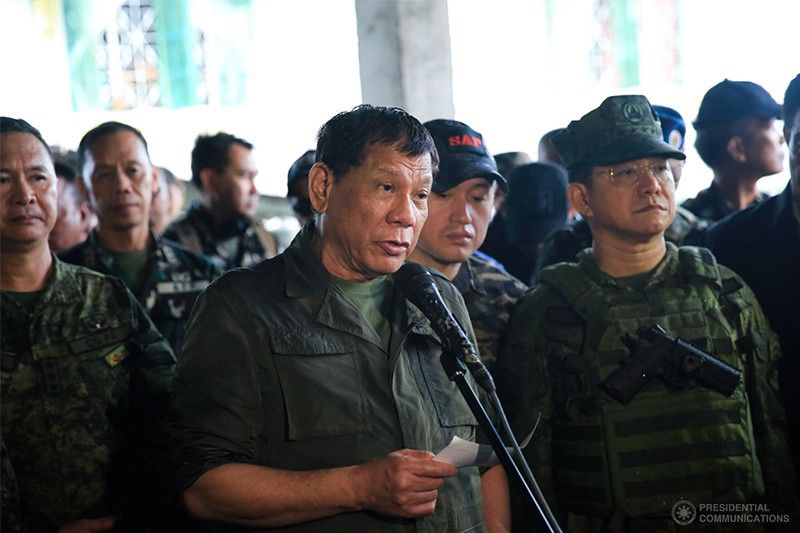 "I was frustrated. But remember that I was addressing myself to the military and the police and nobody else. What you heard was an afterthought, actually," Duterte said at the Hugpong ng Pagbabago Convention in Davao City last night.
File
Duterte: 'Resignation just an afterthought'
MANILA, Philippines — After raising the specter of a military takeover and brushing aside the constitutional provision on succession, President Duterte yesterday said his announced plan to resign was just an "afterthought" – borne out of frustration over the continuing drug menace and corruption.
"I was frustrated. But remember that I was addressing myself to the military and the police and nobody else. What you heard was an afterthought, actually," Duterte said at the Hugpong ng Pagbabago Convention in Davao City last night. He cited in particular his getting wind of the anomalous activities of some officials at the V. Luna Medical Center.
After he finishes his term, Duterte said he would leave the government "in the hands of Filipinos who simply love their country."
At a Go Negosyo event earlier this week, Duterte said he was thinking of resigning out of exhaustion, but made it clear he didn't want an "incompetent" Vice President Leni Robredo to take his place and that he would rather have a military junta succeed him. Under the Constitution, the vice president succeeds the president if the latter dies or gets incapacitated.
Yesterday, Duterte explained that he was just venting out his exasperation after learning that the funds intended for hospitalization and medicines of soldiers at the V. Luna Medical Center had been misused by some of its officials.
The President recently ordered the relief and start of court-martial proceedings against Brig. Gen. Edwin Leo Torrelavega, head of the AFP-HSC; Col. Antonio Punzalan, commander of the V. Luna Medical Center, and 18 other individuals over alleged anomalies at the military hospital.
Duterte said he allotted some P50 million to V. Luna Medical Center but this supposedly ended up in the pockets of corrupt military officials.
"And I said to them, 'Ano kaya gusto ninyo mag-resign ako ngayon (That's why you want me to resign)? I am challenging you, everyone of you to – kung sinong interesado (whoever is interested), just stand up. What's the – stand up and sabihin mo (just say it)'," Duterte said.
"If the Air Force, Navy, Marines, Police, all the major commands tell me to 'step down'. Fine. Mas pagod ako sa inyo (I'm more exhausted than you)," he said with expletives.
"And so I said, because I will – you will, after I shall have stepped down, magulo 'yan. Magulo 'yan kasi sabihin nila," he said.
Duterte said he made the declaration not because he was afraid of the military or the police, but because he wanted them to toe the line and follow his order.
He directed the officials of the uniformed services to "better shape up" because his commitment to fight corruption is on the line.
Constitutional restrictions
His chief legal counsel Salvador Panelo, meanwhile, said President Duterte may have raised the scenario of a takeover by a military junta, as he is aware of constitutional "restrictions" that keep the leadership from getting things done.
"Well, perhaps what he is saying is, if you follow the Constitution, there has been—there are many restrictions that will tie the President in doing things that should be done," Panelo said in an interview with ANC. A military takeover, he said, could just be one of the scenarios in the President's mind.
"And a military junta, if ever there is one, would not follow the Constitution, and whoever is placed by the military junta could do things extra constitutionally," he said.
"I think the point is, right now, 'I'm shackled by many restrictions.' But again, knowing this President as he repeatedly said, there are powers in the Constitution that he can use, even without declaring martial law or declaring a revolutionary government," he pointed out.
But he could just be testing the waters after all, Panelo said, adding the Chief Executive has been transparent about his thoughts and feelings – something many Filipinos find endearing.
He also said he doesn't think Duterte is resigning. "He has been saying that he is not a kind of man that will stick or clinch to an office. If he sees and feels that the situation is ripe for him to step down, he will. But not now, I don't think so," Panelo said.
He also doused speculations over the President's health. "I think the statement was more of an expression of exasperation, a cry of sheer disgust over what's happening vis-a-vis the drive versus corruption," he added.
The President's "intention is precisely to tell the people that he is disgusted, exasperated, he wants to resign, but he will not do it," he said.
"He's so pissed off, but knowing him, he is not a quitter," Panelo added.
He also said Duterte has no intention to influence the deliberations of the Presidential Electoral Tribunal (PET) on the election protest filed by former senator Ferdinand Marcos Jr. against Robredo.
"I think that was more of a comparison between the vice president and Mr. Marcos given the qualifications that the two have," Panelo said. "He just wants to compare this particular person to another," he said.
Panelo said Duterte has no power over other constitutional bodies such as the PET.
"The President's statements on matters pending in any court will not affect that particular jurisdiction with respect to any decision it will make," he pointed out.
For the Philippine National Police (PNP), backing a military junta is out of the question.
"As far as the Philippine National Police is concerned, I thinks that's also made clear by the Armed Forces of the Philippines – we will follow what's written in the Constitution," PNP spokesman Senior Supt. Benigno Durana said in a press briefing yesterday at Malacañang.
He stressed the PNP is squarely behind the President and rule of law and that the people should be just as supportive to the administration.
"We should learn from this migratory bird, the geese… they rally behind their leader when they fly long distances," he said. "The rest of the flock is cheering, encouraging the leader, etc. I think that's also holds true to us. We can go long distances in our journey as a nation if we'll support and, you know, encourage our leader – in this case, our President," Durana said.
The PNP spokesman added the PNP and the rest of the Filipino people should "encourage our father" and "not contribute to his already monumental problems."
"That is why the PNP is working doubly hard to make sure that it implements the President's order to go after illegal drugs as much as possible, not to give him a lot of headaches," Durana said. It is only under Duterte's watch that the PNP is getting full support, he said.