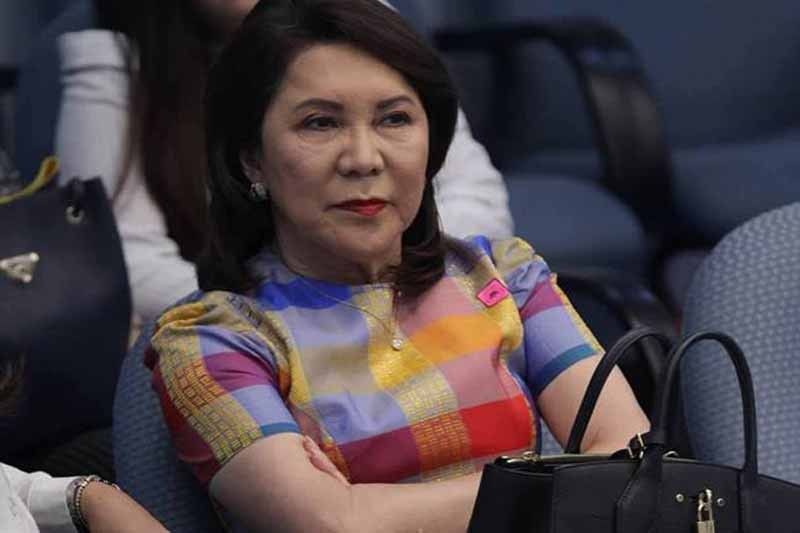 In this Aug. 14, 2018 video, former Tourism chief Wanda Corazon Tulfo-Teo attends the Senate hearing into the controversial advertisement deal.
The STAR/Mong Pintolo
Teo on alleged Duty Free spending: Oh my God, I can afford
Rosette Adel
(The Philippine Star) - August 15, 2018 - 12:32pm
MANILA, Philippines — Resigned Tourism Secretary Wanda Tulfo Teo has denied the allegations that she misused the Department of Tourism's funds from the Duty Free Philippines Corp.
When asked about the Commission on Audit's report flagging the DOT for the P2 million in-worth of branded and luxury merchandise taken out of Duty Free's stocks, Teo vehemently denied that she received these items, citing that she can afford them.
"This is for coporate accounts, hindi ako puwedeng magturo. I can afford," she said in ANC's Headstart on Wednesday.
Teo furthered that all documents would show that "not a single signature" indicated that she received the supposed items.
The former DOT chief explained that items from Duty Free are given to the clients who solicits from them and for events. Instead of cash, Teo said corporations prefer to receive payment in goods.
She added that funds are from the shared earnings with the Tourism department.
Duty Free is a state-owned attached agency of the DOT. It sells tax-free luxury items and is tasked to augment the service facilities for tourists and to generate foreign exchange and revenue for the government as mandated by the Executive Order No. 46, which created the corporation.
Late June, COA released its 2017 annual audit report on Duty Free indicating that DOT should be billed for merchandise amounting to more than P2 million.
READ: COA wants DOT billed for over P2M in Duty Free items
COA said the items were authorized by DOT officials to be delivered to their respective offices and charged to the "trust liability-DOT account."
The withdrawn merchandise consisted of toiletries, kitchen wares, beddings, appliances, canned goods, branded bags, luxury brand cosmetics, chocolates and others," the audit observations and recommendations of COA read.
Teo, however, maintained that she did not get these items for personal use because the items will not even fit her condominium.
"Hindi ko type ang Coach bag. Puwede ba? That's why ang sakit sakin. They were saying even the Rolex watch, I've been using Rolex watch from the start and there's no Rolex watch at Duty Free," Teo said.
"Are they selling watch? Do they have signature bags?" she said, adding that she even asked Duty Free to upgrade their merchandise for tourists who prefer "signature" pieces.
Due to the allegations, Teo said she feels insulted.
"Insulted because... oh my God I can afford because I go out of the country. I've been traveling a lot even before I was a secretary," Teo said.
"Mayabang siguro sasabihin. Sasabihin siguro ng anak ko: 'wag ka magyabang, Ma.' But hindi ko type talaga," the former Tourism chief said.
She added that she does not buy luxury items in the Philippines because of limited brand options and that signature pieces are cheaper abroad due to global tax-free privilege.
"Bakit pa ako bibili dito?" she said.
Foreign travelers, depending on the country, can enjoy tax-free shopping, which means obtaining a sales tax refund after purchasing an item in a foreign country.
'Questioned consultancy fees was from previous administration'
Teo also clarified that the expenditures for consultancy fees and expenses for shipment of donations worth P1.6 million and P22,893, respectively questioned by COA are from the previous administration.
She said the consultant of her predecessor has not been paid by former DOT chief Ramon Jimenez since 2011 so the agency shouldered it when she took over the post.
These fees were deducted from the DOT's share in Duty Free's net profits.
"I paid for it until 2017," Teo said.
In April, the COA also questioned the state-run People's Television Network for paying P60 milliion to Bitag Media Unlimited Inc. (BMUI) with lack of supporting documents.
PTV-4 made the payments for airing tourism advertisements, carried by program "Kilos Pronto." The show is run by PTV-4's blocktimer, BMUI, owned by Teo's brother Ben Tulfo.
Teo resigned early May after the deal made it to the headlines.