Intense rainfall spawns sea of garbage
August 12, 2018 | 12:00am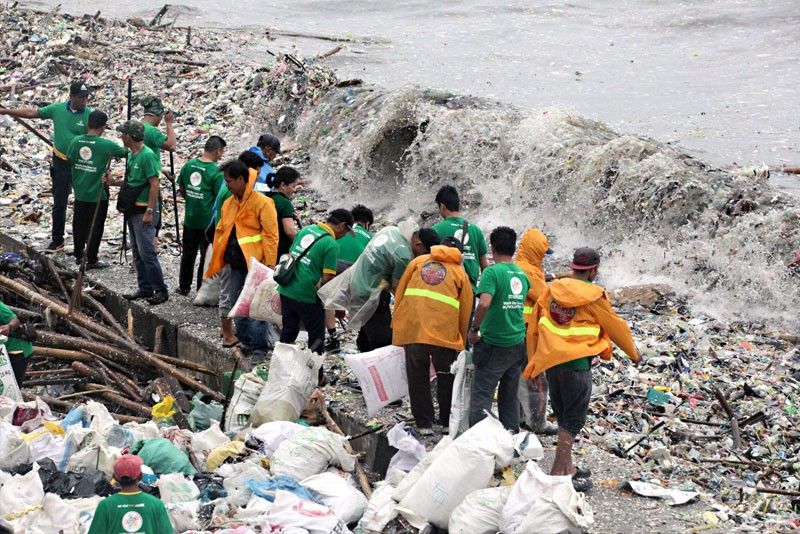 MANILA, Philippines — The stretch of Roxas Boulevard looked like a sea of trash yesterday after Manila Bay overflowed due to heavy rains.
Loads of trash, mostly plastic and styrofoam, from the sea were scattered along Roxas Boulevard, both lanes of which were flooded yesterday morning.
Netizen Tim de Asis posted a video on Instagram, surprised at the traffic so early on a Saturday. "I was surprised by a sea of trash," De Asis said.
Twitter user Kate Angeles said the flooding along Roxas Boulevard that caused heavy traffic was Mother Nature's retribution for our trash.
"Manila Bay's retribution. When are we ever going to learn? So sad," she said on Twitter.
Volunteers, mostly from the Land Bank of the Philippines (LBP), picked up the garbage.
It coincided with the LBP volunteers' annual Manila Bay clean-up where over 2,000 members of the Manila Bay SUNSET Partnership Program Inc. (MBSPPI) participated.
MBSPPI is LBP's flagship corporate social responsibility program since 2009 to help in the rehabilitating of Manila Bay.
One of the activities was building bricks out of trash by tightly packing scraps of plastic inside PET bottles, called Ecobricks, which would then be used to build household furniture like chairs and tables.
Around 750 kilograms of plastic scraps were collected by LBP employees to build some 3,000 EcoBricks assembled to form 100 eco-chairs, which will be donated to the Manila Department of Social Welfare.
Saturday classes suspended
The heavy downpour experienced in Metro Manila and nearby provinces yesterday prompted the suspension of Saturday classes by some local government units.
In Metro Manila, among those that suspended classes were the city governments of Manila, Caloocan, Malabon, Marikina and Valenzuela.
Among those that suspended classes were the administrations of Trinity University of Asia and University of Philippines Diliman in Quezon City.
Classes in all levels were also suspended in some parts of Bataan (Dinalupihan and Hermosa) and Rizal (Antipolo and Cainta).
Marikina River's level rises
At least 500 families in Marikina City were evacuated yesterday due to floods brought by the southwest monsoon.
The Marikina River's level had risen to 18.01 meters as of 4:50 p.m. yesterday, prompting the local government to raise the third alarm and evacuate residents.
An initial report from the city disaster risk reduction and management office said 528 households or 2,530 individuals were brought to safer grounds.
Majority are from Barangay Malanday with 362 families or 1,795 persons.
Karding outside PAR
Tropical Storm Karding is outside the Philippine area of responsibility, the Philippine Atmospheric, Geophysical and Astronomical Services Administration (PAGASA) said.
At 3 p.m. yesterday, the center of Karding was at 805 kilometers northeast of Basco, Batanes.
With maximum sustained winds of 75 kilometers per hour (kph) near the center and gustiness of up to 90 kph, Karding was moving northwest at 25 kph.
PAGASA said the southwest monsoon enhanced by the tropical storm will continue to bring scattered to widespread monsoon rains over Northern Luzon, Central Luzon and the western section of Southern Luzon.
"In particular, moderate to at times heavy rains is expected over Metro Manila, Ilocos Region, Cordillera Administrative Region, Zambales, Bataan, Tarlac, Pampanga, Bulacan, Cavite, Laguna, Batangas and Rizal," PAGASA said.
Residents of these areas are advised to take appropriate actions against possible flooding and landslides, coordinate with local disaster risk reduction and management offices and continue monitoring for updates.
Since Thursday evening, hikes and treks at Mt. Pulag National Park in Kabayan were temporarily suspended due to moderate to heavy rains.
PAGASA also warned that sea travel remains risky over the western seaboard of Luzon even though no tropical cyclone warning signal was issued.
PAGASA also monitored another tropical depression at 1,050 kilometers northwest of Extreme Northern Luzon. With maximum winds of 55 kph and gustiness of up to 90 kph, it is moving north at 15 kph towards southeastern China and has no direct effect on any part of the country. – With Rhodina Villanueva, Jaime Laude, Janvic Mateo, Artemio Dumlao, Ramon Efren Lazaro