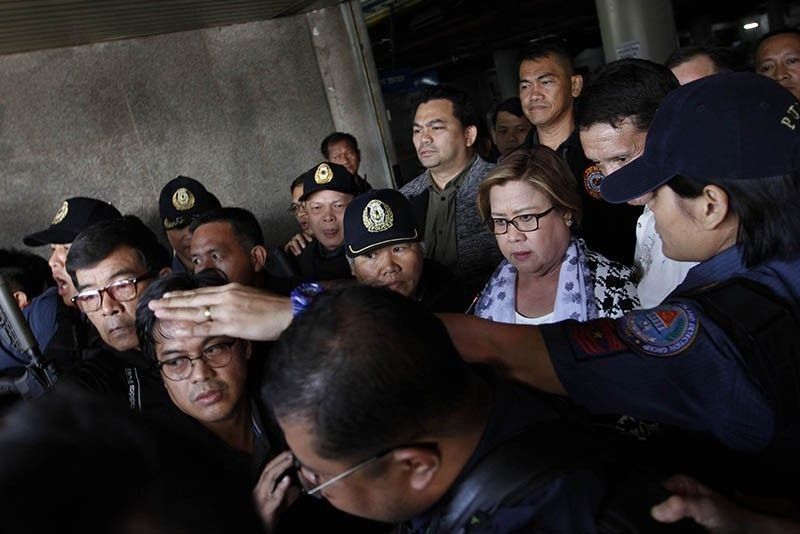 In this Feb. 24, 2017 photo, Sen. Leila De Lima turns herself in to the Philippine National Police CIDG team at the Senate building in Pasay City.
PNA/Avito C. Dalan, file
De Lima arraigned on second drug case
(philstar.com) - August 10, 2018 - 12:23pm
MANILA, Philippines — Sen. Leila De Lima was arraigned Friday in her second drug case, more than 17 months since she was detained on drug-related charges.
The STAR reported that De Lima attended the hearing at the sala of Presiding Judge Amelia Fabros-Corpuz, at the Muntinlupa Regional Trial Court Branch 205.
As in the first case where she was arraigned, De Lima refused to enter a plea in the drug case lodged before Branch 205.
JUST IN: Sen. De Lima refused to enter plea for drug charges filed against her before Muntinlupa RTC Branch 205. The court entered not guilty plea for her. | @iambertramirez

— The Philippine Star (@PhilippineStar) August 10, 2018
Following the rules of court, Judge Cruz entered a not guilty plea for De Lima.
De Lima is accused of having a hand in the proliferation of the illegal drug trade inside the New Bilibid Prison during her stint as Justice secretary. She has repeatedly denied the allegations against her.
The Department of Justice first filed drug trading charges against her, but state prosecutors later amended the charge sheet to file a case of conspiracy to commit drug trading.
De Lima's camp has opposed this move to amend information and said that an indictment on a different charge should merit a new investigation at the Department of Justice.
First arraignment
The detained senator was arraigned on July 27 before Muntinlupa RTC Branch 206.
The senator refused to enter a plea, saying that she "[does] not recognize the legitimacy and the validity of the charges" against her.
De Lima faces drug charges before at the Muntinlupa courts.
She was ordered arrested on February 2017 and has since then been detained at the police headquarters in Quezon City. — Kristine Joy Patag with a report from Robertzon Ramirez