Navy successfully test-fires missile system
August 10, 2018 | 12:00am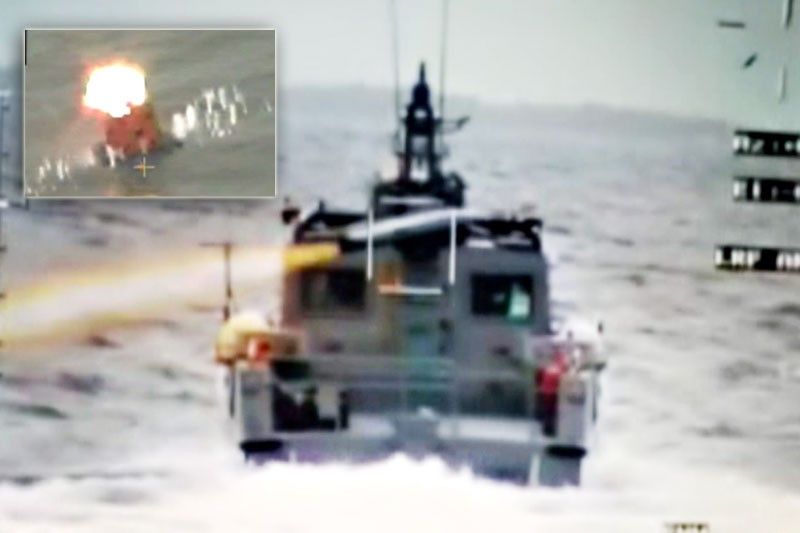 MANILA, Philippines — The Philippine Navy (PN) successfully tested the effectiveness of its first missile gunboat yesterday.
The Navy gunboat blasted a designated target using an Israeli-made Spike ER (Extended Range) missile in a naval drill held off Limay, Bataan.
Navy spokesman Cmdr. Jonathan Zata said from a distance of six kilometers, the Spike ER missile system-installed Multi-Purpose Assault Craft (MPAC) accurately neutralized its target.
Zata said testing was in line with the acceptance phase of the Department of National Defense (DND) of its missile procurement project for the Navy.
"The PN together with teams from Rafael Advanced Defense Systems Ltd. and the DND's Technical Inspection and Acceptance Committee (TIAC) oversaw the test firing activity," Zata said.
He added the missile exercise included the firing of mini-typhoon machine gun system that was also installed on the MPACs for final acceptance into the Navy.
Around to witness the missile firing test were Navy chief Vice Admiral Robert Empedrad and other senior naval officers and defense officials.
"A Spike-ER missile was fired and accurately hit the designated target at approximately six kilometers away from the firing platform. The target was hit dead center even if the sea condition was moderately rough with waves at least one meter high but within the normal firing conditions of the missile," Zata said.
The PN's MPAC Acquisition Project entered into a contract with Rafael, through Israel's Ministry of Defense, for the supply and integration of the weapons systems to three locally made MPAC platforms.
On April 15, 2017, Defense Secretary Delfin Lorenzana approved the Notice to Proceed.
The above-mentioned MPACs were constructed by the Subic-based Propmech Corp. and activated on May 22, 2017.
"Another actual live firing demonstration of the Spike ER missile will be scheduled with the commander-in-chief, the President of the Philippines, in attendance," Zata said.
The Spike-ER system, which arrived in the country last April, is the Navy's first missile weapon capable of penetrating 1,000 mm of rolled homogeneous armor and having a range of eight kilometers.