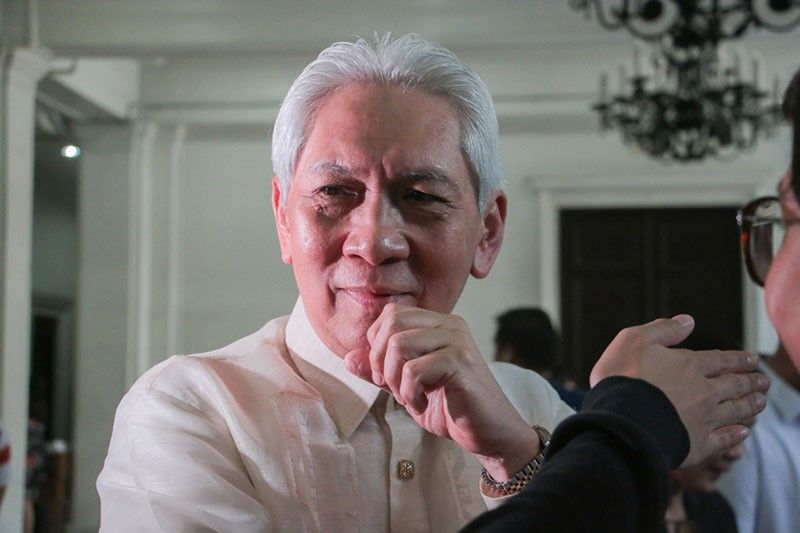 Ombudsman Samuel Martires' stance is a departure from that of his predecessor, Conchita Carpio-Morales, who had refused to enforce an earlier suspension order against Overall Deputy Ombudsman Carandang.
Philstar.com/Erwin Cagadas
Martires: 'No choice' but to enforce Palace dismissal of Carandang
(Philstar.com) - August 6, 2018 - 12:05pm
MANILA, Philippines — Ombudsman Samuel Martires on Monday said that he would have "no choice" but to enforce the Palace's dismissal order against Overall Deputy Ombudsman Melchor Carandang.
In a report by The STAR, Martires said that he will carry out the dismissal order from the Office of the Executive Secretary. This, despite a 2014 Supreme Court ruling that voided the president's disciplinary jurisdiction over a deputy ombudsman.
Martires noted that Carandang still has 15 days to file a motion for reconsideration to overturn his dismissal. Should the appeal be denied, Martires said he has "no choice" but to dismiss him.
He added: "But it will depend on ODO [Carandang]...I don't think he's that hard-headed. I see him as a very reasonable guy. I knew him since I was in the Sandiganbayan. I think ODO Carandang will just follow what the law provides."
Pressed on whether Malacañang has the power to dismiss Carandang, who is an Office of the Ombudsman executive, Martires said: "No comment. No comment. Wag niyo 'ko ipitin diyan. (Don't back me into a corner on this.)"
He also said jurisdiction over Carandang's case is "a matter that is left to the courts to decide."
His stance is a departure from that of his predecessor, Conchita Carpio-Morales, who refused to enforce the Palace's earlier suspension order against Carandang.
The order against Carandang emanated from the complaint filed by lawyer Manuelito Luna, and suspended lawyer Eligio Mallari in October last year.
The two accused Carandang of corruption for causing "undue injury to any party, including the government," as well as for giving "unwarranted benefits" through "manifest partiality" and for "divulging valuable information of a confidential character."
The complaint involved a media interview where Carandang was quoted as saying that his office had already received the bank transaction records of the president's family from 2006 to 2016 from the Anti-Money Laundering Council—a statement that was later denied by the money laundering watchdog.
Carandang on October 3 maintained that his office "has observed confidentiality" in the probe into Duterte and his family's bank transactions.
Morales on suspension order
In January, Malacañang ordered a 90-day preventive suspension against Carandang after it decided that the Ombudsman executive had committed grave dishonesty for misuse of confidential information and disclosing false information, under the Anti-Graft and Corrupt Practices Act.
But Morales, citing the Supreme Court ruling on Gonzales III v Office of the President, said that the suspension order was "patently unconstitutional."
The said SC ruling held as illegal the administrative disciplinary jurisdiction of the president over deputy ombudsmen. The SC ruled that Section 8(2) of RA 6770 or The Ombudsman Act of 1989 was unconstitutional by granting discplinary jurisdiction to the president over a deputy ombudsman as it violates the independence of the Office of the Ombudsman.
"The ombudsman will thus not allow herself to betray her sworn duty to uphold the Constitution by recognizing what is patently unconstitutional," a statement from the office of Morales said.
Martires, on Monday morning, took his oath as the country's new chief graft-buster before Acting Chief Justice Antonio Carpio.
He was President Rodrigo Duterte's first appointee to the SC. Martires, who turns 70 next year, was appointed ombudsman before reaching the mandatory retirement age for a justice. — Kristine Joy Patag with a report from Edu Punay