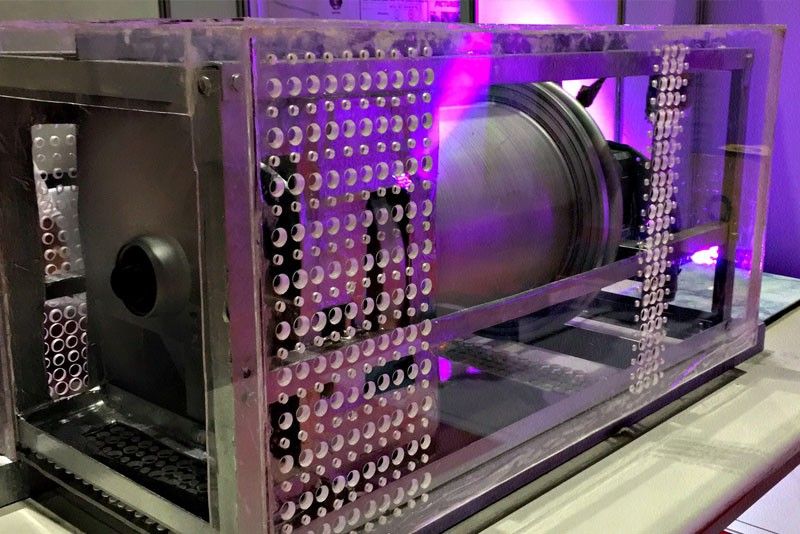 Philippine Science High School graduate Maria Yzabell Angel Palma has garnered international awards for inventing AirDisc, an energy-efficient air conditioner that relies on manipulating air pressure rather than harmful hydrofluorocarbons to generate cold air.
Teenage student develops 'green' air-conditioner
MANILA, Philippines — A 19-year-old student has developed an energy-efficient air-conditioner that could revolutionize the way homes are cooled and leaves virtually no carbon footprint.
Maria Yzabell Angel Palma, an incoming mechanical engineering freshman student at the De La Salle University (DLSU) in Manila, invented the air-conditioning unit using a disc-shaped compressor based on low compression pressure and high volume of air molecules as refrigerant.
The current air-conditioning systems use piston or rotary compressors with pressure and low volume with the harmful hydrofluorocarbons (HFCs) as the medium of cooling.
Palma said she developed the revolutionary system of cooling as her research project when she was in senior year at the Philippine Science High School in the Bicol region.
Palma's invention of the AirDisc technology was "accidental" as she had started working on an eco-friendly oven concept for her Research subject when she was in Grade 10.
The energy-efficient oven technology was dubbed the AirWave Oven, she recalled.
While further developing the AirWave oven with which she was using copper tubes, Palma said it resulted in emitting cold air at the end of the tubes.
"So I thought why not just develop something from this?" she recalled.
One of the highlights of Palma's achievements as a student-inventor is this air-conditioning technology, which features a centrifugal compressor that uses rotating concentric air tanks with air inlets that continuously take in enough air molecules from a room for compression.
The generated heat from the compression of air is separated and thrown out to the atmosphere while the resultant compressed air molecules with less heat are allowed to expand. This process effectively lowers the room temperature continuously.
Palma said she and her father, Bernardo Angel Palma are now looking for local and foreign partners who will commercially manufacture the AirDisc airconditioner.
Palma, from Naga City, said she and her father have started aggressively looking for manufacturing partners after recently completing the online application process for patent with the United States Patent and Trademark Office (USPTO).
Palma said she decided to file at the US patent agency since they ultimately plan to bring the AirDisc to the US.
She explained the US and the Philippines are among 152 "contracting states" of the Patent Cooperation Treaty that assists the world's inventors and innovators seeking international patent protection for their inventions.
Palma admitted she was excited with the potential of her AirDisc technology to become the preferred airconditioning option for homes and offices, not just in the Philippines but in other countries.
"One of the advantages of AirDisc is that it only uses 350 watts of power consumption, compared to 1,200 watt power consumption of the traditional airconditioners," she said.
Palma said the prototype they will manufacture commercially was further improved, consuming only 150 watts for a 0.5 horsepower unit.
"The prototype I researched on used 350 watts but the commercial prototype that will be available in the market will only be 150 watts," she said.
Palma stressed the AirDisc also does not use freon for cooling, meaning it dispenses with harmful emission of HFCs into the atmosphere.
Scientists tagged HFCs as one of the major causes of depletion of the earth's ozone layer.
Notably, it is expected that many will consider AirDisc to be the timely answer to the United Nation's Kigali mandate to phase out HFCs chemical refrigerants. Scientists claimed a kilo of HFC is equal to roughly 20,000 kilos of CO2 greenhouse gas.
Palma, the youngest of six daughters, said that she had gotten a lot of help from her father, Naga City-based food entrepreneur Bernardo Angel, a mechanical engineering graduate of DLSU-Manila.
The younger Palma has been the pride of the Department of Science and Technology (DOST) and its Philippine Science High School System (DOST-PSHSS), with her AirDisc becoming a consistent winner of top medals and recognition in international inventions conferences.
The AirDisc has won gold medals from the World Inventors Contest 2017 in South Korea, the International Invention Innovation Competition 2017 in Canada, and the International Intellectual Property Invention, Innovation and Technology Exposition Thailand 2018.
Science Secretary Fortunato dela Peña said they are ready to provide Palma with technology and financial support to further develop the AirDisc.