Arroyo OK with separate voting with Senate in constituent assembly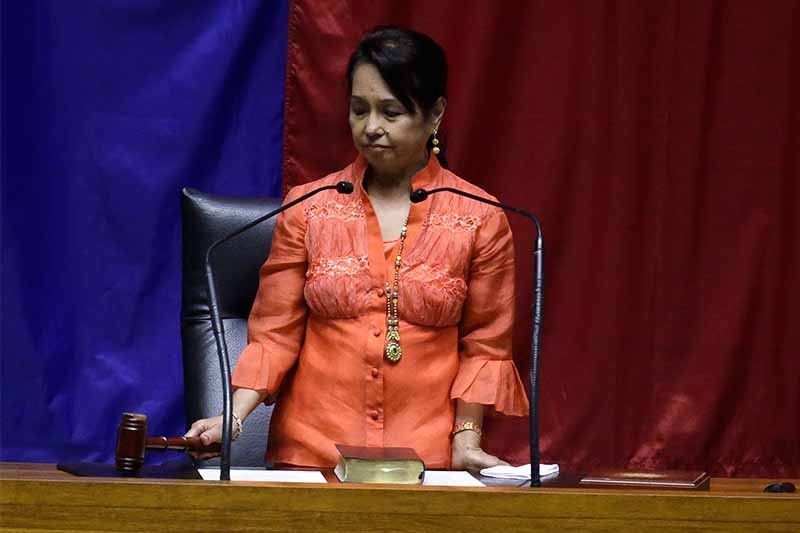 MANILA, Philippines — Speaker Gloria Macapagal-Arroyo on Wednesday said it would be more "realistic" to have separate voting for the Senate and the House in a constituent assembly, a stark departure from the position that her predecessor stressed.
Rep. Pantaleon Alvarez (Davao Del Norte), who was ousted as speaker in a leadership showdown at the House last week, stressed that the Senate and the House should vote jointly on proposed amendments to the Constitution.
If this happened, this meant that members of the House could easily outvote their counterparts in the Senate, who were adamant in stressing that the Constitution provided for separate voting if the chambers convened into a constituent assembly to hear proposals to change the 1987 Constitution.
In a greening project along a motorway north of Manila, Arroyo said her chamber would work with the Senate in hearing changes to the country's basic law in a constituent assembly.
When asked if she agreed to separate voting for the two houses, she answered in the affirmative.
Arroyo said that separate voting would result in progress in efforts to change the constitution, one of the priorities of President Rodrigo Duterte.
"[It's] better to move forward and achieve something than be stubborn and achieve nothing," the former president said.
She also recalled the "stalemate" that she encountered in the issue during her presidency.
During her presidency, Arroyo also opened the "great debate on charter change," but this failed to prosper amid fears that this would lead to the continuation of her stay in power.
During the time of Alvarez, he was adamant that the two houses vote together, to the point that he threatened to go alone in the matter if the Senate would not accept his interpretation of the Constitution.
Several senators rejected this and said they would not agree to convene a constituent assembly if this would be the mode of voting to be adopted.