Philippines enjoying economic rights gained from arbitration — Cayetano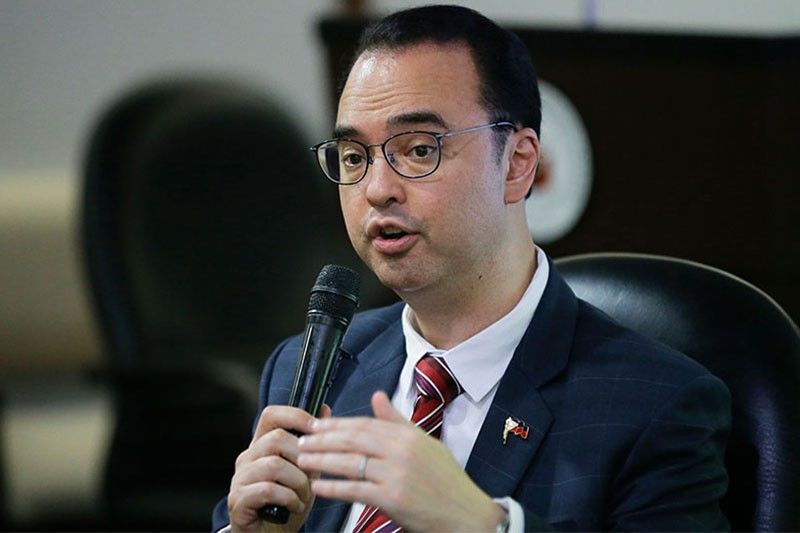 MANILA, Philippines — Amid criticisms from the previous administration, Foreign Affairs Secretary Alan Peter Cayetano insisted that the Philippines is implementing the sovereign rights it has gained from the arbitration award on the South China Sea.
The Philippines' top diplomat, however, admitted that the Philippines is "co-controlling" with China on the disputed waterway.
"I can argue that we're now under co-control or at least co-coordination with China and three out of four of our sovereign rights in the arbitration award are implemented now," Cayetano told reporters Tuesday.
Hitting back at critics who have been suggesting to pursue the Aquino administration's policy toward Beijing, Cayetano insisted that their strategy did not produce results.
The Philippines, under Aquino leadership, pursued the arbitration against China, which later on resulted to a victory for the country. The arbitral tribunal ruled that Beijing violated its commitment under the United Nations Convention on the Law of the Sea when it constructed artificial islands within Manila's exclusive economic zone.
"What did the award say? Awards says first: fisheries. Before, we were not able to fish bit now we can already fish. There's a tentative fishing agreement," the secretary said.
The Foreign Affairs chief also noted that the Filipinos are now guaranteed safety of life at sea when there are storms as there are arrangements on the matter. The Philippines also has tentative agreements with different parties for environmental protection, according to Cayetano.
"Last is oil and gas which we are, as I said, working on. We're looking for a framework," Cayetano said, referring to a possible joint exploration with China in the South China Sea.
"Joint development is one mechanism of cooperation by countries in areas in dispute and we will not be the first country to do it," he added.
Former President Benigno Aquino III had called on President Rodrigo Duterte to be more transparent to the public on negotiations with China, particularly on the disputed South China Sea.
The former president asked when binding rules based on the Code of Conduct in the South China Sea can be released.
"We request that perhaps they can bare their negotiations, be more transparent with their dealings so that the public would have no concern for worry," Aquino said over the weekend.