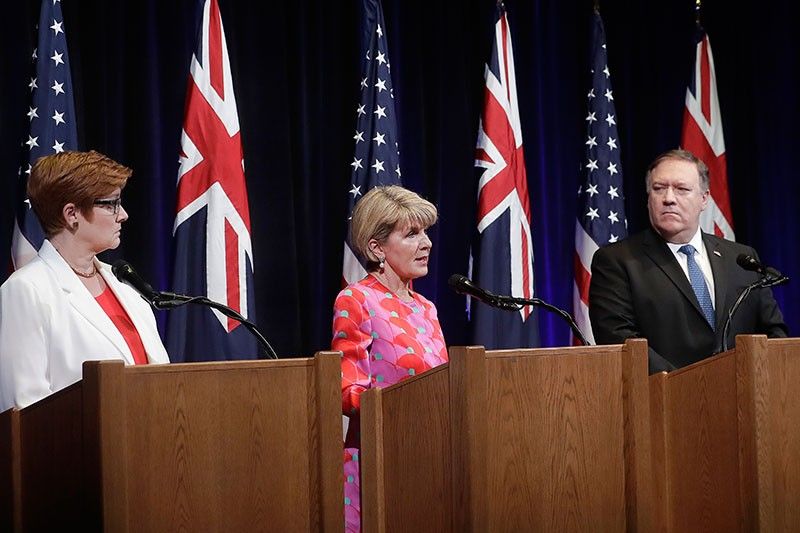 Australia Foreign Affairs Minister Julie Bishop, center, speaks between Australia Minister for Defense Marise Payne, left, and U.S. Secretary of State Mike Pompeo at a 2018 Australia-U.S. Ministerial (AUSMIN) Consultations news conference in Stanford, Calif., Tuesday, July 24, 2018.
AP/Jeff Chiu
US, Australia reaffirm right to pass through South China Sea
MANILA, Philippines — Top American and Australian officials reaffirmed their commitment to freedom of navigation and overflight in the disputed South China Sea in response to China's expanded militarization in the region.
US Secretary of State Mike Pompeo, US Defense Secretary Jim Mattis, Australian Foreign Minister Julie Bishop and Australian Defense Minister Marise Payne stressed that militarization of the contested waterway is contrary to the region's goal of peaceful development.
"Both sides called for the Code of Conduct for the South China Sea to be consistent with existing international law, as reflected in UNCLOS, to support existing regional architecture, to reinforce the parties' commitment to cease actions that complicate disputes and not to prejudice the interests of third parties or the rights of all states under international law," the joint statement after the Australia-US consultations read.
In a press briefing, Mattis said that both countries are aligned with what they want as an "end state" the region, particularly a free and open Indo-Pacific.
The US Defense chief noted that South China Sea features that have never been militarized before have been militarized by China.
In response to an American congressman who said that he would like to see Australia conduct a unilateral freedom of navigation operation in the South China Sea, Mattis said that would be a "sovereign decision by a sovereign state."
"And we coordinate, collaborate across the realm in terms of our military exercises, our military operations. And right now, we'll just leave that decision with the people of Australia, which is exactly where it belongs," Mattis said.
Joe Courtney, co-chair of the Friends of Australia caucus in US Congress, earlier said that Australia conducting its own freedom of navigation operation against China would shift the strategic momentum in the region.
Bishop, however, had rejected Courtney's call for Australia to conduct a unilateral freedom of navigation operation against China as it would be the first that they would do anywhere in the world, according to a report from The Australian.
"We will continue to do what we've always done (and) we have certainly stepped up the tempo of our passage through the South China Sea in international waters," Bishop said before the meeting with US top officials.
Pompeo, meanwhile, added that Beijing's actions in the region poses a threat to maintaining a free and open Indo-Pacific.
"We spent a lot of time over the course of the last two days talking about how to maintain a free and open Indo-Pacific. That threat emanates from lots of places; certainly China poses concerns there," Pompeo said in the press briefing.
Despite the threats, the United States would continue its commitment to the region, Pompeo added.
"And I think the South Pacific, like most places in the world, understand the enormity of having an American ally, the enormity of having a country that consistently, over decades, projects the democratic values, the human dignity that comes with having an American partner is different from having partners that aren't quite that way," the US Defense chief said.
The Philippines, which a claimant of the disputed features in the South China Sea, is also a long-time ally of the US. The two countries regularly conduct joint military exercises and they also have an Enhanced Defense Cooperation Agreement.
Despite the Washington and Canberra's stonger statements against Beijing's militarization of the disputed waters, Manila has shelved the July 2016 arbitral ruling in the South China Sea in exchange of stronger ties with China.
Related video: