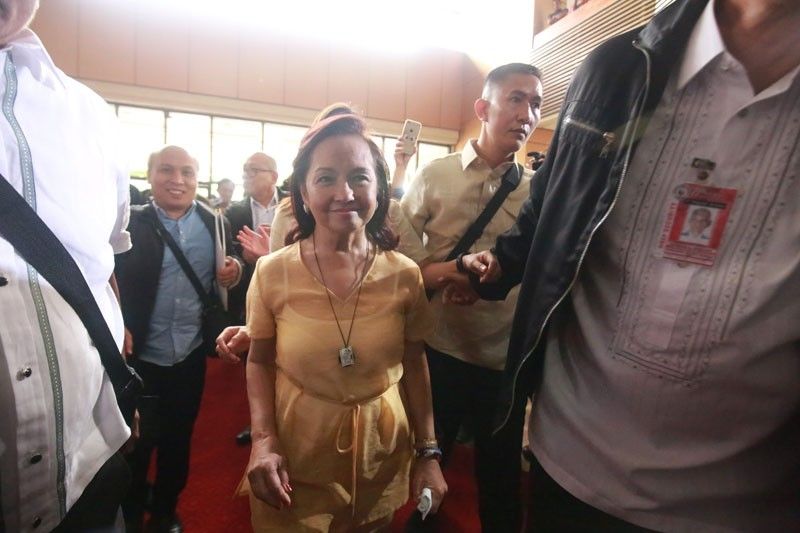 "I don't think so," he said in a television interview when asked if Arroyo would advocate a "no-el" (no elections) scenario next year like her predecessor Davao del Norte Rep. Pantaleon Alvarez.
Gloria Macapagal-Arroyo won't push 'no-elections'
Jess Diaz
(The Philippine Star) - July 25, 2018 - 12:00am
MANILA, Philippines — Newly elected Speaker Gloria Macapagal-Arroyo would not push for the scrapping of the May 2019 midterm elections even if she is on her third and last term as a lawmaker, Deputy Speaker and Capiz Rep. Fredenil Castro said yesterday.
"I don't think so," he said in a television interview when asked if Arroyo would advocate a "no-el" (no elections) scenario next year like her predecessor Davao del Norte Rep. Pantaleon Alvarez.
A day after her election, Arroyo said she was "extremely honored" to have been chosen by her colleagues as their new leader.
"I will endeavor to carry out the legislative agenda of President Duterte in the Lower House," she said.
In pushing for "no-el," Alvarez has said this would give lawmakers more time to work on the proposed new constitution that would shift the nation to the federal system of government.
He has admitted that his "no-el" scenario would result in the extension of the terms of office of members of the House of Representatives, all local officials and at least 12 senators.
Castro said the replacement of his former House boss with Arroyo has nothing to do with the planned Charter change (Cha-cha) for federalism and "no-el."
"It's only about replacing former speaker Alvarez. We have not discussed Cha-cha yet," he said.
Castro asserted that the former president's election in what certain congressmen consider as two rump sessions before and after President Duterte's third State of the Nation Address (SONA) on Monday was valid.
"We had the majority with us, so we reopened the session that was adjourned by the leadership. The majority could do that even if we have no speaker and majority leader. We could correct whatever inadequacies there were by a vote of the majority," he said.
Arroyo was voted overwhelmingly twice as speaker on Monday night. Camarines Sur Rep. Rolando Andaya Jr., who was budget secretary during the Arroyo administration, served as acting presiding officer and Castro as acting majority leader.
Castro admitted he was one of the oust-Alvarez plotters.
He said they were forced to hold a second session after Duterte's SONA and elect Arroyo again as speaker because Alvarez questioned the first vote during the President's meeting with the former president and the former speaker shortly before the SONA.
"I don't believe there was a valid election. There was no record of voting because there was no secretary-general, no stenographers, no sound system," Castro quoted Alvarez as saying.
Arroyo's election took place despite the misgivings aired by another ally, Albay Rep. Edcel Lagman, who considered the two sessions the former president's supporters held as "irregular."
"Due to this irregularity, the delivery of the SONA was delayed for over an hour to resolve… There is a need for the House to conduct a legitimate election for a change of leadership in compliance with House rules if that is the wish of the majority," he said.
Castro also claimed that during Duterte's meeting with Arroyo and Alvarez, the protagonists for the speakership agreed on a smooth transfer of power.
"Reportedly, the former speaker was allowed to sit with the President and Senate President (Vicente) Sotto for the SONA and would step down after the SONA," he said.
Alvarez was "caught flatfooted" by the sudden turn of events, according to Castro.
"They were confident that the majority was still with them. I think the former speaker did not develop close personal rapport with members. He failed to sense the sentiments of his colleagues," Castro said of Alvarez.
'Arroyo can run in 2022'
Meanwhile, Arroyo can run for president in the 2022 elections under a federal charter, an official of the consultative committee (Concom) said yesterday.
Former senator and Concom member Aquilino Pimentel Jr. said there is no provision in their proposed charter that prohibits the newly elected House speaker from seeking the presidency.
"I don't think there is prohibition on that. The only one who (can't run) is the incumbent (president); (so) yes, she can run," Pimentel said a day after Alvarez lost the speakership to Arroyo.
Under Arroyo's speakership, Pimentel is confident that the shift to federalism will take place, as she has been a supporter of Cha-cha as envisioned by the administration.
Pimentel also emphasized that Arroyo has formally joined the Partido Demokratiko Pilipino-Lakas ng Bayan (PDP-Laban).
Pimentel, who was mentioned during the SONA along with former chief justice and Concom chairman Reynato Puno, said he was thankful to the President for his trust.
Duterte thanked Pimentel and Puno for helping him draft the Charter envisioned for a federal government, as he expressed confidence that it will get the people's approval.
Duterte, however, failed to formally endorse the draft charter to the house for ratification.
Pimentel said he was not disappointed by Duterte's apparent failure to endorse the draft.
"No, because the President can still endorse it at other appropriate times. And that he can do either personally or through his close lieutenants," Pimentel said in a text message.
He added that the draft charter will not be forgotten by the people as it remains alive in the hearts and minds of those who believe in the cause, including Duterte himself.
At a press conference, Concom spokesman Ding Generoso said 10 out of the 15 priorities of Duterte can be found in the proposed charter of the Concom.
Among those 10 priorities are issues on rice cartels, telecommunications industry, environmental protection, disaster management, protection of overseas Filipino workers, universal health care, anti-corruption campaign, West Philippine Sea claims, land use act and the Bangsamoro Organic Law.
Early warning
The Senate is still finding out how to deal with the new leadership in the House of Representatives even as some senators this early warned that the chamber will oppose any attempt to amend the Constitution supposedly to allow Arroyo to be elected prime minister.
Senators held two caucuses yesterday to discuss, among others, the sudden change in House leadership.
The first caucus, exclusively for majority senators, was held over lunch. The second meeting for both majority and minority senators was held during a break in session in the afternoon.
Sotto said that while the chamber has no intention of meddling with the internal affairs of the House, it also needs to know the latter's legislative priorities under Arroyo.
"We want to know what the (House) agenda is… at this point, we don't know what's in store in the future as far as our relationship is concerned," Sotto told reporters, adding he has not yet received any formal notification from the House informing him of Arroyo's election as Speaker.
Sotto admitted rumors that Arroyo's election had something to do with her becoming a prime minister under a new parliamentary government put in place through Cha-cha was discussed during the caucus.
He said many senators were "quizzical" as to why the Pampanga lawmaker was chosen by her colleagues.
Sotto declined to comment on criticisms that Arroyo's election would tarnish the administration's anti-corruption image.
"To sum it all up, let's wait and see," he said.
'Awkward, ugly'
Sen. Panfilo Lacson said he found the change in leadership in the House as distasteful, given its timing and the manner Arroyo was elected.
"I would say it was awkward, ugly, low and disgraceful. In a manner of speaking, even the traditionally symbolic mace was in a maze yesterday at the Batasan, not knowing whose authority it would represent between the two contending personalities," Lacson said.
Regardless of whether it was Arroyo or another House member who replaced Alvarez, what happened "is a strong argument against a parliamentary form of government where patronage politics plays a major, if not the only, role in selecting our country's top leader," according to Lacson.
"If GMA's (Arroyo's initials) ascension to the speakership is a prelude to becoming prime minister, they better think twice because the Senate, both majority and minority, have agreed to close ranks to defend and assert our role under the 1987 Constitution in revising or amending the same. That, I can say with certainty and conviction," the senator said.
Sen. Joseph Victor Ejercito said Alvarez's ouster was also embarrassing as it happened before members of the diplomatic corps who were there to listen to the SONA.
"Why do we have to stoop down to that level? But that's their decision. Maybe the timing was really the problem," Ejercito said. – With Robertzon Ramirez, Paolo Romero