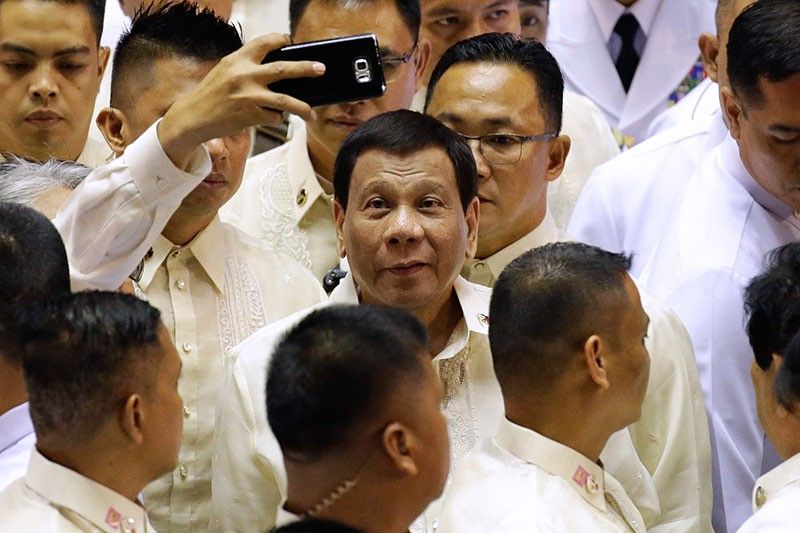 Philippine President Rodrigo Duterte, center, looks at a smartphone during a selfie after delivering his third State of the Nation Address at the House of Representatives in Quezon city, metropolitan Manila, Philippines Monday, July 23, 2018.
AP/Aaron Favila
As chaos erupts in House, unity blooms among Duterte's opponents
MANILA, Philippines — A chaotic House of Representatives welcomed President Rodrigo Duterte on Monday just before he delivered his annual constitutionally mandated address before a joint session of Congress.
After hours of speculation and backroom political horse-trading, Rep. Gloria Macapagal-Arroyo (Pampanga), a former president herself, was elected as speaker of the House, ousting long-time Duterte ally Rep. Pantaleon Alvarez (Davao Del Norte).
This rupture between the former allies, as Alvarez is a former Arroyo government official, was in stark contrast to the unprecedented unity among traditionally rival political groups which are all opposed to the government and its policies.
According to political analyst Dennis Coronacion, this event was less of a division in the majority than Duterte seeing Arroyo as a more credible ally in the House.
Coronacion, who is the chairperson of the University of Santo Tomas Department of Political Science, said that although Alvarez had been a reliable ally, cracks in his relationship with the president had begun to surface.
He said the rift had something to do with the public spat Alvarez had with the president's daughter.
Monday started with reports that there were efforts to oust Duterte, which were led by no less than Duterte's daughter, Davao City Mayor Sara Duterte-Carpio.
Carpio and Alvarez had a public spat several months ago after the House leader said that Carpio's nascent regional political party was part of the opposition.
Carpio did not like the comment and blasted Alvarez.
The two supposedly patched things up, but Monday's events showed otherwise.
Alvarez and his allies abruptly ended the session a few minutes after lunchtime Monday in an effort to thwart the plans of Arroyo and her allies.
Soon after, a manifesto of support for Arroyo was circulating in the House plenary, which was eventually signed by a number of lawmakers enough to install Arroyo.
Long negotiations between the two opposing camps led to a delay of more than one hour in Duterte's SONA, the second casualty in the political intramurals between the two camps.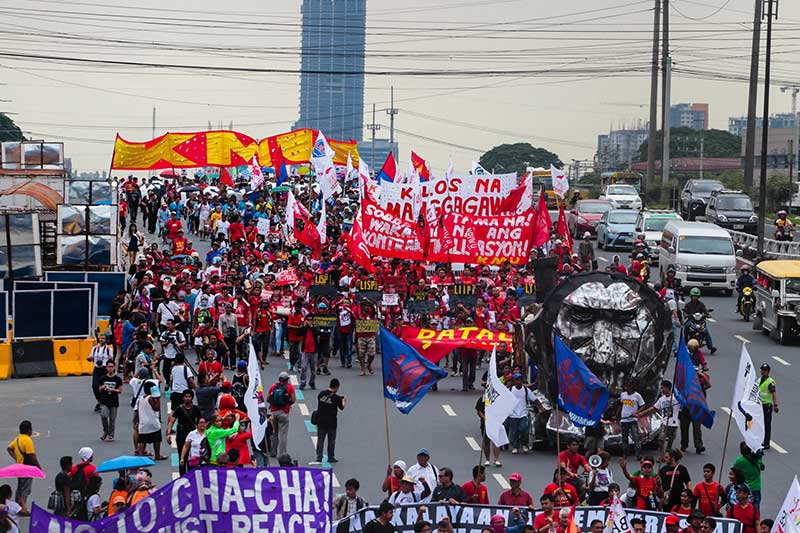 Thousands of protesters march along with the "DuterTRAIN" effigy as President Duterte gives his third 2018 State of the Nation Address on Monday, July 23. Efigenio Toledo IV
Eventually, it was agreed that Alvarez would preside over the joint session while Arroyo's election would be done after the SONA.
The chaotic scene at the House was different from the scenes outside of House of Representatives complex.
Thousands of people from various sectors and political groups united on Monday to protest against Duterte and his policies.
Various independent formations, religious and civic groups joined forces with multisectoral organizations under the Bagong Alyansang Makabayan.
Around 14,000 demonstrators gathered in a common program in front of St. Peter's Church along Commonwealth Avenue where they expressed opposition to the stalled peace talks, alleged human rights violations, labor contractualization and the government's nonconfrontational approach to the South China Sea dispute.
Erin Tañada, the vice president for external affairs of the Liberal Party, said the protesters were united to condemn some of the government's initiatives such as the proposal to change the 1987 Constitution, tax reform law and extrajudicial killings under Duterte.
Liberal Party external vice president Erin Tañada on United People's SONA: Iisa lang naman ang pinaglalabanan ng mga grupo: EJKs, TRAIN, ChaCha. #SONALive @PhilstarNews pic.twitter.com/snp3COgNIo

— Gaea Cabico (@gaeacabico) July 23, 2018
Bayan Secretary General Renato Reyes said: "He (Duterte) has united workers and labor groups in protest against his administration. He has united workers and labor groups against contractualization. He has united women's groups against misogyny."
"He has united religious groups offended by his statements. He has united different political forces against charter change and dictatorship. Monday's United People's SONA sends a strong message that the people will oppose tyranny and dictatorship in whatever form," he added.
According to Coronacion, another possible reason for moves to remove Alvarez could be his proposal to postpone the 2019 midterm elections supposedly to give Congress ample time to tackle proposals to change the 1987 Constitution.
When asked if the no-election proposal was a reason for this, Coronacion told Philstar.com, "Perhaps. Alvarez must have asked the president for no election in exchange for his support for charter change."
The Palace distanced itself from Alvarez's comments and said that the president would like the 2019 elections to push through.
Arroyo assumes the leadership of the House in a crucial time for the administration as Congress is expected to tackle many important pieces of legislation such as the annual budget and the tax reform law.
However, Arroyo's term started on an off note after the political showdown took its first casualty, the failure of the House to approve the Bangsamoro Organic Law, which was supposed to be signed by the president on Monday.