Duterte vows to do his 'very best' in shortest, profanity-free SONA so far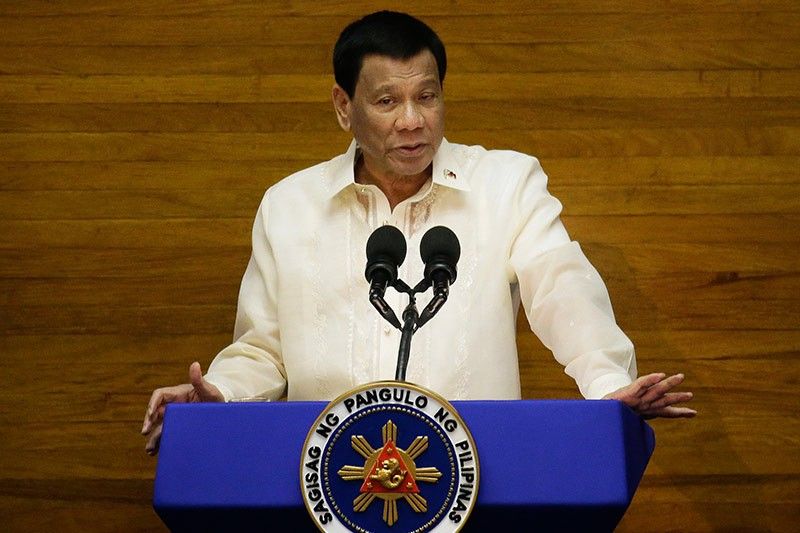 MANILA, Philippines — President Rodrigo Duterte vowed to do his "very best" as the country's leader as he defended his controversial policies during his third State of the Nation Address Monday.
During his 48-minute address—his shortest SONA to date—Duterte said his resolve to address the country's challenges has become stronger despite the adversity he is facing.
"About two years ago, I solemnly took my oath as a worker of the national government. I was as inspired to institute real changes for the greater good of the Filipino people, as I was greatly overwhelmed then by the daunting challenges that lay ahead," the president said.
"Two years later, my solid commitment to directly and decisively address our nation's collective challenges remains. It has not wavered. In truth, it has even gotten stronger through adversity and the desire to give the people the most we can, within my term in this government," he added.
Quoting the late American President Abraham Lincoln, Duterte said he would rather perform his tasks than to respond to his critics.
"If I were to try and read and answer all attacks thrown at me, this presidency might as well be closed. I do the very best I know how, the very best I can, and I mean to keep doing so until the very end," Duterte said.
The president reiterated that his bloody crackdown on illegal drugs, which has left more than 4,000 suspected drug offenders dead, would not be deterred by the tirades of human rights advocates.
"When illegal drug operations turn nasty and bloody, advocates of human rights lash at—and pillory—our law enforcers and this administration to no end," Duterte said.
"If you think that I can be dissuaded from continuing this fight because of (your) demonstrations, your protests, which I find, by the way, misdirected, then you got it all wrong."
Duterte said he has not heard "howls of protest" from human rights advocates and church leaders against "drug-lordism," drug dealing and drug pushing that are as "forceful and vociferous" as the ones directed against law enforcers they accused of wrongdoing.
"Your concern is human rights, mine is human lives. The lives of our youth are being wasted and families are destroyed, and all because of the chemicals called shabu, cocaine, cannabis, and heroine," the president said.
"You worry about the present; I am concerned (about) both the present and the future. I worry about the future because I know what crimes can do to the youth of this country. If not stopped, crimes can make human cesspools of succeeding generations. I will not allow it to happen. Not during my term," he added.
Duterte also defended the Tax Reform for Acceleration and Inclusion law, which has been blamed by some sectors for the rising prices of commodities. He said TRAIN, which imposed new taxes on oil products, must not be suspended because it would generate revenues for key state programs.
"We cannot and should not. We need this for sustainable growth that will leave no Filipinos left behind," the president said.
Duterte claimed that TRAIN has been "incorrectly blamed" for the price increases in the past months. To address the impact of rising prices, the President ordered intelligence and law enforcement agencies to run after rice cartels and urged businesses to be fair in charging their customers.
Duterte also justified his move to seek warmer ties with China, saying the re-energized relations with the Asian superpower "led to an unprecedented level of cooperation between our nations on the war against transnational crimes."
"Our shared intelligence led to the discovery and dismantling of the clandestine shabu laboratories and the arrest of Chinese chemists (connected) with the Dragon organization called Wu Syndicate," he said.
Duterte, who has been accused of abandoning the Philippines maritime claims in the South China Sea in exchange for Chinese aid, said he remains committed to defending the Philippines' interests in the disputed area.
The president likewise justified his decision to close tourist destination Boracay for six months, a move seen to displace about 35,000 workers and cost the economy about P1.9 billion.
"Boracay Island, widely regarded as one of our country's treasures and admired worldwide for its natural beauty, has sadly become the representation of the government's negligence, including mine," he said.
"I could not allow this decay to continue; decisive action has long been overdue. Recognizing that we are mere stewards of our natural resources, and I said enough is enough. We intend to restore its environmental integrity, alongside measures to alleviate those whose livelihood were momentarily affected."

Unlike his previous speeches, Duterte did not curse during his third SONA. The president, who is known for his freewheeling and lengthy remarks, made some ad-libs but he limited them to the topic he was discussing. The third SONA was shorter than many of his speeches during regular days, some of which lasted for more than an hour. — Alexis Romero