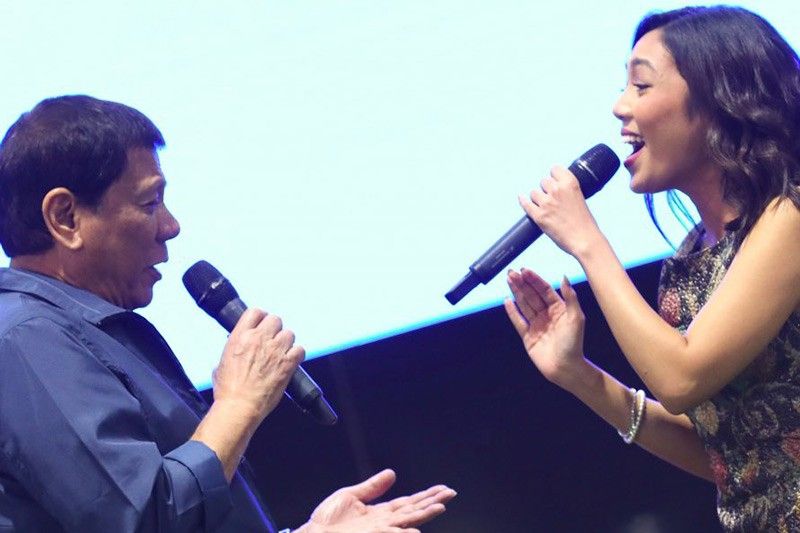 President Rodrigo Duterte does a duet with one of the performers during the Department of Labor and Employment 84th Anniversary Celebration at the Bulacan Capitol Gymnasium in Malolos City on December 8, 2017.
Rey Baniquet/Presidential Photo
Duterte also a Celine Dion fan
DAVAO CITY — Unknown to the thousands who attended the Celine Dion concert at the SM Mall of Asia Arena Friday night, President Rodrigo Duterte was among those who spent time to watch the singer who dominated the music industry for years.
The president attended the concert without fanfare from the viewing box of a private function room, where his presence would neither disrupt the viewing audience nor the show.
He watched Dion sing many great tunes and was among those mesmerized by her "My Heart Will Go On," the iconic theme song of the movie Titanic, until she bade Manila goodbye with an intensely powerful a cappella rendition of "Can't Help Falling In Love" that capped her two-night live concert at the MOA.
Accompanied by Special Assistant to the President Christopher Go, Duterte left Davao City early Friday night to catch Dion's last concert night in Manila.
Dion did not make mention of the president's presence at the venue that was filled to the rafters. It could not be ascertained if she knew beforehand that Duterte would be watching her
concert.
Her "LiveManila 2018" concert was her first ever event in the Philippines as it was also her first time in the country.
Duterte is fond of music and, whenever he has the chance, whiles his time away singing his favorites songs like "Ikaw," "Usahay," "You Raise Me Up" and "Balod."
The president is spending his weekend in Manila as he prepares for his third State of the Nation Address during the joint opening of the Senate and the House of
Representatives tomorrow.