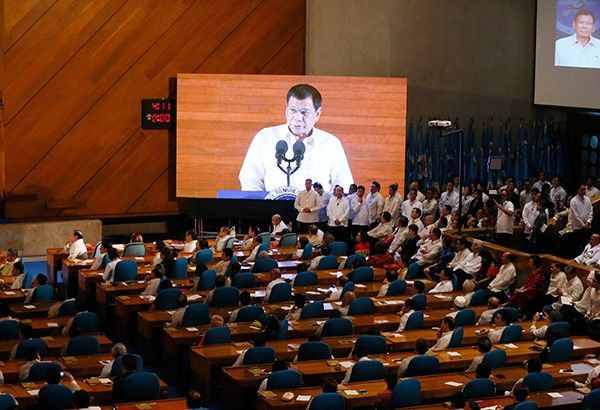 The decision of the consultative committee to ban President Duterte from seeking a new term under the new federal charter in 2022 should show that the chief executive did not have other motives for pushing for charter change.
AP Photo/Bullit Marquez, File
Ban on Duterte run on 2022 shows president has no other motives, Roque says
(Philstar.com) - July 17, 2018 - 8:53pm
MANILA, Philippines — The consultative committee's decision to explicitly ban President Rodrigo Duterte from seeking reelection when he steps down in 2022 should douse fears that the chief executive had other motives in pushing for a federal form of government, his spokesman said on Tuesday.
In an updated copy of the draft federal government constitution, Duterte was prohibited from running as president in the 2022 elections under the Federal Government.
Section 2, Article XXII of the draft charter states: "The incumbent president is prohibited from running as president in the 2022 elections under the [Federal] Constitution."
Presidential spokesman Harry Roque said in response to the move, "This should finally allay all fears that PRRD (Duterte) has other motives for wanting to shift to a federal form of government."
Duterte earlier requested the panel to revise the transitory provisions of the charter because he supposedly would like to step down by 2019.
He said that the transition president and vice president should be elected after he was initially named as the transition government head until 2022.
Roque thanked the consultative committee that Duterte formed to propose changes to the constitution for "accommodating" the chief executive's request.
The Senate on Tuesday conducted a hearing on the proposal to change the 1987 Constitution which would pave the way for a shift to a federal form of government.
Critics slammed the plan and said that it was only a ruse to extend the term of office of incumbent officials, including that of the president, a suggestion that members of the panel denied.
Rumors have circulated in recent days that lawmakers supporting Duterte's plan to shift to a federal form of government would use the chief executive's State of the Nation Address to convene a constituent assembly to amend the current charter.
Senators have rejected the plan, and Senate Majority Leader Juan Miguel "Migz" Zubiri warned that some of his colleagues would walk out of the session hall should some attempt to do it.