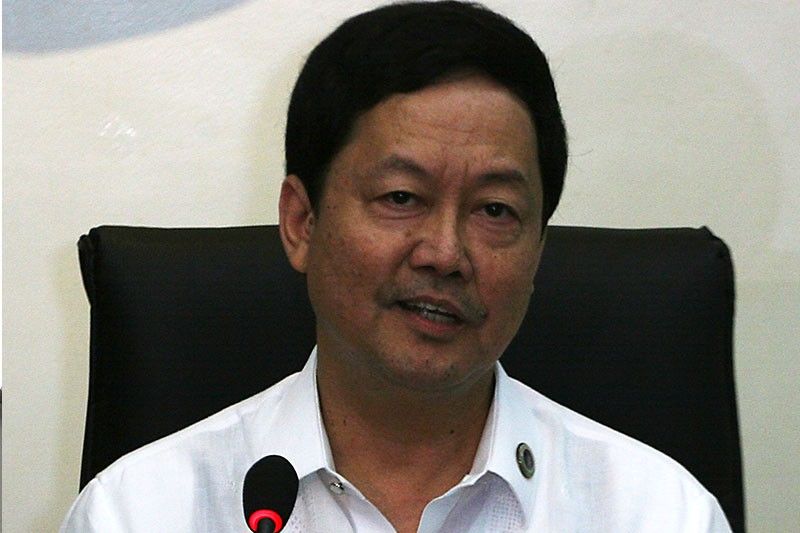 Justice Secretary Menardo Guevarra earlier said that it is his personal mission to change the image of the Department of Justice amid controversies faced by the agency.
The STAR/Miguel de Guzman, File
Duterte names new DOJ execs
MANILA, Philippines — President Rodrigo Duterte has appointed new officials of the Department of Justice as part of the agency's revamp under the leadership of Justice Secretary Menardo Guevarra.
In a statement on Wednesday, the DOJ said Duterte has accepted the courtesy resignation of Raymund Mercate, Erickson Balmes and Reynante Orceo as undersecretaries. The three are fraternity brothers of Aguirre and Duterte.
The president has also accepted the resignation of Assistant Secretary Juvy Manwong.
READ: DOJ revamp looms amid courtesy resignations
It may be recalled that Guevarra ordered DOJ officials who served during the term of former Justice Secretary Vitaliano Aguirre II to hand in their courtesy resignation on April 24. The order was issued "in the exigency of service and in order to give the undersigned [Guevarra] a free hand to perform the mandate given by the president."
The DOJ said the president has appointed in their stead lawyers Emmeline Aglipay-Villar, Adrian Sugay, Markk Perete and Neal Vincent Bainto.
New DOJ execs named
Villar is the wife of incumbent Public Works Secretary Mark Villar. She is a graduate of the University of the Philippines in 2006. Before assuming a position at the DOJ, she served as party-list representative of the Democratic Independent Workers' Association or DIWA.
Guevarra said that Villar has "tendered her resignation before her appointment was signed by the president." He, however, said he is unsure of the exact date of Villar's resignation from the party-list.
The president also appointed Sugay, Guevarra's former partner at law firm De Borja, Medialdea, Bello, Guevarra & Serapio Law Offices. He is a graduate of Ateneo de Manila University School of Law in 1993. Sugay also served as special assistant to the corporate head at the Philippine Ports Authority.
Perete, meanwhile, worked as legal counsel to a private company and a taught law subjects before he was appointed to the DOJ. He also served as technical assistant with a rank of assistant secretary for legal affairs at the Office of the President.
Guevarra served as the OP's Deputy Executive Secretary for Legal Affairs before he assumed the position of justice chief.
Bainto, who is Guevarra's fellow Ateneo de Manila Univesity School of Law alumnus, will also join the DOJ. Prior to accepting the public post, Bainto was a senior associate at the Villaraza & Angangco Law Offices.
Guevarra has earlier said he would "restore DOJ's dignified and respectable image." He takes the vacated seat of Aguirre, whose nearly two years as the DOJ chief was hounded by controversial cases.