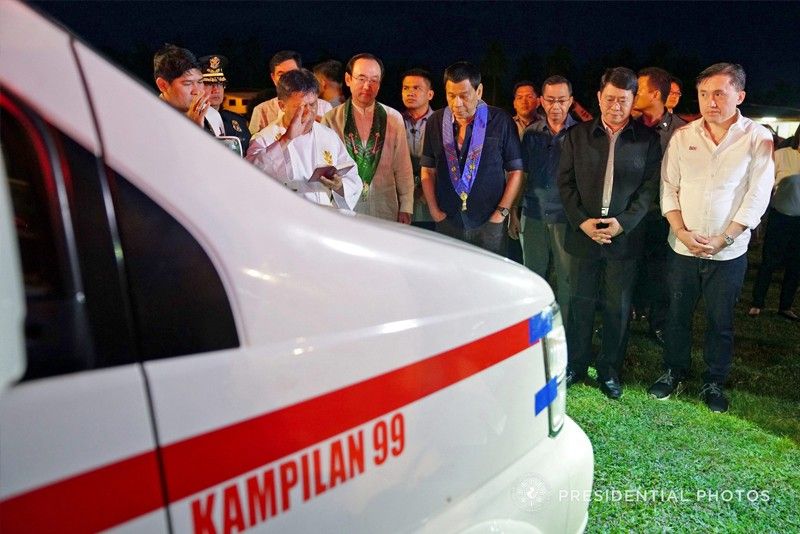 President Duterte witnesses the blessing of the 17 emergency vehicles turned over by the government of Japan during a ceremony at the Boy Scouts of the Philippines covered court in Davao City.
File
Some Duterte men fail to make winning list of senatorial candidates
MANILA, Philippines — A local polling firm on Monday released the results of its latest survey on the preferred senatorial candidates of Filipinos for the 2019 elections, and many familiar faces were shown to be likely winners.
The Pulse Asia survey, however, is insightful not only for the candidates on the winning list but also for those who failed to make the cut.
Some of those who failed to make the winning circle, at least during this survey, were some of President Rodrigo Duterte's men speculated to be eyeing a Senate seat.
One of them is Christopher "Bong" Go, a special assistant to the president and one of the chief executive's closest advisers.
According to the survey, Go has an awareness rating of 52 percent, and around 9.9 percent of the respondents said they would vote for him.
This rating was enough for Go to rank only between 23rd and 31st places, still far from the a top 12 finish needed to land a Senate seat.
Go was recently criticized after relief goods distributed among fire victims in Manila had his name on them.
Several Filipinos said on social media that this was an act of early campaigning on the part of the presidential aide.
Go said the relief goods were not from him but from supporters, adding that he has already told his supporters to refrain from doing that again.
Aside from the relief goods, some have also pointed to posters and tarpaulins in many places in the Philippines showing the photo and name of Go.
Go said that these were not a violation of the prohibition on early campaigning as these did not urge voters to pick him for any elective post.
Duterte himself has been vocal about his support for Go, whom he called on several occassions as "senator."
Another prominent Duterte man who failed to land in the top 12 candidates was presidential spokesperson Harry Roque.
Just this March, Roque was assailed after fans bearing his photos were distributed in Tarlac by Rep. Gwendolyn Garcia (Cebu), who Roque said donated the materials.
The presidential spokesperson also said that his press conferences held in different parts of the country were not a form of early campaigning.
He reasoned that this was a means for journalists from the provinces to ask questions of a Palace official.
In October last year, Duterte announced Roque as a 2019 senatorial candidate first before naming him his spokesman, replacing Ernesto Abella.
When asked for comment on Monday, Roque said it was not yet the campaign season and that they are focused on their jobs in government.
Also failing to make the top 12 was Duterte's political adviser, Francis Tolentino.
Tolentino, who mounted a failed senatorial campaign in 2016, has been a regular presence in several of Duterte's provincial trips.
Tolentino used to be the head of the Metropolitan Manila Development Authority under the previous Aquino government but transferred to the current government following his unsuccessful run.
The former administration dropped Tolentino from its Senate line-up of candidates due to a controversy involving a sexy dance group.
The singer Freddie Aguilar, a prominent supporter of the president and who was rumored to be being considered for a government post, was also on the list of candidates.
He, however, also failed to reach the winning list after gathering the support of only 9.3 percent of the respondents.