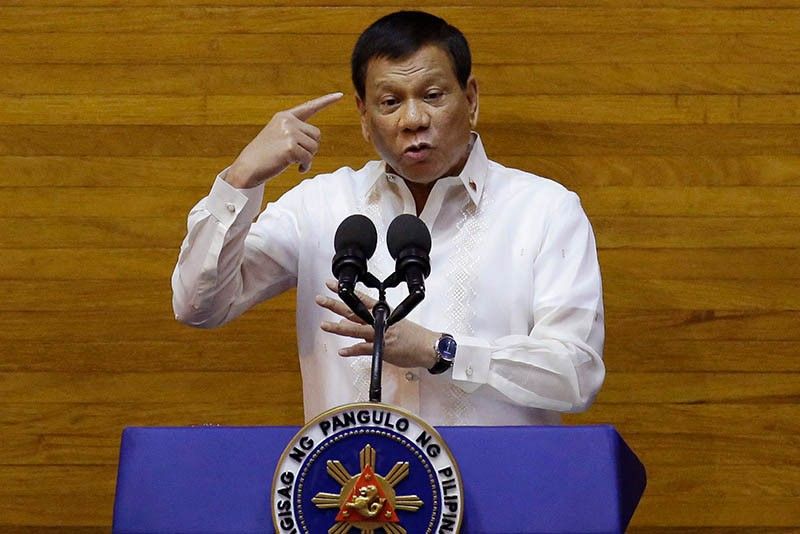 President Rodrigo Duterte gestures during his second state of the nation address at the House of Representatives in suburban Quezon city, north of Manila, Philippines, Monday July 24, 2017.
AP/Aaron Favila, File
Palace: Duterte not interested in staying beyond 2022
MANILA, Philippines — President Rodrigo Duterte is not interested in seeking another term under the proposed federal constitution if it will be approved, Malacañang said on Friday.
Julio Teehankee, a member of Duterte's consultative committee which drafted the proposed federal government Constitution, said on Wednesday that there was no ban for Duterte and Vice President Leni Robredo to seek a four-year mandate under the new charter.
This means that both Duterte and Robredo could serve up to 14 years if they finish their terms in 2022 and are able to secure two four-year terms.
Under the proposed Constitution, the president and the vice president have a four-year term with a chance for reelection.
"Their term will end in 2022. There's no ban (on their candidacy for another term). They can run under a new constitution. It's a like a reboot, a reset," Teehankee answered on the program "The Chiefs" on One News when asked if Duterte is eligible to run again after stepping down in 2022.
When asked for comment on this statement, presidential spokesman Harry Roque told Philstar.com, "President says he's not interested."
This is not the first time that Duterte, 73, and his team have denounced the possibility of staying in power beyond 2022.
In March, Duterte said that the presidency was "killing" him and described the job as deadly.
He also also expressed readiness to step down even before 2022 if the shift to federalism would push through.
"In fact, he wishes it's already 2022," Roque told Philstar.com in January.
Christian Monson, a lawyer who was one of the framers of the current 1987 Constitution, warned that the shift to a federal form of government could be a "trojan horse" for Duterte to stay in power.