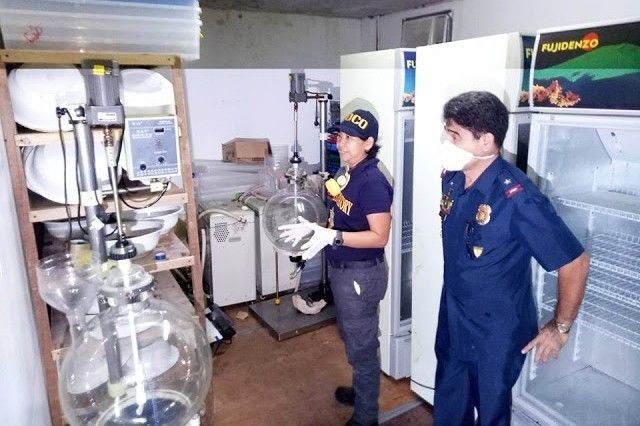 Scene of the Crime Operatives conduct an inventory of materials and equipment used in the manufacture of shabu in the clandestine drug lab discovered in Barangay Palta, Virac, Catanduanes.
Bicol Standard
Catanduanes mega shabu lab case transferred to Makati court
MANILA, Philippines — The Supreme Court has granted the Department of Justice's request to transfer the trial of the Catanduanes mega shabu laboratory case from Virac to a Makati court.
In a one-page resolution, the SC en banc allowed the request of former Justice Secretary Vitaliano Aguirre II and former Acting Prosecutor General Jorge Catalan to transfer the trial to a court in the National Capital Region.
The SC also directed the Branch Clerk of Court of the Virac, Catanduanes Regional Trial Court Branch 43 to forward the records of the criminal case to the Office of the Executive Judge of Makati RTC.
The case should also be raffled to the sala of the Makati court judge within three days from receipt of the SC notice.
The resolution is dated June 19, 2018, but was released to media only on Monday, July 2, 2018.
Last March, Aguirre, in his letter to Acting Chief Justice Antonio Carpio, cited the supposed "political connections" of some of the accused.
"The transfer of the venue will also insulate the proceedings from influence or threats from any groups affiliated with the accused," Aguirre also said.
READ: Ex-NBI director tagged in Catanduanes mega shabu lab surrenders to NBI
The case stemmed from the raid of a mega shabu laboratory in Catanduanes on Nov. 26, 2016.
Among the accused in the case is Augusto Eric Isidoro, former National Bureau of Investigation acting director for Region 7.
A certain Sarah Sarmiento is believed to be the owner of the property where the laboratory was constructed. It was leased by Angelica Balmadrid, who is allegedly the common-law wife of Isidoro.
Seized in the shabu laboratory were 22.509 kilograms of crystallized metamphetamine hydrochloride or shabu and 359.75 kg of Ephedrine, both dangerous drugs under Philippine law. Chemicals and equipment for the manufacture of illegal drugs were also confiscated during the search.
Isidoro surrendered to the NBI last March.