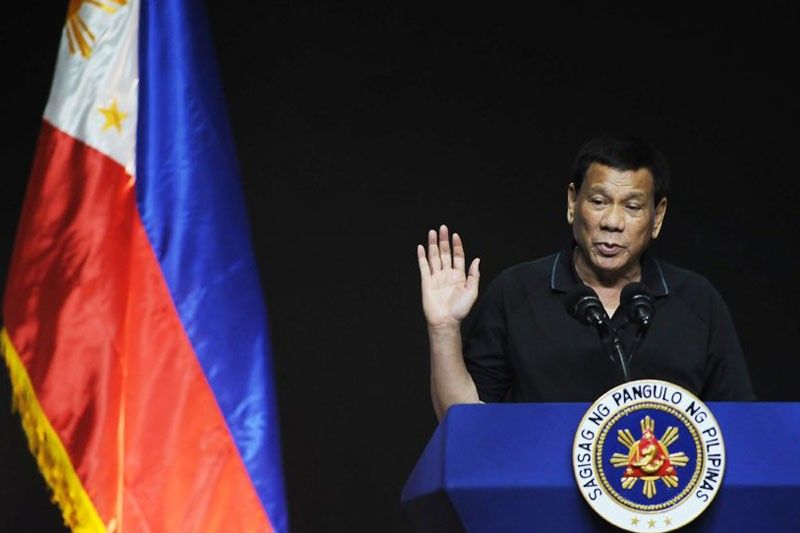 "What I said was your God is not my God because your God is stupid. Mine has a lot of common sense," he said last Friday during the opening of the 2018 National ICT Summit in Davao City.
File
Duterte says 'your God is not my God' but sets talks
MANILA, Philippines — President Duterte said "your God is not my God" even as Malacañang formed a three-man committee that would dialogue with the Catholic Church and other religious groups to ease the tension sparked by his controversial remarks about God.
"What I said was your God is not my God because your God is stupid. Mine has a lot of common sense," he said last Friday during the opening of the 2018 National ICT Summit in Davao City.
Presidential spokesman Harry Roque said he is one of the members of the committee that Duterte decided to form last Monday. The two other members of the committee are EDSA People Power Commission member Pastor Boy Saycon and foreign affairs undersecretary and former pastor Ernesto Abella.
"Perhaps one of the themes of the talks is how to reduce the rift between the government and the Church. I know that there is separation of church and state and there is no need for a dialogue. But the President decided to open the process of dialogue. Let us allow the Church and the government to define the agenda as the dialogue proceeds," Roque said at a press briefing in Davao City.
Catholic Bishops' Conference of the Philippines (CBCP) president Davao Archbishop Romulo Valles welcomed the announcement.
"That is most welcome development. To dialogue, it is to listen to one another. It is always good," Valles told the Church-run Radio Veritas.
Asked if the decision to create a committee was related to Duterte's statements about God, Roque replied: "I would be lying if I were to say it has absolutely no relation. Maybe it is related to that and the President made the decision because both the Church and the government belong to the same society."
"Nothing will be lost if the Church and the government have a good relationship," he added.
Valles said he hopes things would get clarified in their dialogue with the President. "I look forward to the meeting because I know that this topic would be discussed and we can make a response. First, we are saddened because there were things said that should not have been said because sometimes it is out of place, out of tune," he said.
"Secondly, at some point we ask and reflect on what he said because we cannot deny that we also have our weaknesses. There are also things that the Church did which did not completely conform to the teachings of the Catholic Church," he added.
He admitted he is still troubled by Duterte's attacks on the Church.
"We pray for our leaders, but if they themselves do something frightening, so we are afraid that our prayers might not be too effective," he said.
Last Friday, Duterte badmouthed the story of creation in the Bible and called God stupid for letting temptation destroy His work. His pronouncements immediately drew brickbats from some lawmakers, including his allies.
Traumatic experience
Roque earlier said Duterte's tirades against the Catholic Church may have stemmed from his alleged traumatic experience as victim of abuse by an American Jesuit priest when he was a student of the Ateneo de Davao.
Despite the outrage over his comments, Duterte was unapologetic and continued to hurl tirades at the Catholic Church on Monday.
He claimed his remarks were taken out of context and that they were in reaction to Sister Patricia Fox's engaging in partisan politics. But he never mentioned Fox in his speech in Davao last Friday.
"I said your God is not my God. Why do you bind me with something stupid. I am given a brain to think," the President said in remarks before 2,000 newly elected barangay chairpersons in Region X at the Atrium Convention Center in Cagayan de Oro City late Monday afternoon.
Duterte also questioned the origins of the Bible and mocked the representation of the Last Supper by artists, including Michelangelo.
"I said not everything in the Bible is true. Who published that Bible? Do they have printing press then? And even the Last Supper. Who are the idiots there? They just turned those who were depicted in the painting into saints. San Isidro, San Pablo... Saint Jude, Santo Rodrigo, just about anyone," he said.
The President stressed people should not think he does not believe in God. "I believe in a universal being. I believe there is somebody up there. Because if not for that being, there are billions and trillions of stars, then sumabog na tayo dyan," the President said.
Senate President Vicente Sotto III said it was "good" that Duterte initiated a dialogue with the Catholic Church amid the uproar over his controversial comments.
Sen. Sherwin Gatchalian said Duterte's initiative "shows that he is open to working on his relationships with religious leaders."
"I hope these dialogues will end up fostering mutual respect, cooperation and understanding between the President and the religious faithful," Gatchalian said.
Sen. Joel Villanueva, son of Christian evangelist Bro. Eddie Villanueva, said the President's comment was "unfortunate." He urged the people to continue praying for the President who might be struggling with some doctrines of the Church.
"At the end of the day, he is the mandated authority given to us and we should pray that he succeeds," he pointed out.
Sen. Antonio Trillanes IV, for his part, argued Duterte's offer of dialogue was "nothing but a crisis management move by Malacañang to contain the outrage caused by Duterte's tirades against God."
"It has no value at all because it was committed by a clearly unrepentant Duterte against all Christians and not just the Church leaders," Trillanes said. – With Edith Regalado, Evelyn Macairan, Paolo Romero, Gerry Gorit