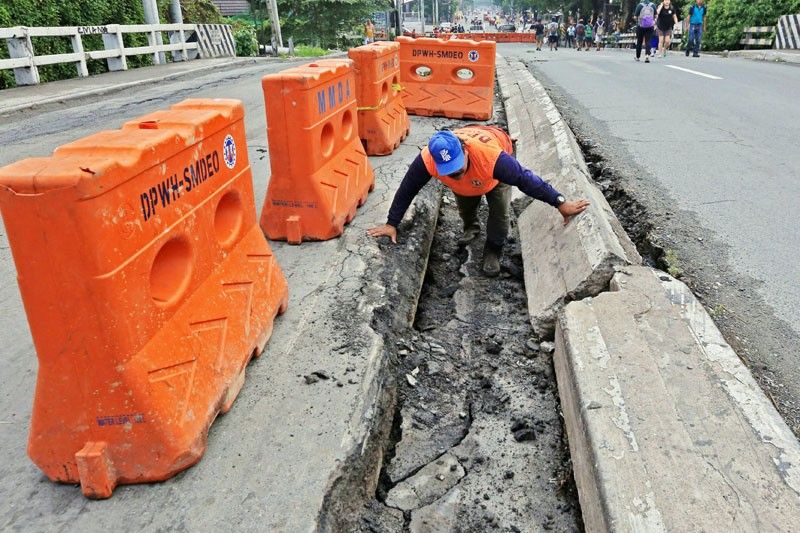 A Department of Public Works and Highways worker inspects a damaged portion of the Otis Bridge in Paco, Manila yesterday.
Edd Gumban
Damaged Otis Bridge closed for reconstruction
MANILA, Philippines — The Department of Public Works and Highways (DPWH) yesterday announced the closure for reconstruction of the half-century-old Otis Bridge after its progressive collapse made it unsafe for motorists.
DPWH-National Capital Region (NCR) district engineer Melvin Navarro said Otis Bridge, one of the bridges leading to Malacañang, was due for replacement a few years ago.
"We (will) reconstruct Otis Bridge. It is long due for replacement. It just so happened that the plan to have a whole new bridge was pushed back" because of other ongoing construction projects that have tied up traffic in the area, said Navarro.
"We just could not start replacing the bridge because the parallel Concordia Bridge, located near the Philippine Columbian Association, was also being repaired along Quirino Avenue in Manila City. So the trucks and the other vehicles have been using Otis Bridge and this (hastened its) deterioration," he added.
Since Corcordia Bridge was already undergoing repair, the DPWH was unable to secure a permit or clearance from the Metropolitan Manila Development Authority (MMDA) because closing two bridges at one time would only lead to heavier traffic.
Concordia Bridge is expected to be finished by January next year. Meanwhile, the construction of a new Otis Bridge may take at least nine months to one year.
"The construction of the new bridge could take a year. But it could be shortened to nine months if it would be completely closed to motorists and depending on the other variables that could affect the progress of the construction," said DPWH South Manila District Engineering Office's Mikunug Macud.
At 1 a.m. yesterday, the DPWH ordered the closure of the 80-meter long Otis Bridge, which is 14 meters wide, after barangay officials informed them of a 10-meter damage on the concrete deck near its center island.
During inspection, engineers noticed that the girders were also deformed so the DPWH closed the bridge and declared it "is no longer passable to motorists."
Macud said the DPWH allocated P37 million in 2015 for the construction of a new Otis Bridge, replacing the old one that was constructed in 1968.
As this developed, the Manila Police District-Traffic Enforcement Unit (MPD-TEU) yesterday started to reroute traffic due to the closure of Otis Bridge.
MPD spokesman Supt. Erwin Margarejo said those who are passing the Nagtahan/Mabini bridge (southbound) may take Paz Guanzon Street to avoid UN Avenue, straight to President Quirino Avenue, then right to Plaza Dilao and straight to Quirino Extension, and left from UN going to their destination.
Meanwhile, motorists coming from the east of UN going to Guanzon may turn right to Quirino, then to Dilao to their destination.
While Otis Bridge is closed, light vehicles from Nagtahan to South Luzon Expressway (SLEX) may turn right on Zamora Street, left to Quirino Extension to their destination.
Motorists coming from the SLEX may turn left to Dilao to Quirino Extension, right to UN then right to Romualdez and then right to Ayala going to their destination.
Trailer trucks from SLEX to R10 could take Quirino, left on Dilao, right to Quirino Extension to UN, right to Romualdez toward their destination.
Trucks coming from R10 to SLEX may turn right at C-3 Road, 5th Avenue, left to Andres Bonifacio Avenue, NLEX, right to Smart Connect Service Road, right to Mindanao Avenue to their destination.
MMDA said 40 more bridges in Metro Manila are being monitored by the DPWH, adding that four of these have been retrofitted. – With Rey Galupo, Robertzon Ramirez
Related video: