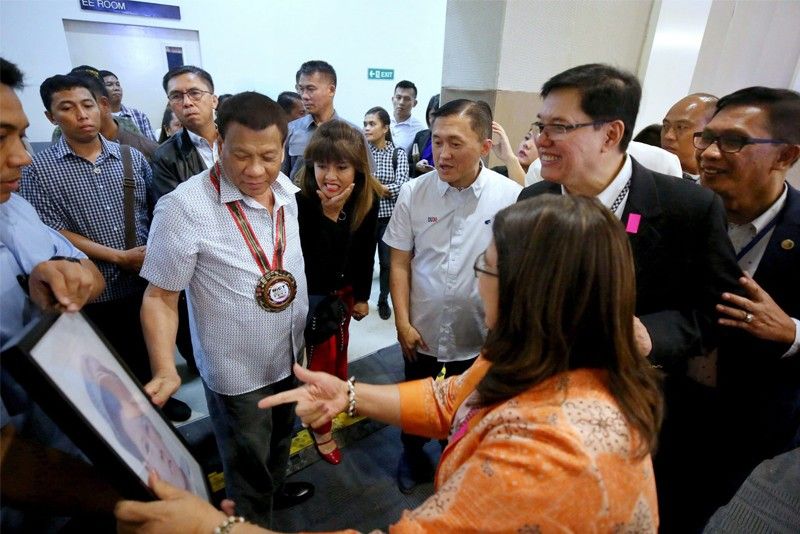 President Duterte receives a token given to him on the sidelines of the National Information and Communications Technology Summit 2018 at the SMX Convention Center in Lanang, Davao City the other day. Also in photo are Ilocos Norte Gov. Imee Marcos, Sec. Bong Go of the Office of the Special Assistant to the President, Chief Information Officers Forum Foundation president George Kintanar and Budget Undersecretary Lilia Guillermo.
Duterte to tambay critics: Take case to SC
MANILA, Philippines — President Duterte challenged his critics on Friday to file a case before the Supreme Court against his directive for the police to go after tambays or loiterers in the streets.
Several sectors have questioned Duterte's statement that prompted the Philippine National Police (PNP) to arrest tambays.
Duterte invoked the police power of the State that covers his directive to deter crimes by reducing the number of loiterers in the streets of Metro Manila and the rest of the country.
He explained that he never ordered a crackdown on tambays, but he was concerned over the latest surveys that showed the public is worried about the increase of street crimes.
In a speech during the opening of the 2018 National ICT Summit at the SMX Convention Center in Davao City last Friday, the President said bystanders should not be arrested if they do not violate any law.
However, a person who creates trouble should be accosted, or detained.
"So, I said, if you are unruly, I will really tell you to go home or you will be arrested. That is a police power of the state," he said.
Duterte said he would not lift a finger if the SC will prevent him from asking law enforcers to implement the law against loiterers.
"Now, let them contest sa Supreme Court. Or I will say, if you won't, I will – go ahead, go out. All those who want to go out, all hold-uppers, you loiter around," said the President, who is known for his sarcasm.
Duterte also invoked the doctrine of "Parens patriae" – Latin for parent of the fatherland – which refers to the inherent power and authority of the state to protect persons who are legally unable to act on their own behalf.
"Of course, I can accost you. I will ask, 'what are you doing here?' If you are a minor under the power of parens patriae, you are the father of the nation, you can always give an advice for people like minors," Duterte said.
Duterte, who claimed he did not directly order the police to arrest loiterers, said authorities can go after drunkards or those who are shirtless.