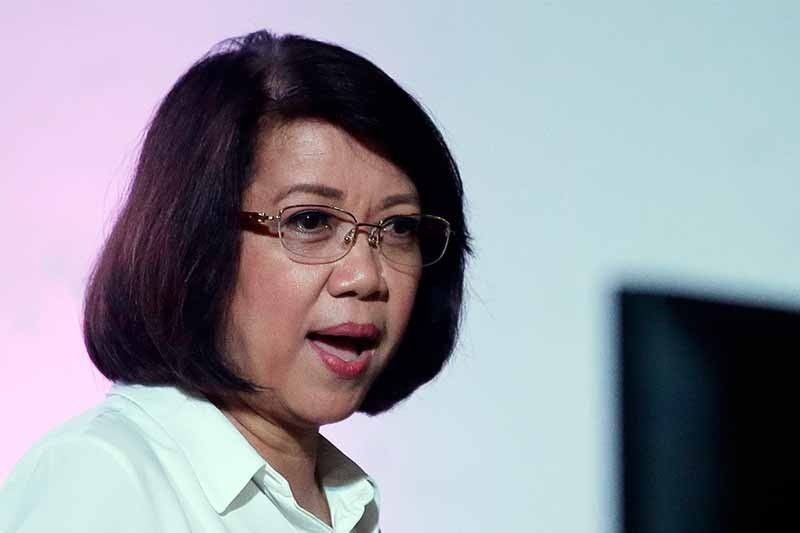 Former Philippine Chief Justice Maria Lourdes Sereno practices reading her speech before an event in metropolitan Manila, Phillipines on Tuesday, June 19, 2018. The Philippine Supreme Court has upheld the expulsion of its chief justice, the authoritarian president's highest-ranking critic, in a final ruling that critics warned is unconstitutional and threatens judicial independence and the country's fragile democracy.
AP/Aaron Favila
Sereno says her priority is to urge unity for judicial independence
(Philstar.com) - June 22, 2018 - 1:21pm
MANILA, Philippines — After the Supreme Court upheld its ruling on the government's quo warranto petition against her, ousted Chief Justice Maria Lourdes Sereno said that she is focusing on fight for judicial independence.
Since her ouster, Sereno has been hounded by questions if she will be joining politics. Speaking at ONE News' The Chiefs, she said that she "is still in the process of finding out what is best for our country."
"The priority right now is...to encourage unity among all those who have coalesced their forces in order to fight for judicial independence," the ousted top judge said.
READ: Sereno to lead 'people's movement' to hold Duterte accountable
She recalled people going to her and asking her to speak up on issues since she is "able to articulate them and understand what is on their mind."
Asked if she will be gunning for a seat in the politics to initiate reforms she wants for the country, Sereno replied that she is still "weighing things."
"What I am doing is I am looking at how people's movements without entering politics," Sereno said, adding that she aspires a nation that is "not enslaved to an idol."
The ousted chief justice, who was publicly branded by President Rodrigo Duterte as his enemy, also stressed that the chief executive is not "god."
"[Duterte] He is not God. He is not to be worshipped as God. He does not have the exclusivity of wisdom God has designed us as a Filipino nation to be participative in determining what the direction the country should take," the chief justice added.
On Tuesday, the SC reaffirmed its ruling on the government's quo warranto petition against Sereno that resulted in her removal as the country's top judge. On the same day, the SC also announced that the 90-day period to fill the vacancy at the Office of the Chief Justice has commenced. — Kristine Joy Patag