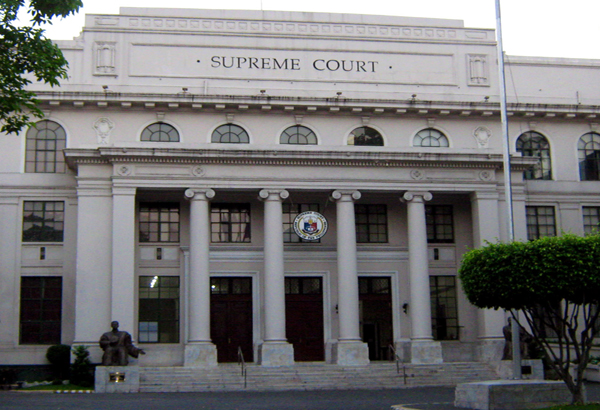 Roque claimed Sereno never got the respect of her fellow justices because she lacked experience and is younger than them.
Roque believes Duterte to honor seniority in CJ selection
MANILA, Philippines — President Rodrigo Duterte will appoint a senior member of the Supreme Court as the next chief justice to avoid the "mistake of Maria Lourdes Sereno," his spokesman said on Thursday.
In an interview with ANC, presidential spokesman Harry Roque said the president would honor seniority and ruled out the appointment of an outsider.
Roque claimed Sereno never got the respect of her colleagues when she was appointed because she was not a career litigator and she was very young when she assumed the top judicial post.
Sereno, who was recently ousted from the Court by her colleagues for supposedly failing the integrity test of her office for her failure to file her assets and liabilities disclosure, was appointed to the court by former President Benigno Aquino III in 2010.
In 2012, she made history by becoming the Supreme Court's first female head and its youngest chief in history after she beat four more senior justices for the position.
"I have no basis, because I have no consultation with the president on this point yet. But I would think that being a lawyer, the president would honor seniority," Roque said.
"He would have to choose amongst the 14 sitting justices, lest he repeats the mistake of Maria Lourdes Sereno all over again. I mean she never got the respect of her colleagues because number one, she was not really a career litigator even more so a judge and number two she was very young," the president's spokesman said during the interview.
Roque also ruled out Justice Marvic Leonen as the next chief justice, saying that he too is still too young.
Roque, who before his appointment as Duterte's spokesman served as a human rights lawyer, said that he was also not interested in being appointed to the Court.
He said that he was still too young and not yet ready to "withdraw from his social life."
Following the Supreme Court's decision on Tuesday to deny with finality Sereno's motion for reconsideration, the Judicial and Bar Council has already commenced its process of selecting the new chief justice of the Supreme Court.
The next head of the Supreme Court will have enormous tasks ahead to unify a judiciary that has been divided by the ouster of its two previous heads.
Sereno was appointed to the Court in 2012 after the Senate removed the late Chief Justice Renato Corona for his supposed failure to disclose his wealth in his Statement of Assets, Liabilities and Net Worth, a document government employees are required to file annually.