Cops axed for wrong tambay arrest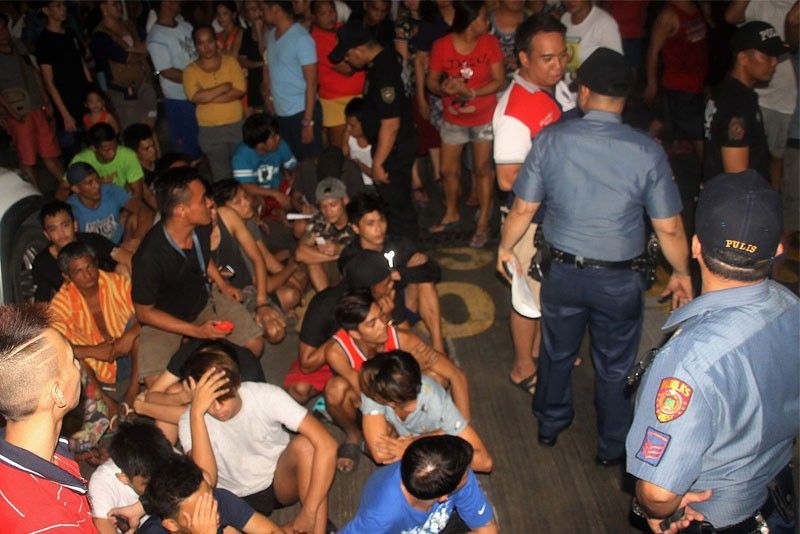 MANILA, Philippines — Two Makati City policemen were relieved from their posts on Monday after they mistakenly arrested six persons as tambays or loiterers in one of their operations last weekend, an official said yesterday.
National Capital Region Police Office (NCRPO) director Chief Supt. Guillermo Eleazar said he ordered the relief of Chief Insp. Aaron Raemon Elago and Senior Police Officer 1 James Teaño.
Elago was station commander of police community precinct 6 of the Makati police while Teaño was desk officer of police community precinct 7 where some men were mistakenly nabbed for being tambays.
"Kaya na-relieve sila kasi mali ang ginawa nila (They were relieved because they made a mistake). We also relieved them to pave the way for investigation of the incident," Eleazar said.
The Southern Police District said that Police Chief Insp. Romeo Vasquez replaced Elago while Teaño remains at the police community precinct.
Facebook user Ttam Nanaramid said they were arrested and detained by the police in Makati for no apparent reason while waiting outside his friend's house at around 11 p.m. last Saturday.
Nanaramid said that he and his partner along with other friends were planning to go to a bar when the police arrested them, along with several others who were caught drinking on the street.
He said they heard the police just want them to ride the police vehicle so they could answer questions at the precinct, so they went along.
They insisted they were not loiterers.
But to his surprise, Nanaramid said that he and his five companions were detained along with the arrested tambays at the Guadalupe Nuevo police station 7.
Nanaramid said that the police who arrested them allegedly did not listen to their explanations as well as some questions of their law student friend about their violations.
He said the police were allegedly waiting for Elago, as they could not decide on their arrest.
A policeman allegedly asked them if they were aware of the order of President Duterte to arrest tambays, adding that all of what he has said has become law.
He said they were detained for almost an hour before they were released between 2 to 3 a.m. from the police station after they were invited to Elago's office.
Eleazar said that the policemen misinterpreted the order of the President, saying that only those who clearly violate existing ordinances like the no smoking law, drinking in public places and gambling, among others are to be arrested under the anti-tambay campaign.
Senior Supt. Rogelio Simon, chief of Makati City police, said that the police should have arrested only those who have violated the city ordinances and not whoever they saw on the street.
But Simon said that they reoriented their members on how to implement and who to arrest in the anti-tambay campaign.
He said that sanctions against Elago and Teaño will be determined based on the outcome of their investigation.
Malacañang, meanwhile, allayed fears yesterday that President Duterte's order for the police to go after tambays is a prelude to the declaration of martial law nationwide.
Presidential spokesman Harry Roque Jr. said the President was clear when he declared that martial law implementation all over the country was a complex undertaking.
"The President is clear (when he said that) martial law in the entire Philippines will become very complicated. He has absolutely no intentions right now, unless there would be reasons to do so," Roque said, adding there is no reason for the declaration of martial law.
"There is martial law in Mindanao. So, there is no need to have a prelude to martial law… it's already in Mindanao," he said.
The Department of the Interior and Local Government (DILG) and the Philippine National Police (PNP), Roque said, will be issuing the proper guidelines on the police's operations against tambays.
He said the PNP is also implementing ordinances issued by cities and localities.
Mayors support drive
Mayors nationwide supported the order of President Duterte to round up tambays or loiterers that could result in crime-free communities, the DILG claimed yesterday.?
DILG officer-in-charge Eduardo Año said the President's directive to be strict with loiterers has gained the support of local government units (LGUs), especially the barangays.?
"We have received feedback from some LGUs and they welcome this recent directive from the President, which they say is actually a big boost to their efforts to keep their communities crime-free," Año added.?
Año said LGUs already have existing ordinances to prevent crime, which include addressing the problem of loiterers requiring strict implementation and political will.?
"It's just a matter of implementation. Nandiyan na po ang mga kautusan para ating ipatupad (there are existing laws to be enforced). As we envision safer streets for our communities, we have to activate these ordinances and make them work for our people," he said.?
He said there are existing local ordinances against drinking in public places, going out half-naked and curfew on minors. ?
"This is not really something new. The bottom line of these ordinances which complement the President's order is public safety," Año said. ?
Duterte recently directed the PNP to be strict in dealing with street loiterers or tambays, especially those who roam the streets in the wee hours, to keep communities safe from criminals.?
DILG Assistant Secretary Jonathan Malaya said being strict with tambays is just one of several measures being carried out by local government authorities in fulfilling their duty of protecting the general welfare of the public.?
"Let us give our LGUs a chance to exercise their mandate of protecting their constituency and ensuring the safety of their communities. After all, these measures are for the greater good of the community," said Malaya, who is also DILG spokesman.?
"The President is simply concerned with the welfare of all Filipinos, especially law-abiding citizens who need to go to work or return home late at night.
Thus, the President's remarks are more in the nature of crime prevention than anything else. Let us not read too much into it as the critics are wont to do," he added.
Dagupan loiterers
The Dagupan City police apprehended at least 100 tambays in different barangays on Monday night and early yesterday morning.
Supt. Jandale Sulit, Dagupan police chief, said the arrested loiterers were detained at the gymnasium of Caranglaan Elementary School after the police conducted Oplan Rody to round up tambays.
Those apprehended included minors, people drinking liquor, prostitutes and pimps, cigarette smokers that were all loitering in the streets on Monday night.
Sulit said Oplan Rody includes the implementation of a city ordinance, also known as Artikulo 21 that was passed by the local council, against violators of various city ordinances pertaining to discipline in the streets.
"All people should not loiter in the streets from 10 p.m. onwards if they have no business to be outside their homes," he said.
Sulit added that barangay chairmen and their councilmen and elements of Public Order and Safety Office, Department of Social Welfare and Development assisted the police in explaining to the apprehended tambays that loitering is prohibited.
He said even foreign students in Dagupan would be warned to avoid loitering in the streets before midnight.
"It's easy to identify who are the loiterers and those who have legitimate business why they are on the streets," he said.
Human rights group Karapatan yesterday questioned the reported police arrest of tambays in Metro Manila.
"Without a clear set of guidelines, without a cause and on the mere say-so of President Duterte, shouldn't the police arrest of 5,575 tambays in five days be considered patently illegal?" the group asked.
Karapatan secretary-general Cristina Palabay said these police operations directly affect the rights of people against illegal arrests, illegal search, seizure and impedes their right to mobility.
"Even the classification of persons as 'tambays' is very arbitrary, giving broad and vast powers to the police in accosting anyone on the streets at nighttime, especially when laws on vagrancy have been repealed," she added.
NCRPO director Chief Supt. Guillermo Eleazar said some 5,575 individuals were arrested from 5 a.m. of June 13 to 5 a.m. of June 18.
These persons were arrested for reportedly violating curfew ordinances, drinking in public places or streets, being half-naked in the streets and for smoking in public. Also apprehended were illegal vendors, videoke curfew violators, litterers, illegal barkers as well as those who violated the traffic code.
Camiguin Rep. Xavier Jesus Romualdo said under the Civil Code, obstructing or interfering with the free passage of streets is considered a nuisance.
"Thus, the police may abate tambays by immediately sending them home. If there are local ordinances that penalize making tambay, police officers may also invoke these ordinances to arrest violators," said Romualdo, chairman of the House committee on government reorganization.
He said the President's order against tambays is really just part of his anti-criminality campaign, "which we support." – With Rhodina Villanueva, Delon Porcalla, Christina Mendez, Eva Visperas