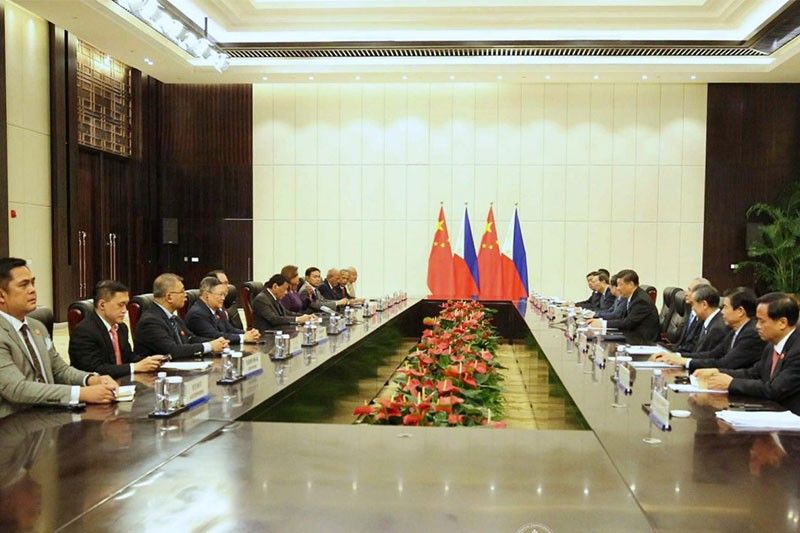 President Rodrigo Roa Duterte and the members of his delegation hold a bilateral meeting with People's Republic of China President Xi Jinping and other Chinese government officials at the Boao State Guesthouse on April 10, 2018.
Presidential photo/Ace Morandante
Tentative fishing agreement between Philippines, China still verbal
MANILA, Philippines — A tentative fishing agreement between the Philippines and China is in the works but nothing is written yet, Foreign Affairs Secretary Alan Peter Cayetano said Friday.
The supposed agreement was a consensus between President Rodrigo Duterte and Chinese President Xi Jinping during their last meeting.
"The (Chinese) Ministry of Foreign Affairs and the DFA is working out the details and then now we have a formal mechanism, that bilateral consultative mechanism which has 22 different subgroups which are fisheries, [Armed Forces of the Philippines], Coast Guard, all of it," Cayetano told CNN Philippines' The Source.
The Philippines' top diplomat noted that anything from the arbitration award through the United Nations Convention on the Law of the Sea is being discussed in the bilateral consultation mechanism.
Explaining the Duterte administration's policy toward China, Cayetano said that Beijing gained on the ground while the Philippines was "speaking loudly" under the previous administration.
Cayetano was referring to China taking control of Scarborough Shoal and building artificial islands in the Spratly Islands in the South China Sea.
"What President Duterte did in the start was we talked with Chinese counterparts and said, 'What do you want?' And they asked what we want and they said, 'Our stand has never changed,'" Cayetano said.
Beijing asked Manila to discuss the dispute bilaterally and stop "internationalizing" the issue.
"So we said, 'What does President Duterte want? One — we don't want any of our features, no incidents... (in) Ayungin Shoal we should be able to bring food and supplies to our soldiers there," he added.
China's goodwill
Chinese Ambassador Zhao Jianhua's remarks that Beijing is allowing Filipino fishermen to access Scarborough Shoal "out of goodwill" is unacceptable, Cayetano said.
"We don't accept that and they know that we don't but why did they say it? They said it because when President Xi and President Duterte talked what did the two leaders say? It's very hard for us or impossible to go beyond our stand so that is the stand of the Philippines — it's ours. The stand of the Chinese is that it's theirs," the Foreign Affairs secretary said.
Cayetano added that the Philippines only has two options which is to either not talk and use force or have a tentave agreement.
Asked whether the Philippines should demand for an apology for the actions of Chinese Coast Guard personnel against Filipino fishermen in Scarborough Shoal, Cayetano said that there is no need to do so.
"You have to differentiate the policy of a country from an action of one of its agents," Cayetano said.
China has vowed to "seriously" investigate the reported Chinese confiscations of Filipino fishermen's catch at the traditional fishing ground off the coast of Zambales.
"The Chinese coast guards have been safeguarding peace, order and tranquility in relevant waters and offered humanitarian aids to Philippine fishermen for many times... As to whether the situation mentioned by the media exists or not, the Chinese side is now conducting an investigation seriously," Chinese Foreign Ministry spokesperson Geng Shuang said.
Related video: