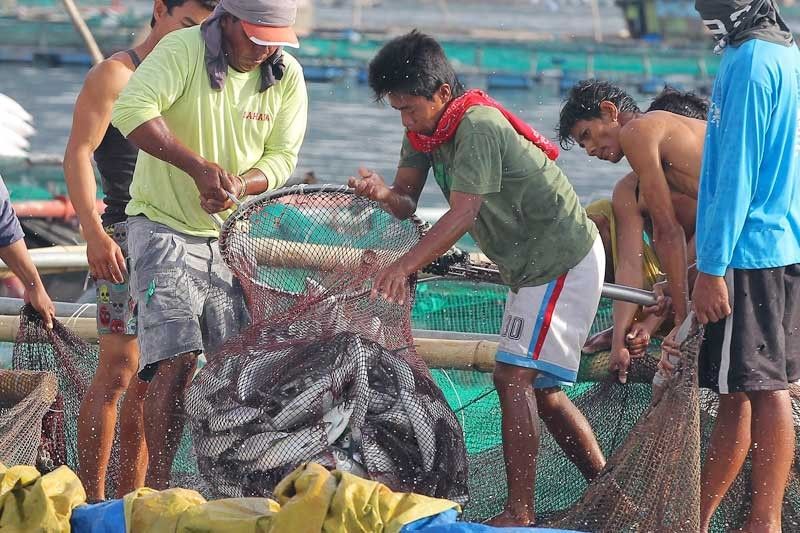 The Philippines should protest in the "strongest terms" the reported taking by China coast guard personnel of Filipino fishermen's catch on Scarborough Shoal.
The STAR/Val Rodriguez, File
Robredo urges protest 'in strongest terms' for taking of Filipino fishers' catch
MANILA, Philippines — Vice President Leni Robredo on Thursday doubled down on her comments that it was insulting for China to say that Filipinos could fish in Scarborough Shoal "out of [its] goodwill."
Robredo said that the Philippines should protest in the "strongest terms" China's actions in these waters.
In a statement on Tuesday, the Chinese Embassy in Manila said that Beijing had made arrangements for Filipino fishermen to fish in the waters out of "goodwill," a comment that did not sit well with the country's vice president.
Robredo described the statement as "insulting" and a "slap on the face" of Filipinos and asked why locals needed to secure permission to fish in those waters.
On Thursday, the vice president reiterated her comment and said, "I said this the other day. This is a big insult to all of us because we are fishing in waters we own, we are fishing in our territory, but before we do that we need to secure permission from a country which doesn't own it."
Last week in a report by GMA News, personnel of the Chinese coast guard were seen asking for fish from Filipinos on Scarborough Shoal. The Chinese coast guardsmen boarded the Filipino fishers' vessel and opened the containers of their catch.
Scarborough Shoal has been declared by a United Nations-backed tribunal in 2016 as a traditional fishing ground. The tribunal, however, did not touch on which claimant has sovereignty over the shoal, which is inside the Philippines' Exclusive Economic Zone.
READ: Chinese coast guard continue to harass Filipino fishermen in Scarborough — report
The vice president urged the government to ensure that Filipino fishermen are not harassed and are free to to fish in those waters.
She clarified that protesting against China's actions in the South China Sea does not mean the country would go to war, adding that the international community could support the Philippines only if Manila would assert its rights over these waters.
"If you protest, this does not mean that you would like to go to war. You are just fighting for your rights. How can other countries help us if we are not fighting for ourselves?" she said.
Sen. Paolo Benigno "Bam" Aquino IV meanwhile said that the Philippines should at least demand an apology from its "perceived ally" if it would not file any diplomatic protest over the incidents on Scarborough Shoal.
"The government should issue a diplomatic protest against the actions of China's coast guard on our fishermen. The government isn't even asking for an apology," he said.
The senator warned that China's coast guard might be emboldened to commit more abuses against Filipino fishermen if the government would not do anything to address this incident.
Aside from the Philippines and China, Vietnam, Taiwan, Malaysia and Brunei have overlapping claims to the resource-rich waters.
In recent months, tensions have risen in the region after it was reported that China placed missile systems on its outposts in the waters. It was also reported that Beijing landed a bomber capable of carrying nuclear-tipped weapons on one of its artificial islands.
READ: Roque: Philippines to protest Chinese taking of Filipinos' catch 'if established'