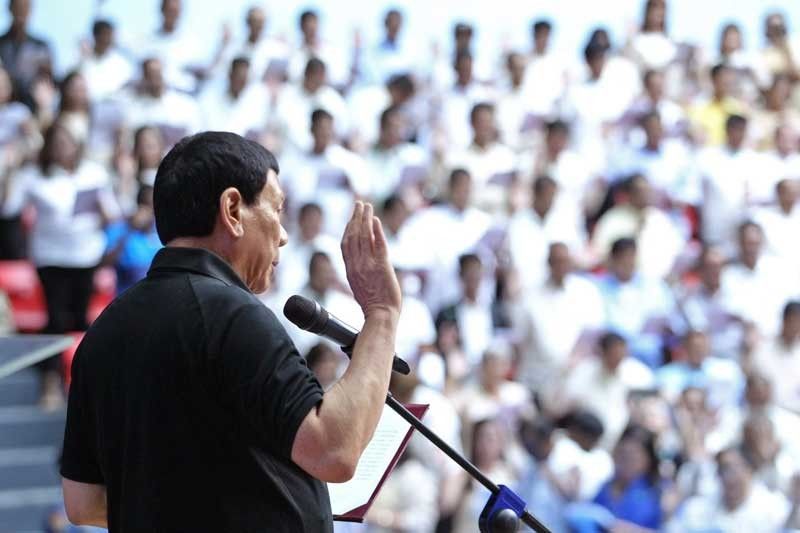 President Duterte swears in newlyelected barangay officials from Central Visayas during a ceremony at the Hoops Dome in Lapu-Lapu City, Cebu the other day.
Duterte eyes arming of barangay captains vs crime
MANILA, Philippines — President Duterte is considering arming barangay captains to make them more effective as peacekeepers, but warned them of "harsh" treatment if they fail to check what he called rising cases of drug-related killings in their communities.
"Just to inform you, I will be harsh, as I am wont to do," he said at the oath-taking of newly elected barangay officials of Region VII Thursday night in Cebu. He called the crime situation in many communities "quite a bit alarming," as he stressed drastic steps had to be taken to correct the situation.
He reminded the barangay leaders of their vital role in maintaining peace and order in their areas of jurisdiction.
"Try to study what ails your barangay and let us talk again," he said.
"And if it's a matter of security, then I can maybe provide you with the firearm, but that has to be discussed. I cannot, I will not decide it on my own. It's not good," he pointed out.
Duterte earlier declared his plan to initiate "radical changes" in law enforcement, as he expressed alarm over rising violence as highlighted by the shooting to death of ombudsman assistant prosecutor Madonna Joy Ednaco-Tanyag who was five months pregnant. Initial investigation showed her death was a case of robbery gone awry.
Asked if he was referring to martial law when he said he wanted radical change, Duterte said he was not.
"Martial law is not feasible. It won't work," he told reporters.
"First of all, it's going to be a divided nation. So, I don't know if everybody will agree with you. It's going to divide the nation," Duterte said.
"You might think of something else – martial law. We have martial law in Davao. It is an ordinary day for all of us there – no soldiers, no nothing, no abuses because we had already the experience of Mr. Marcos," the President said, referring to the late dictator Ferdinand Marcos whose declaration of martial law in 1972 led to abuses and human rights violations, and eventually national resistance that led to his ouster in 1986.
"What really made it so unpopular were the abuses committed, unbridled, unfettered. That cannot happen in my time," he said.
Although faced with accusations of human rights abuses, Duterte said he would not allow oppression to prevail under his administration.
"I will simply not allow it. I already declared that in this presidency, I put everything on the table – the presidency itself, my life and honor. I will not allow somebody oppressing you. But I will allow free speech to the fullest," he said.
Meanwhile, Philippine National Police (PNP) chief Director General Oscar Albayalde said Duterte's remarks on the rising criminality in the country may have stemmed from the surge in the number of arrests of erring police officers.
"Probably he has the impression that there is problem in our ranks, which we admit there really is. There are still a few who really have to be removed from the organization," Albayalde said in a mix of Filipino and English in a press briefing. – Romina Cabrera, Emmanuel Tupas