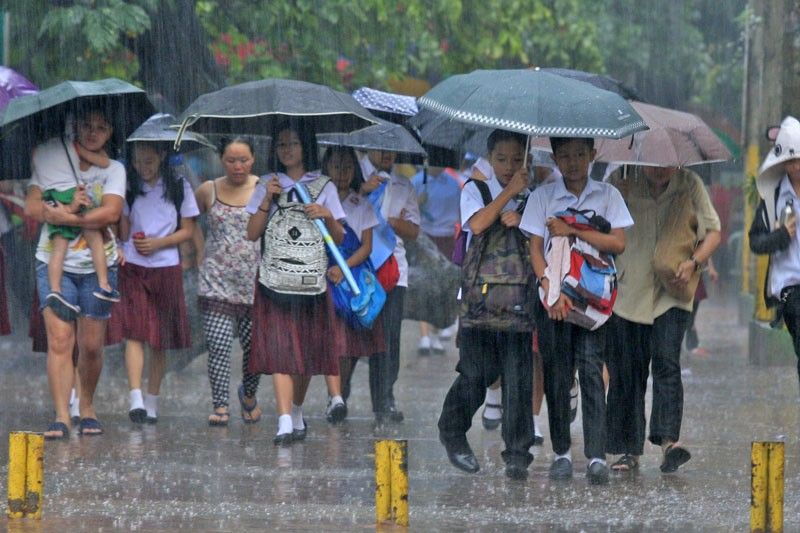 Sudents of Araullo High School in Manila forced to brave the rain as they head to school yesterday during the second day of school opening yesterday.
Edd Gumban
Tropical depression Domeng enters PAR
MANILA, Philippines — A rainy weekend is expected in the western section of the country, including Metro Manila, due to the southwest monsoon, which will be enhanced by Tropical Depression Domeng, the state weather bureau said yesterday.
Due to the possible activation of the southwest monsoon, the Philippine Atmospheric, Geophysical and Astronomical Services Administration (PAGASA) is poised to declare the start of the rainy season anytime this week.
Nikos Peñaranda, PAGASA weather specialist, said while Domeng is not expected to hit landmass, the enhanced southwest monsoon would bring moderate to heavy rains over the western portions of the Visayas and Luzon starting Friday.
Peñaranda said Domeng's closest distance to the Philippines is expected on Friday over Cagayan province.
"By Friday or Saturday until Monday, it will be rainy over the western section of Luzon, including Metro Manila, due to the enhanced southwesterly wind flow," he said at a press briefing.
Domeng may reach a severe tropical storm category before it leaves the Philippine area of responsibility on Sunday.
Because the cyclone's eye is far from any landmass, Peñaranda said its strong winds are unlikely to affect any part of the country.
PAGASA is unlikely to raise tropical cyclone warning signals despite Domeng's presence over the Philippine Sea.
Peñaranda warned operators of small sea vessels against moderate to rough seas along the eastern and western seaboards of Luzon and the Visayas.
As of 4 p.m. yesterday, Domeng was spotted at 690 kilometers east of Guiuan, Eastern Samar with maximum sustained winds of 45 kilometers per hour and gustiness of up to 60 kph.
It is forecast to move north northwest at a speed of 14 kph.
PAGASA hydrologist Danilo Flores said all major dams in Luzon, including Angat Dam in Bulacan, are below their spilling levels.
Increased vigilance
The Philippine Coast Guard (PCG) has intensified its monitoring of areas that PAGASA said would be affected by Domeng.
Although Domeng will not make landfall, it can trigger strong southwesterly wind flow that will bring occasionally moderate to heavy rains over the western sections of Luzon and the Visayas this weekend, according to Genito Basilio, PCG acting spokesman.
PCG commandant Admiral Elson Hermogino ordered their field stations and sub-stations in the Visayas, Caraga and Davao Region as well as the western parts of Luzon to be extra vigilant to avoid maritime mishaps. – With Evelyn Macairan