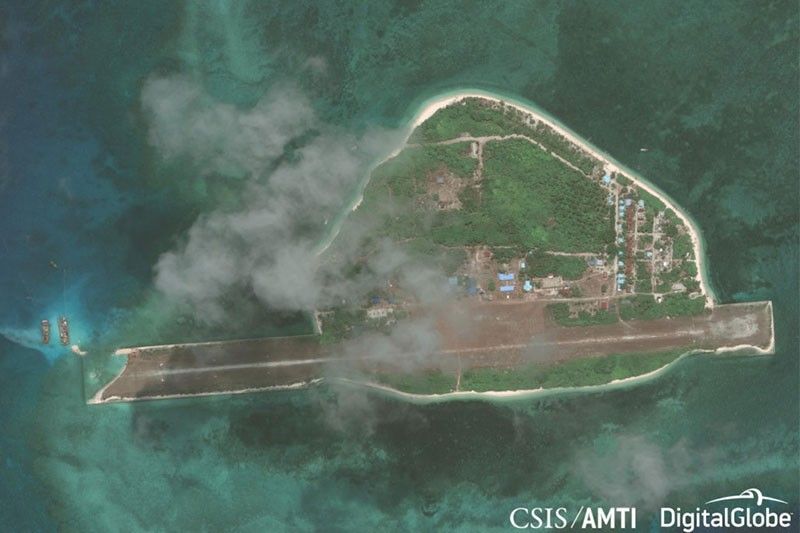 Satellite imagery from May 17 shows two barges anchored just off the western edge of the Thitu Island runway, which collapsed into the sea years ago.
CSIS/AMTI via DigitalGlobe
Vietnam asks Philippines, China to stop escalating tension in South China Sea
(Philstar.com) - June 4, 2018 - 5:26pm
MANILA, Philippines — Vietnam called out the Philippines and China for further complicating the situation in the disputed features in the South China Sea, part of which Manila calls the West Philippine Sea.
On Thursday, the Vietnamese Foreign Ministry asked the Philippines to stop its repairs of a collapsed runway on Pag-asa Island, the largest of the nine Manila-controlled features in the Spratlys Islands.
State-run Vietnam News Agency reported that the Vietnamese Foreign Ministry asked for restraint and compliance with the declaration of conduct in the South China Sea to prevent further escalation of tensions.
READ: Expert: Phl repairs in Spratlys facilities 'most benign' among claimants
Hanoi also called out Beijing for conducting live fire exercises in the Spratly Islands from May 9 to 12.
"[China's actions] seriously violate Vietnam's sovereignty, run counter to the two countries' agreement on basic principles guiding the settlement of sea issues, breach the ASEAN-China Declaration on the Conduct of Parties in the South China Sea... and trespass on the consensus reached between the two countries' leadership," Vietnamese Foreign Ministry spokesperson Le Thi Thu Hang said in a press briefing.
Hang further asked all claimant countries to act in accordance with international law, particularly the United Nations Convention on the Law of the Sea.
Vietnam had asked China to withdraw military equipment from the South China Sea following a report that Beijing had installed anti-ship cruise missiles and surface-to-air missiles on three of its bases in the Spratly Islands.
Beijing was also accused of violating Hanoi's sovereignty after landing a bomber aircraft on Woody Island, China's largest outpost in the Paracel Islands, which is also being claimed by Vietnam.
In a security and defense summit in Singapore last weekend, Vietnamese Defense Minister Ngo Xuan Lich called out China for deploying weapons and military equipment in the South China Sea.
"Such act, regardless from whom, is a serious breach to the sovereignty of other country, violate international laws, complicate the situation and negatively affect regional peace, stability and security," Lich said. — Patricia Lourdes Viray
Related video: