Lasting peace miliary's 'ultimate priority,' says AFP chief Galvez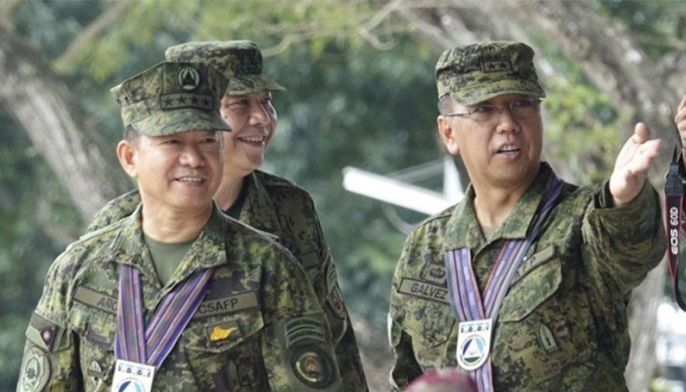 MANILA, Philippines — Transformation and the attainment of lasting peace will be the ultimate priority for the Armed Forces of the Philippines, military chief Gen. Carlito Galvez said.

Galvez said that enormous gains had already been achieved following the military's victory in Marawi City and the surrender of militants from the Abu Sayyaf group and rebels from the New People's Army.

"In the next months of my duty as the Chief of Staff of the Armed Forces, we will see to it that our goals of transformation and the attainment and preservation of a just and lasting peace shall be the ultimate priority," Galvez said during a recent testimonial dinner hosted by a bank in his honor.

Last year, a five-month battle erupted in Marawi City after Islamic State group-inspired militants tried to overtake the lakeside city and transform it into the capital of the terror group's province in Southeast Asia.

Galvez was at the forefront of the battle as he was the commander of the military's Western Mindanao Command which has jurisdiction over Marawi City, the country's only Islamic city.

"As the Commander of the Western Mindanao Command during that critical moment, it was a tough call to lead a thousand men into battle and orchestrate all military platform into a joint operation," he said as he paid tribute to the valor and sacrifices of soldiers who fought during the siege.

The military chief also stressed that the Armed Forces would protect and preserve the sovereignty and the integrity of the Philippines.

Before becoming the chief of the Zamboanga-based Western Mindanao Command, he was also an Army Scout Ranger officer and a veteran of operations against the Abu Sayyaf group.

He was also the overall commander of the military's anti-terrorism campaign against militants in Marawi and the rest of the Autonomous Region in Muslim Mindanao.

It was also under Galvez' command when several top commanders of the Abu Sayyaf were captured, the most recent of whom was Nhurhassan Jamiri who was wanted for bombings and kidnappings in several towns and cities in Mindanao.

This lead role against militants led him to be known as an Abu Sayyaf hunter.

However, despite this image, the military chief also espoused a "soft-hand approach" in dealing with militants.

"If you will be able to reform one hardcore terrorist, all of his followers and his relatives will be reformed also," Galvez said, warning that killing a terrorist might result in three or four of his relatives taking up arms.