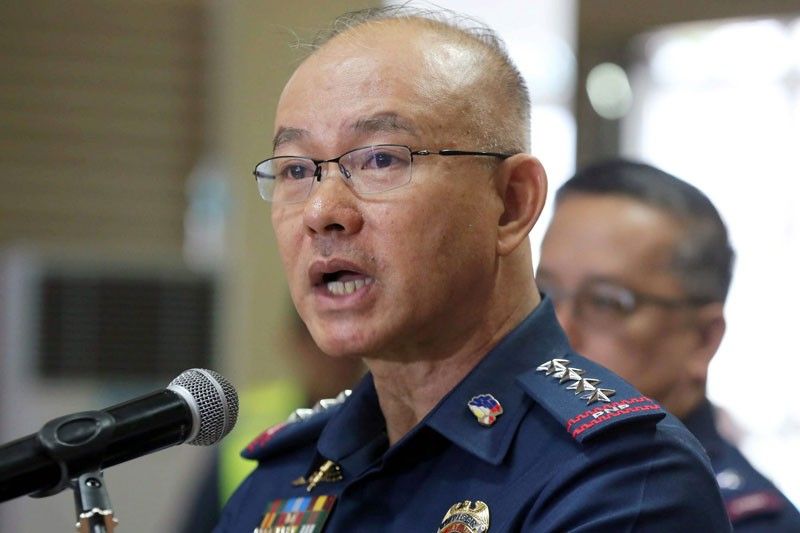 Human rights important in drug war – PNP chief
MANILA, Philippines — Philippine National Police (PNP) chief Director General Oscar Albayalde said human rights are still foremost in the police's campaign against drugs and asserted that the police force is not lacking in training on human rights awareness in their operations.
"The rules of engagement are paramount in every police operation, and respect for human rights is one of them," he said.
The police chief added that this is the reason why police operatives are instructed to conduct outright investigations into cases that are perceived as unjustly executed or were done without due process.
But while he raised the issue of respect for human rights, Albayalde also said the safety of police operatives is equally important, particularly in situations that are too dangerous during police operations.
In his talk with The Chiefs hosts Amy Pamintuan, Ed Lingao and Roby Alampay on One News channel on Cignal TV, Albayalde said police safety and protection are stipulated, "but what happens on the ground if there is danger on the part of the operatives is something that we cannot control."
Albayalde was the featured guest in the premier episode of the talk show "The Chiefs" that airs at 8:30 p.m. on One News Cignal TV 8 and 250 (HD).
"There have been 608 cases of violations of human rights involving policemen and this is a good indication that we are not tolerating any wrongdoing," he said.
Albayalde said the PNP would continue with what has been started in the war on drugs because it has been a good one, especially in the improved tokhang and buy-bust procedures.
He said administrative and criminal charges were filed against lawmen who committed infractions and the PNP has intensified measures that prevent police officers from committing abuses when implementing the anti-drug campaign.
"Before we used the shotgun approach, anti-illegal drug operations now are limited to identified drug personalities," he said.
Drug war updates
Meanwhile, Presidential Communications Operations Office chief Secretary Martin Andanar yesterday presented the updated and consolidated figures in the campaign against drugs.
Under the #RealNumbersPH Year 2A, a total of 4,279 drug personalities were killed in the police's intensified campaign against illegal drugs.
At least P20 billion worth of illegal drugs was seized from July 1, 2016 to May 15, 2018 and 192 clandestine shabu laboratories dismantled.
Andanar said #RealNumberPH is the consolidated figure in the accomplishment against illegal drugs.
"These are real numbers that we need to know, all else are either false, misinformation or fake," Andanar said.
National Capital Regional Police Office chief Director Camilo Cascolan said the PNP through #RealNumbersPH is taking intervention to rehabilitate drug surrenderees.
As of last count, about 1.2 million drug personalities have surrendered.
Deputy Director General Ramon Apolinario, deputy chief for administration, said the PNP will continue the intensified campaign against illegal drugs.
"We know there are more challenges to come, but we assure you that the PNP will never give up until peace and order is achieved. As the President said, we won't stop until the last drug trafficker, drug pusher, drug lord and user surrender or are put behind bars," Apolinario said.
Derrick Carreon of the Philippine Drug Enforcement Agency said when they started the war on drugs, 36,000 of the country's 42,000 barangays were drug-affected.
"We have cleared 5,000 barangays. We plan to clear all barangays before President Duterte steps down," Carreon said.
Cop recruitment
Albayalde is pushing for the adoption of a barcoding or digital system in police recruitment and selection processes to eliminate corruption, insider intervention and political intercession.
He said the barcoding would help the PNP establish systematic records of police applicants who have already applied but flunked either in medical or physical tests during the application process.
Under the present recruitment and selection process, the PNP handles the screening and hiring of applicants.
But the training of policemen with a rank of Police Officer 1 (PO1) during the first six months is handled by the Philippine Public Safety College and the National Police Training Institute.
The PNP leadership has been pushing for the mandatory training for PO1s patterned after the training of the Special Action Force, the elite unit of the PNP.
Albayalde said there is a big difference between the training of SAF men and that of regular police recruits.
He admitted that the present training program for police officers lacks leadership course and international standard compliance.