Duterte set to fire another exec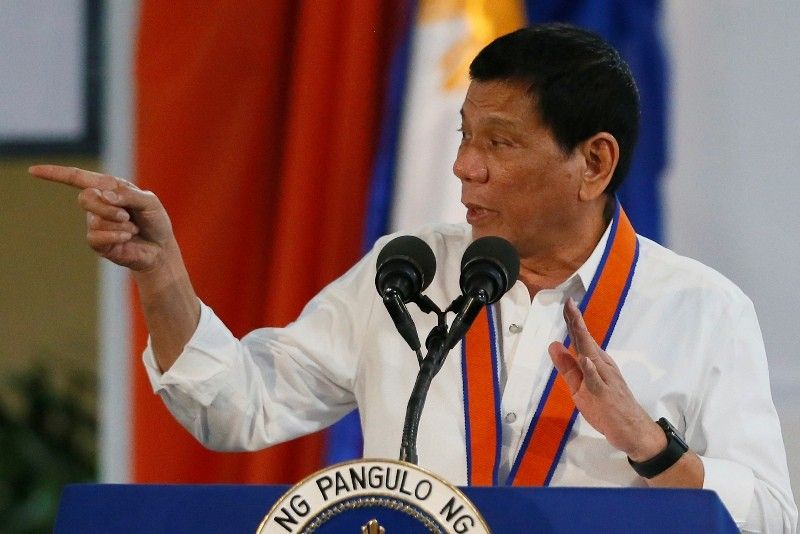 DAVAO CITY, Philippines — President Duterte is apparently on a firing spree as he said he is sacking another ranking government official when he returns to Manila next week.
The President has fired a number of officials including Cabinet members, the latest of whom was Department of Transportation Assistant Secretary Mark Tolentino for discussing with Duterte's sister the proposed Mindanao Railway project.
Duterte said he has a list of government officials reported to have been involved in corrupt activities.
Former tourism secretary Wanda Teo, former justice secretary Vitaliano Aguirre II and former interior and local government secretary Mike Sueno were among those he had earlier fired.
"That has always been my warning and so sali lahat (all are included). Sadly, yung halos karamihan (almost all) were my appointees and my friends and who were with me during my mayorship days," the President said during the inauguration of the Davao River Bridge Widening Project along the Diversion Road here yesterday afternoon.
He said time and again he has been asking government officials, most of whom he had appointed, not to engage in corruption.
"Sinabi ko lang sa kanila, makikiusap ako huwag, do not, kasi ayaw ko talaga (I told them, I beg you, don't, because I really don't like it)," the President said.
The President is, as usual, back home in Davao City for the weekend.
Duterte is set to go back to Malacañang at the start of next week.
He warned government officials anew not to talk to any member of his family.
"Sinabi ko naman sa inyo noon (I told them before) and people – do not talk to anybody, especially my family, my wife, my daughter, my sons or any relatives of mine," he said.
The President said he had to fire Tolentino after he talked with his sister and even bragged about it.
"Even the discussion of that Mindanao railway still in the blueprint. But the fact that this assistant secretary talked it over with my sister, even if it's just a conversation. Lumayo talaga kayo (get away) because sabi ko kapag nalaman ko, tapos ka (once I learn about it, you're finished)," he said.
Duterte cited Tolentino's having mentioned that he was talking to a member of the First Family.
Besides, the President said that he himself does not even refer to Malacañang Palace but just his office.
"You have never heard me say Malacañang Palace, lalo na 'yung palace (especially that palace). I just say my office. See me at my office. Go to my office," he said.