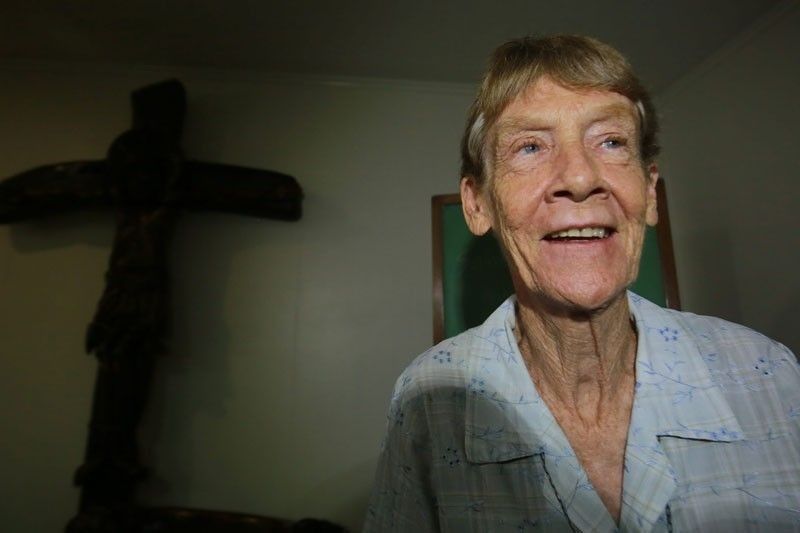 On May 23, 2018, the Bureau of Immigration denied with finality Sister Patricia Fox's motion for reconsideration on the cancelation of her missionary visa.
The STAR/Michael Varcas
Sister Fox to elevate her case to DOJ
MANILA, Philippines — The camp of Australian nun Sister Patricia Fox will elevate the forfeiture of her missionary visa to the Department of Justice.
In a statement, her lawyers said that while the Bureau of Immigration leave order is "final and executory," they are not precluded from filing an appeal before the DOJ. The Immigration is an attached agency of the DOJ.
On Wednesday, the Immigration denied with finality Fox's motion for reconsideration on the cancelation of her missionary visa. The 71-year-old missionary is ordered to leave the country before May 26.
"While she has already expected that the BI will deny her MR, she was still hoping that the commissioners will be enlightened that the complaint or report against her that she had engage in political activities has no factual and legal basis," her lawyers Jobert Pahilga and Maria Sol Taule said.
They added that Fox—who has caught the ire of President Rodrigo Duterte's tirades—wants to "exhaust all legal remedies to challenge the cancellation of her missionary visa."
The lawyers stressed that Fox's case has "far-reaching implications to other foreigners sojourning in the Philippines especially those engaged in missionary or solidarity works with the poor, the oppressed, and the marginalized."
Duterte has admitted that he ordered the investigation of Fox. The firebrand leader said that the Australian missionary has a "foul mouth." He also accused Fox of treating the Philippines "like a mattress to wipe your feet."
READ: Philippines does not want Australian nun in the country over this photo
The 71-year-old nun spent the last 27 years extending humanitarian aid to indigents, farmers and citizens behind jail.
The lawyers also reiterated that the activities deemed by the Immigration as "partisan political" are done to "promote and protect the rights of the poor and the needy."
"They are consistent and in accordance with the mission and the charism of the Sister of our Lady of Sion to promote peace, social justice, and human rights," they added.
READ: Fox to Immigration: You cannot define my missionary work
The Immigration earlier said that they wanted the Australian nun out of the country for a photo where she was holding a placard calling for the release of all political prisoners in the country.
Fox is facing a separate deportation case at the Immigration. Should she be deported, the nun will be placed in the blacklist and barred from entering the country.
Fox's case earned the government strong criticism from human rights groups, who said that the Immigration order would be used to harass and arrest more foreigners critical of the Philippine government.