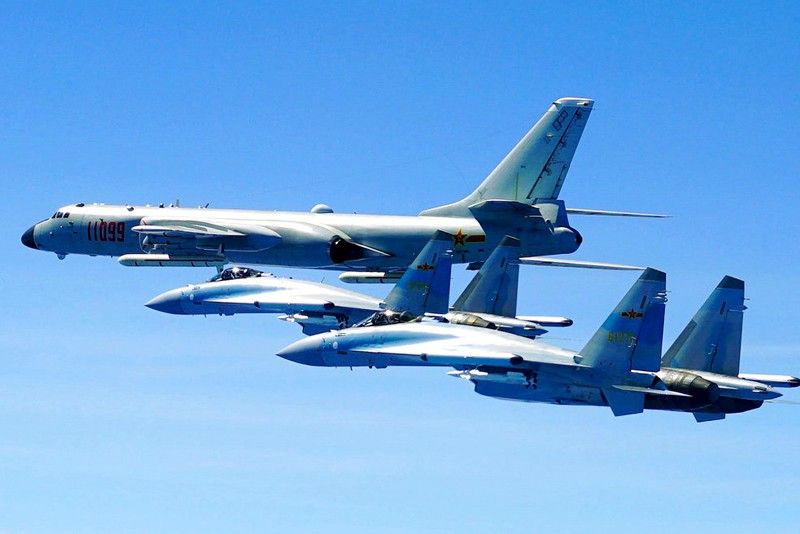 In this photo released by Xinhua News Agency and taken Friday, May 11, 2018, two Su-35 fighter jets and a H-6K bomber from the People's Liberation Army air force fly in formation during patrol that included the Luzon Straits also known as Bashi Straits near Taiwan.
Han Chao/Xinhua via AP
Chinese bombers capable of hitting Philippines land on South China Sea reef
MANILA, Philippines — China on Friday announced it had landed strategic bombers on an outpost in the South China Sea for the first time, with a US-based think tank saying nearly all of the Philippines falls within the radius of the strike aircraft.
In a social media post, state-owned People's Daily tweeted a video showing a long-range bomber landing and taking off from Woody Island—China's largest base in the Paracel Islands.
Chinese bombers including the H-6K conduct takeoff and landing training on an island reef at a southern sea area pic.twitter.com/ASY9tGhfAU

— People's Daily,China (@PDChina) May 18, 2018
The deployment of Chinese bombers came following reports that Beijing had installed anti-ship cruise missiles and surface-to-air missile systems on three Manila-claimed reefs in the sea, as the Asian power continues to increase its power projection capabilities in the strategic waterway.
People's Daily said among the warplanes that conducted take-off and landing training on the reef was the H-6K, a top-of-the-line nuclear-capable bomber.
Combat range
According to the Asia Maritime Transparency Initiative, the combat range of Chinese bombers can reach the Philippines, including the capital Manila and all five military bases earmarked for development under the US-Philippines Enhanced Defense Cooperation Agreement.
The AMTI also warned of China's future deployments to its "Big 3" outposts in the disputed Spratly Islands, noting the rapid construction of reinforced hangars at all three features that can accommodate bombers, as well as transport, patrol and refueling aircraft.
"The base H-6 aircraft's combat radius of nearly 1000 nautical miles means even China's basic bombers taking off from Woody Island could cover the entire South China Sea," said AMTI, which is part of Washington's Center for Strategic and International Studies.
"An H-6K, with its technical upgrades giving it a combat radius of nearly 1900 nautical miles, would dwarf this radius, putting all of Southeast Asia in range of flights from Woody Island," the think tank added.
The Philippines claims parts of the South China Sea within its exclusive economic zone and calls it the West Philippine Sea.
Ties between China and the Philippines soured after the previous Aquino administration filed a case in 2013 with a United Nations-backed tribunal. The ruling, which favors Manila, was handed down a few days after President Rodrigo Duterte assumed the presidency.
But China vehemently rejected the landmark decision, which Duterte put on the back burner in exchange for warmer ties and Chinese funding for his administration's ambitious infrastructure program.
Early this week, Duterte said it's pointless to protest Beijing's deployment of its air assets to the contested waters and dared his critics to "go to war with China."
Chinese foreign ministry spokeswoman Hua Chunying earlier said China has been involved in peaceful construction in the islands, which includes "the deployment of necessary national defense facilities."
In response, the White House warned Asia's top economic power of "near-term and long-term consequences" over its growing militarization in the South China Sea. The US did not say what the consequences would be.