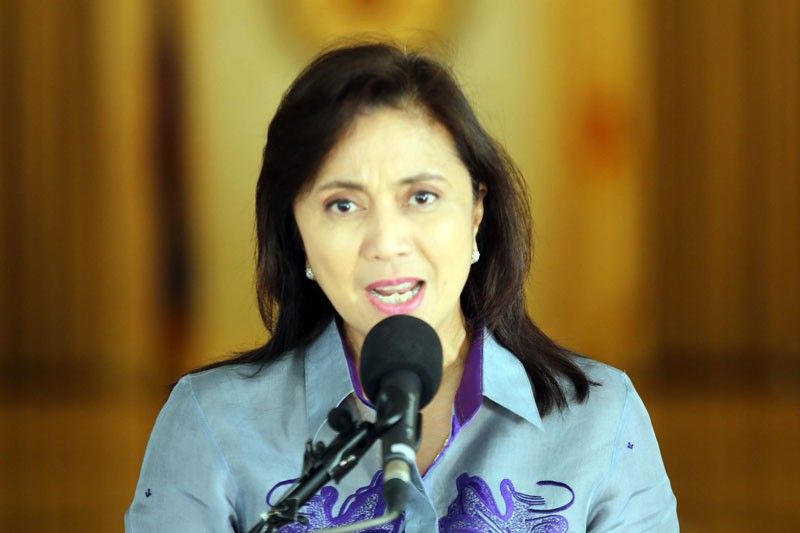 In her statement of assets, liabilities and net worth (SALN) submitted to the Office of the Ombudsman on April 30, Robredo declared a net worth of P1,114,102.84 as of Dec. 31, 2017, lower by 87.4 percent from her declared net worth of P8,878,111.43 at the end of 2016.
Boy Santos
Leni poorer by P7.8 million due to poll protest
MANILA, Philippines — Vice President Leni Robredo became poorer by P7.8 million in 2017 after incurring higher debts due to expenses in the ongoing electoral protest of former senator Ferdinand Marcos Jr.
In her statement of assets, liabilities and net worth (SALN) submitted to the Office of the Ombudsman on April 30, Robredo declared a net worth of P1,114,102.84 as of Dec. 31, 2017, lower by 87.4 percent from her declared net worth of P8,878,111.43 at the end of 2016.
Robredo's 2017 net worth was also lower by 89.9 percent from P11,053,138 when she assumed office on June 30, 2016.
The decrease in her net worth was mainly due to her liabilities which ballooned to P11.9 million, an increase of 72.46 percent from P6.9 million in 2016.
Robredo incurred additional loans of P5 million from her late husband's relatives Pablito Chua (P1 million), Vicente Hao Chin Jr. (P2 million) and Rafael Bundoc (P2 million).
Robredo also has personal loans from her mother Salvacion Gerona amounting to P750,000, her brother-in-law Jose Robredo Jr. amounting to P1.15 million, sister-in-law Jocelyn Austria (P2 million) and the estates of her parents-in-law Marcelina and Jose Robredo (P3 million). The same amounts of loans were declared in her 2016 SALN.
Robredo earlier deposited to Presidential Electoral Tribunal (PET) P8 million as initial payment for her counter-protest against Marcos after the dictator's son filed a protest against Robredo in June 2016 to contest her victory in the vice presidential race.
"Yes. She had to borrow money to pay the protest fees required by PET. Supportive citizens raised money through contributions and attempted to submit to PET, but their petition was denied. So the VP had to raise the money herself," Robredo's legal adviser Barry Gutierrez said in a text message to reporters yesterday.
Gutierrez was referring to the P7.5 million raised by the group Piso Para sa Laban ni Leni to help Robredo pay the fees.
The PET ruled with finality on the petition filed by the group in December 2017.
Lower assets
Robredo's assets went down by 17.5 percent mainly due to the smaller value of her cash amounting to P6.176 million from P8.94 million in 2016.
Apart from cash, the values of Robredo's other personal properties remained the same from 2016, including her furniture and appliances (P1.5 million), jewelry (P1 million), prepaid insurance (P630,000), Toyota Innova acquired in 2010 (P1.12 million) and Toyota Grandia acquired in 2014 (P1.75 million).
The value of Robredo's real properties also remained the same at P1.735 million which include two residential lots, three agricultural lots, a house, an orchard and a memorial lot all located in Naga City.
Robredo also declared that she has business interest with Manila Electric Co. (Meralco) as share holder.
Robredo declared that her shares of stocks with Meralco amounting to P95,000 were acquired in "different years" but clarified that this is already reflected in the computation of the total value of her personal properties.
Robredo declared a net worth of P8,711,083 and P8,302,123.70 in 2015 and 2014, respectively.
Robredo also declared two relatives in government service: her sister-in-law Josephine Bundoc and brother-in-law Rafael Bundoc who are both doctors at the University of the Philippines-Philippine General Hospital.
PET urged to reverse shading rule
Meanwhile, a group of women appealed to the PET to reverse its 50-percent shading threshold rule in the ongoing manual recount for the May 2016 vice presidential race to protect the votes of ordinary Filipinos.
In a statement, recipients of The Outstanding Women in the Nation's Service (TOWNS) called on the PET to abide by the Commission on Elections (Comelec) resolution dated Sept. 6, 2016, which confirmed the use of 25-percent threshold during the 2016 polls.
"It is just fair to use the same parameters in the present manual recount," the group said. "We believe that indiscriminately and arbitrarily changing the rules in the middle of the game is tantamount to stealing the votes of the Filipino people."
They said the PET should not adopt an outdated rule used in the 2010 elections, which set the threshold at 50 percent.
Using the 25 percent threshold is the only way to protect the votes of the ordinary Filipinos, they said.
Supporters of Robredo from Camarines Sur earlier submitted a document containing 10,000 signatures of registered voters to the Supreme Court, asking the tribunal to uphold the 25-percent threshold used in the 2016 elections.
Robredo's lawyer Romulo Macalintal hit yesterday Marcos' camp for continuing to peddle lies to "besmirch the integrity of votes from Camarines Sur."
Macalintal made the statement following newspaper reports saying that President Duterte may also be a victim of election fraud, particularly vote shaving, during the 2016 national elections.
Marcos's spokesman Vic Rodriguez claimed the ongoing manual recount also showed discrepancies in the votes for Duterte in Camarines Sur.
Macalintal belied the statement of Rodriguez, saying "no such votes were counted by the PET for president" and every revisor is focused on the vice presidential race.
"For lack of new false information, people who want to besmirch the integrity of the Camarines Sur votes have resorted to this apparently new mudslinging tactic of agitating the supporters of the president," he added.