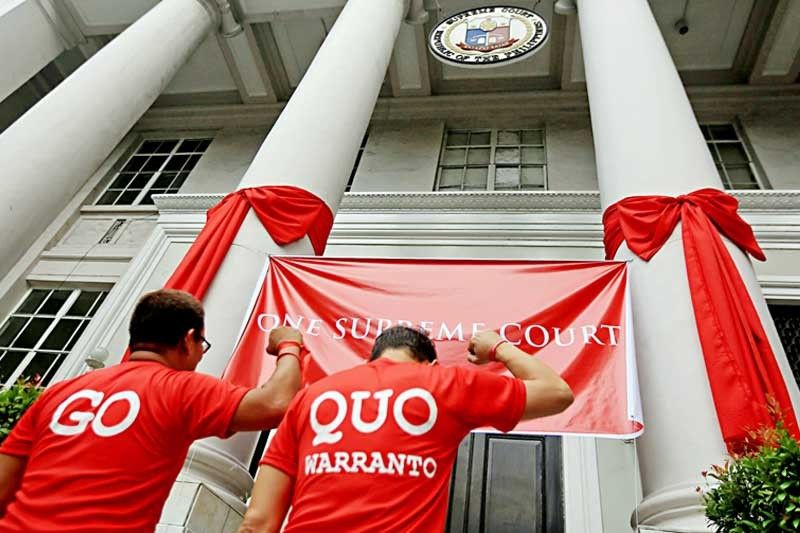 Supreme Court employees pose with clenched fists to express support for the ouster of Chief Justice Maria Lourdes Sereno following a mass during the voting by justices.
Edd Gumban
The dissent:'Sereno liable but must be impeached'
Edu Punay
(The Philippine Star) - May 12, 2018 - 12:00am
MANILA, Philippines — While Chief Justice Ma. Lourdes Sereno could be removed by Congress through impeachment, the Supreme Court (SC) cannot oust her from the top judicial post.
Senior Associate Justice Antonio Carpio stressed this in his dissenting opinion during the voting for the quo warranto petition that Solicitor General Jose Calida filed against Sereno.
Carpio agreed with Sereno's defense that the high court has no jurisdiction over the case because only Congress can oust a sitting magistrate through an impeachment process as provided under the 1987 Constitution.
Despite this, Carpio concluded that the ousted chief justice is "liable for culpable violations of the Constitution and betrayal of public trust" and that this finding could only be "endorsed to the Senate for the impeachment trial."
Carpio served as acting chief justice for over two months while Sereno was on indefinite leave. With Sereno's ouster, he will again serve as acting chief justice, just as he did in 2012 after the ouster of the late chief justice Renato Corona through an impeachment trial in the Senate.
Associate Justice Presbitero Velasco Jr., who presented a separate dissenting opinion, agreed that the quo warranto petition should be dismissed by the Court although this is based on another ground – the SC ruling on Calida's petition was premature as it still needs a court trial.
He believed that Sereno could be covered by quo warranto – a legal remedy that can be initiated against a person who usurps, intrudes into or unlawfully holds or exercises a public office, position or franchise – despite her being an impeachable official.
Associate Justice Marvic Leonen, for his part, took a more hardline stance in his dissenting opinion as he believed that the SC has no power to remove the chief justice and that the petition should have been dismissed outright.
"Even if the Chief Justice has failed our expectations, quo warranto, as a process to oust an impeachable officer and a sitting member of the Supreme Court, is a legal abomination. It creates a precedent that gravely diminishes judicial independence and threatens the ability of the Court to assert the fundamental rights of our people," he stressed.
He also claimed that the ruling has set a bad precedent.
"We render this Court subservient to an aggressive solicitor general. We render those who present dissenting opinions unnecessarily vulnerable to powerful interests," he warned.
Three other magistrates – Associate Justices Mariano del Castillo, Estela Bernabe and Alfredo Benjamin Caguioa – also dissented from the ruling.