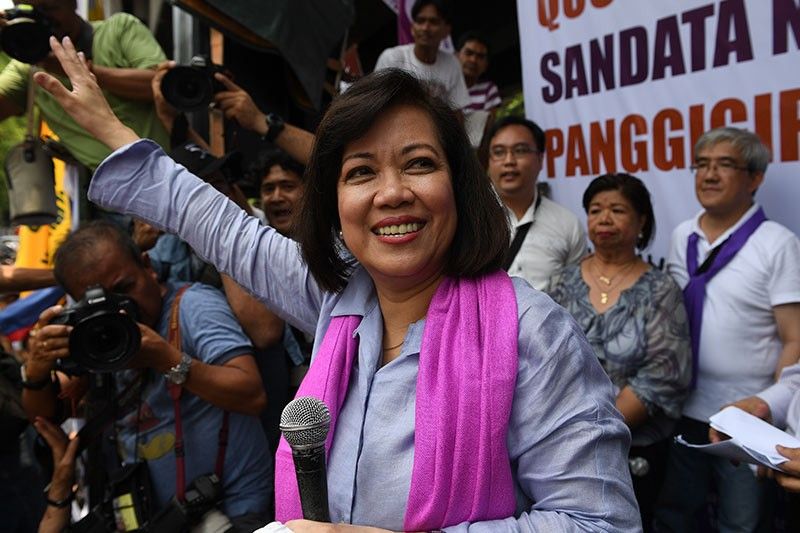 Ousted Philippine Supreme Court Chief Justice Maria Lourdes Sereno waves to supporters in front of the supreme court building in Manila on May 11, 2018. Judges of the Philippines' top court voted on May 11 to remove their chief justice, who faced ouster efforts after battling with President Rodrigo Duterte over his deadly war on drugs.
Ted Aljibe/AFP
After ouster, Sereno can't return to previous associate justice post
MANILA, Philippines — In a landmark ruling on Friday, the Supreme Court ousted Chief Justice Maria Lourdes Sereno supposedly for failing the "integrity test" required by her office despite warnings that removing her would trigger a constitutional crisis.
READ: Historic SC ruling on Sereno ouster may have constitutional consequences
The ruling, which is immediately executory, will see Sereno vacate the Office of the Chief Justice she has occupied since 2012 when she was appointed as the country's chief magistrate by then President Benigno Aquino III. Before being appointed as the country's chief justice, Sereno was an associate justice of the high court.
However, her ouster as chief justice does not mean that she can return to her previous post as an associate justice of the court.
"There is no such thing as demotion or promotion from AJ (associate justice) to CJ (chief justice)," Josalee Deinla, a spokesperson for Sereno, said in an interview with Philstar.com.
Deinla explained that when Sereno was appointed as chief magistrate in 2012 she also vacated her post as associate justice, which has since been occupied by Justice Marvic Leonen.
"This is what we call an all-or-nothing situation. The position is considered vacated. She cannot go back," Deinla said.
This view is also shared by Integrated Bar of the Philippines president Abdiel Fajardo.
"When she was appointed chief justice, she replaced Corona (former Chief Justice Renato Corona) and her position as associate justice was filled up by the succeeding appointee," Fajardo told Philstar.com in a text message.
Deinla said that the only remaining recourse for Sereno was for her to file a motion for reconsideration, which she said was a right of the ousted magistrate.
She added that the Supreme Court's decision was not yet final until its ruling on her motion for reconsideration came out.
"As far as the Supreme Court is concerned, (Sereno is ousted). She will be challenging that," Deinla said.
Voting 8-6, the justices of the Supreme Court voted to side with Solicitor General Jose Calida who filed the quo warranto petition questioning the legality of Sereno's 2012 appointment by Aquino.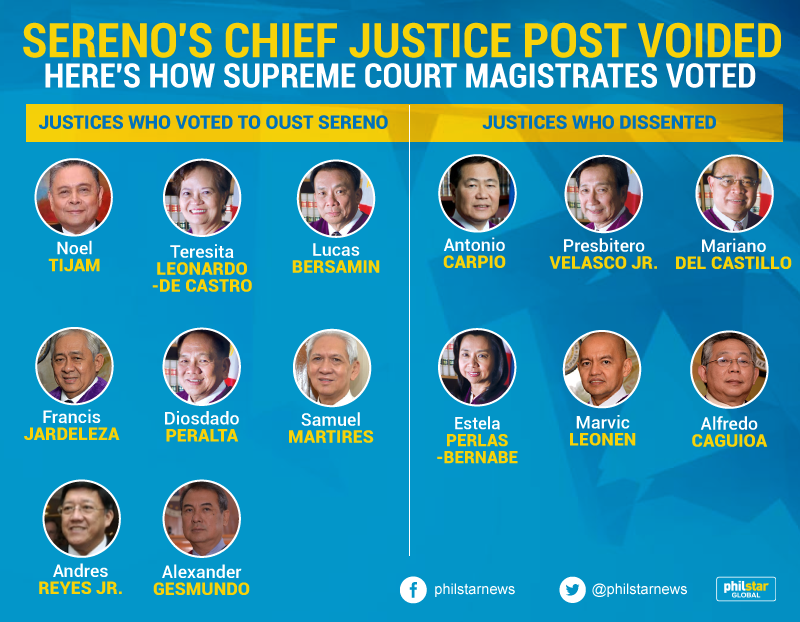 The justices who voted to oust Sereno were Noel Tijam, who wrote the decision, Teresita De Castro, Lucas Bersamin, Francis Jardeleza, Samuel Martires, Andres Reyes Jr. and Alexander Gesmundo.
Before the decision, Sereno asked six of these justices to inhibit from her case because of their bias against her. But none did.
Meanwhile, Justices Antonio Carpio, Estela Bernabe, Alfredo Benjamin Caguioa, Presbitero Velasco Jr., Mariano Del Castillo and Leonen dissented from the ruling.
Related video: