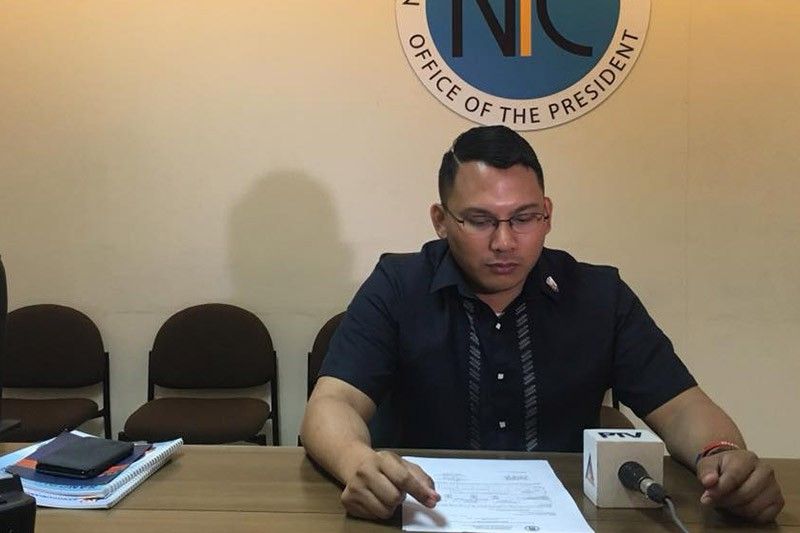 National Youth Commission officer-in-charge Ronald Gian Cardema is also the chairman of the Duterte Youth Movement.
National Youth Commission/Facebook, released
Youth commission's Cardema to SK hopefuls: Be strongmen like Duterte
MANILA, Philippines — The officer-in-charge of the National Youth Commision on Tuesday urged Sangguniang Kabataan candidates to lead like strongmen in the mold of President Rodrigo Duterte.
"Be the strongmen youth leaders of your community and help our strongman leader Rodrigo Duterte in safekeeping your barangay in uplifting the role of our entire youth generation and together let us create a grander destiny for our nation," NYC OIC Ronald Gian Cardema said Tuesday.
Cardema is also the chairman of the Duterte Youth Movement.
The Oxford English Dictionary defines "strongman" as a "leader who rules by exercise of threats, force or violence."
Last week, Duterte was named one of the strongmen in TIME magazine's cover story alongside Russian President Vladimir Putin, Hungarian Prime Minister Viktor Orban and Turkish President Recep Tayyip Erdogan.
The chief executive, in recent speeches, denied that he is a leader who rules by force.
In several speeches, Duterte allayed fears that he would become a dictator. But there were also instances when he defended his brand of leadership, stressing that there would be no progress if he did not act like one.
READ: Duterte on TIME cover: I'm not a strongman
No to substandard programs
With less than a week before the village and youth polls on May 14, Cardema said that the commission would not allow SK officials to have basketball leagues and beauty contests as their activities.
Instead, SK leaders should orient their fellow youth on the ill effects of illegal drugs, basic survival and first aid training and mobilization during natural calamities and disasters.
NYC also wants youth officials to help the security forces in indentifying criminals, armed rebels and terrorists.
"We will immediately recommend their suspension or dismissal if they will not brilliantly perform their duties as youth leaders of the land," Cardema warned.