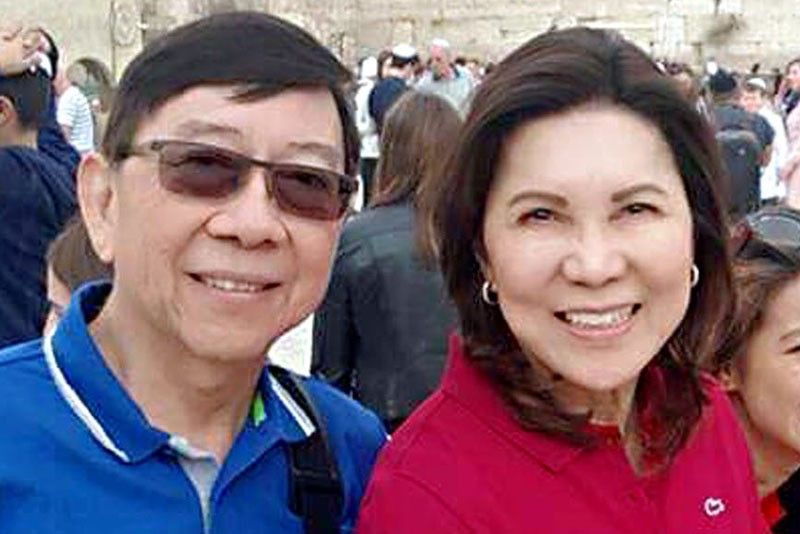 DOT chief with husband Roberto during a trip to Israel.
'Returning P60 million won't extinguish criminal liability'
MANILA, Philippines — Returning the P60 million to government coffers will not extinguish the administrative and criminal liability of Tourism Secretary Wanda Teo, who allocated the funds for the Department of Tourism (DOT)'s advertising contract with her brothers in state-owned PTV-4.
"Returning the money is an admission of guilt. It will not efface the accountability of Secretary Teo for the improper transaction. She should still resign," Rep. Antonio Tinio of party-list ACT Teachers insisted.
Besides, Tinio pointed out that Teo – being a government official– does not represent Bitag Media Unlimited Inc., a company that her brother Bienvenido Tulfo owns.
"First of all, does Teo speak for the Bitag Media outfit that received the money from the (DOT)?" Tinio asked.
Another opposition lawmaker, Rep. Tom Villarin of party-list Akbayan, agreed.
"The best option still is for Secretary Teo to resign so she won't force the hand of President Duterte to axe her," Villarin said.
"The deed is done, the doers undone – that sums up what the return of the P60 million by the Tulfo brothers of Bitag Media to their sister, DOT Secretary Wanda Tulfo-Teo," he said in a Viber message to reporters.
"As an allusion to the Shakespearean play 'Macbeth,' the mental torment of their despicable act and President Duterte's warning of a 'whiff of corruption and you're out' forced them to such decision," Villarin added.
"It's an afterthought when all things weigh against them, not because their hands are clean. But again it doesn't exculpate them from such wrongful acts and the Malacañang investigation of the DOT-PTV-4/Bitag Media deal should lead to a conclusive ending," he said.
The Commission on Audit (COA) and the Office of the Ombudsman remain mum about the ad placements.
COA chairman Michael Aguinaldo has yet to respond to reporters' queries.
The COA has the power to recommend administrative or criminal investigation against concerned officials of a government agency, whose transactions were found to be irregular by the audit body.
Meanwhile, under the ombudsman's internal rules, it can launch a motu proprio (self-initiated) criminal or administrative investigation on any alleged anomaly in the government, despite lack of a formal complaint from any party. – With Elizabeth Marcelo
Related video: