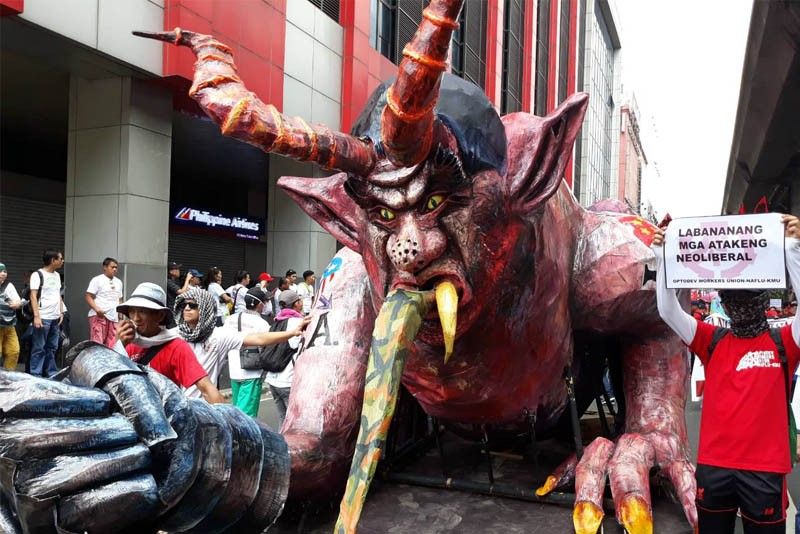 Protesters parade an effigy in the image of President Rodrigo Duterte that will be burned on Tuesday—Labor Day.
Anakpawis Party-list
Duterte's EO vs 'endo' draws mixed reactions
MANILA, Philippines — President Rodrigo Duterte on Tuesday—Labor Day—signed a much-awaited executive order prohibiting "illegal contractualization," a move that generated mixed response from various sectors.
Reading an excerpt from the document, Duterte said the EO prohibits "illegal contracting or subcontracting or undertaking to circumvent the workers' right to security of tenure."
Duterte then defined "security of tenure" as the right of employees "not to be dismissed or removed without just and authorized cause and observance of procedural due process pursuant with the Constitution and Labor Code."
The Palace has yet to release a copy of the EO.
'Worrisome'
Reacting to the fresh EO, the Employers Confederation of the Philippines, or ECOP, said that while the order "balances" the interest of labor and capital, the exact definition of security of tenure that was provided by the document was "worrisome."
ECOP also expressed concern over what they said was "possible loose or abused rules of engagement in the enforcement of certain provisions."
"Government though must be credited in its serious and sincere effort to craft an EO that meets the expectations of both labor and capital," the group said in a statement.
"The EO is signed and despite our reservations—some of which are cited above—employers will live with it and comply," it added.
Among Duterte's campaign promises was to bar the practice of hiring employees on short-term contracts.
The Labor department earlier issued Department Order 174, which imposed a complete ban on "labor-only" contracting or the so-called "endo," a Filipino-coined term for "end of contract."
Endo is an abusive labor practice where a worker is hired for up to five months to skirt a labor law which requires grant of permanent tenure on the sixth month of service.
But the 12-page DO 174 did not completely prohibited job contracting, an arrangement where an employer, known as the principal, farms out jobs to a third-party contractor who then hires workers of its own.
Various stakeholders had expressed their concern that removing endo, without making it clear that "legitimate contractualization" will remain, might make the country less competitive.
Pro-employer?
Meanwhile, various labor groups rejected the signed EO, which they described as "pro-employer" and a "complete farce."
"There is nothing new in the EO," Rep. Ariel Casilao (Anakpawis Paty-list) said. "What the workers demanded is total prohibition of contractualization by virtue of direct hiring."
For his part, Kilusang Mayo Uno Chairperson Elmer Labog said labor groups were not consulted when the presidential order was drafted, adding that the EO likely favors businesses.
Separately, KILOS NA Manggagawa urged Duterte to show to the public the EO he signed.
"If President Duterte had the intention of signing an Executive Order which is line with the demands of the workers, he would not exclude us from full knowledge of it," the group said.
"Workers must be vigilant. This may be another attempt to divide our ranks and deflect people's attention from our struggle to end contractualization," they added.
Labor laws
Despite the issuance of the order, the president, however, noted that a mere executive order is not enough to ensure job security, as he urged Congress to amend the Labor Code.
In a separate statement, Senate Labor Committee chair Joel Villanueva assured the public that lawmakers will work on passing a law that would end labor abuses.
"The EO, whatever it is, is a guide for everyone on where the Executive's stand on the issue of endo although it did not depart from the existing policy on contracting," the senator said.
"But it should be noted that the president reiterated his call to end endo and illegal contractualization," he added.