Militant workers to skip meeting with Duterte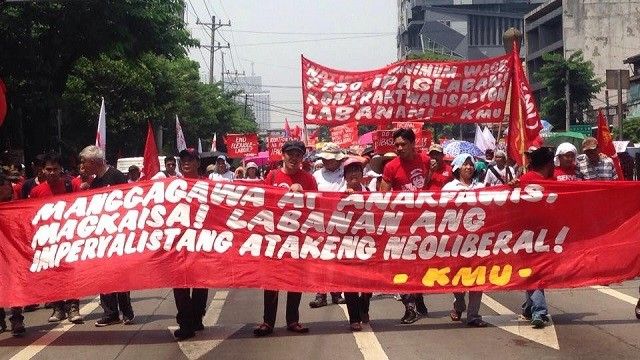 MANILA, Philippines — The militant Kilusang Mayo Uno (KMU) will not attend a dialogue with President Duterte in Cebu today and instead mount simultaneous protest actions nationwide to express disgust over Malacañang's failure to issue an executive order regulating short-term employment.
Rallies will be held today at Mendiola and Liwasang Bonifacio in Manila and in the cities of Baguio, Angeles, Calamba, Cebu, Bacolod, Davao, Butuan and Cagayan de Oro.
At least 5,000 workers in the Caraga region in Mindanao will join the rally in Butuan to call for security of tenure and just compensation. In Cagayan de Oro, the KMU will be joined by the Associated Labor Union to call for an end to contractual labor.
"We will no longer play along. At this point, it is clear that Duterte has no intention of working with the labor sector and will keep rejecting our proposals. He is hiding out in Cebu to avoid the tens of thousands of workers who will converge in Malacañang on Labor Day," KMU chair Elmer Labog said.
The meeting with Duterte, he added, is just "a stunt that will not result in any genuine gains for the labor sector and is only intended to detract from the unity of workers on Labor Day."
But presidential spokesman Harry Roque said Duterte might still sign an executive order against contractualization in time for the Labor Day commemoration activities.
"I can confirm there might be an EO that may or may not be signed depending on their meeting tonight," Roque said, referring to the President's scheduled meeting with Labor Secretary Silvestre Bello III last night.
Opposition Sens. Francis Pangilinan and Risa Hontiveros also called for an end to the practice of contractualization, both in government and in the private sector as Sen. Loren Legarda stressed the need to strengthen the protection of Filipino workers here and abroad.
Zenaida Campita, DOLE director for Central Luzon, said all the provinces in the region would hold fairs to fill at least 3,460 overseas and local job vacancies. Of that number, at least 565 are opportunities abroad for machine operators, welders, housekeepers, domestic helpers, construction workers, automotive mechanics, heavy equipment drivers, caretakers, riggers, nurses, waiters and waitresses.
Labog urged jobseekers to refrain from participating in the government's job fairs, which he described as mere "smokescreens to conceal the numerous anti-worker programs and policies enacted since Duterte came into power" and to join the rallies instead.
In Metro Manila, National Capital Region Police Office director Camilo Cascolan said the Commission on Human Rights would join anti-riot squads in securing the Labor Day rallies and ensure that no rights are violated.
He said rallyists could shout their hearts out as he urged rally leaders to police their own ranks and keep their activities within the rule of law.
Manila Police District chief Erwin Margarejo said policemen would keep peace at the US embassy, Mendiola, Liwasang Bonifacio, Plaza Miranda, DOLE headquarters and Morayta.
Philippine National Police chief Director General Oscar Albayalde ordered the 11,000 policemen deployed to secure today's rallies in Metro Manila to observe maximum tolerance. – With Marvin Sy, Christina Mendez, Ding Cervantes, Non Alquitran, Michael Punongbayan, Cecille Suerte Felipe, Rey Galupo, Gerry Lee Gorit, Ben Serrano