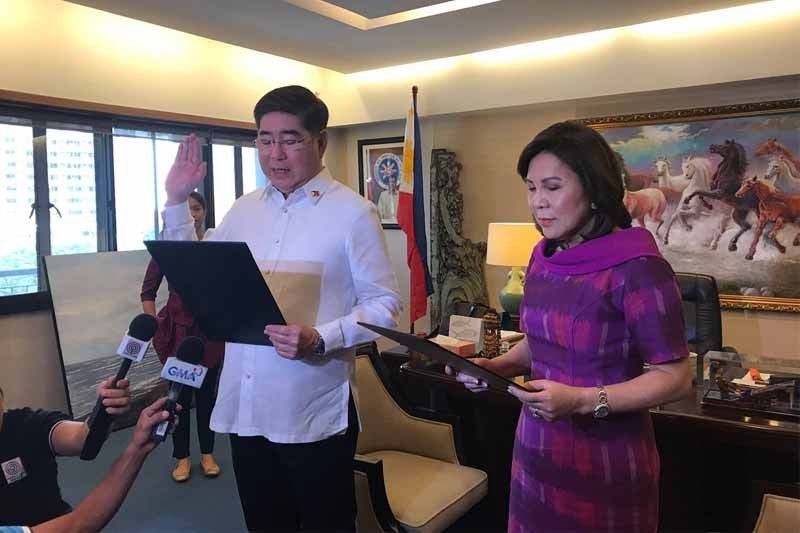 DOT Undersecretary Jose Gabriel "Pompee" La Viña takes oath in front of Tourism chief Wanda Teo on Monday.
The STAR/Catherine Talavera
La Viña denies involvement in 'demolition job' vs new boss Teo
MANILA, Philippines — Tourism Undersecretary Jose Gabriel "Pompee" La Viña on Monday denied that he is behind the "leakage" of a Commission on Audit report that involves Tourism chief Wanda Tulfo-Teo and her brother Ben Tulfo's media outfit.
La Viña said that he does know the basis of those who claim he has any influence over COA, which is mandated to check government spending and revenues. The COA regularly posts its audit reports of government agencies online.
"First of all, she (Teo) doesn't believe it," La Viña said during a press briefing.
"Secondly, I don't know anyone from COA. I don't even know where their office is. I don't even know who the commissioners are now," he added.
La Viña said he and Teo already talked about the allegations linking him to the supposedly leaked COA report — a public document — that questions the Department of Tourism's P60-million advertising deal with state-run Philippine Television Network Inc. and the secretary said she agreed that it was not him.
"She has suspicions," he said.
Ben makes hints on Facebook
The DOT undersecretary made the clarification after Teo's brother, Ben Tulfo, took to social media to claim that a former Social Security Systems commisisoner fired by President Rodrigo Duterte and reappointed to the DOT leaked the COA report.
Bitag Media Unlimited Inc., which Ben Tulfo runs, was also mentioned in the COA's findngs.
READ: Ben Tulfo claims ex-SSS official 'leaked' report on COA website
La Viña: I serve at the president's pleasure
Duterte reappointed La Viña to the DOT post after he was sacked from the SSS due to "infighting," among other reasons given by presidential spokesman Harry Roque.
In his post which has since been deleted, Ben also alleged that the DOT undersecretary, apparently, La Viña, is interested in his sister's post.
La Viña disputed the claims saying it is not his ambition to be a secretary of tourism.
"I'm here only because the president put me [here]. I serve at the full pleasure of the president," La Viña said.
"He has trust and confidence in me. That's all that matters. Nobody else's opinion matters to me," he added.
La Viña took an oath before Teo on Monday morning. He was replacing the post vacated by Rolando Cañizal, who was undersecretary for Administration and Special Concerns.
DOT Undersecretary Pompee La Viña takes oath in front of Tourism chief Wanda Teo @PhilstarNews @PhilippineStar pic.twitter.com/u2bLZG9syc

— Cath Talavera (@cath_talavera) April 30, 2018
Teo also defended La Viña, saying she does not believe the newly appointed colleague is capable of maligning her. She said she trust sthat the new undersecretary is going to work well with her.
"I don't think that's true," Teo said when asked of the "leakage" allegations. She added that she has been calling her brother Ben to clarify the issue.
Teo claims demolition job
The DOT chief also claimed that the COA report, which is done yearly, is part of a demolition job.
She linked the issue to the closure of Boracay island for the next six months. Teo said several individuals — around 30,000 workers, according to reports — were affected by the closure. She also revealed that she has received death threats over it.
The DOT chief also shared that another possible reason was her move to fire an undersecretary.
She added that her brother's "very strong and hard-hitting" statements against government officials could also be a reason. She also said that one of her brothers, Erwin Tulfo, ranked 7th place in the survey for senatorial slate which could also be a part of the controversy.
"This is part of the work in government," Teo said.
The DOT chief earlier cleared her name in the advertisement agreement saying it was between the tourism department and the PTNI. She claimed she is not aware that the network granted the ad placement deal to her brother's media outfit, Bitag Media Unlimited Inc.
RELATED: Tourism chief Teo: No hand in PTV-4 deal with brother's media outfit