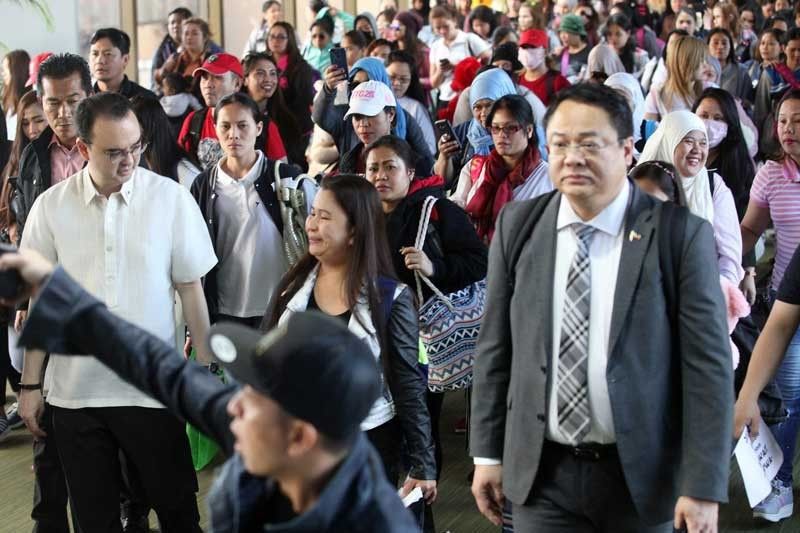 Foreign Affairs Secretary Alan Peter Cayetano meets the last batch of OFWs repatriated from Kuwait at the NAIA Terminal 1 yesterday morning.
Rudy Santos
Kuwait arrests 2 Pinoys for helping OFWs escape
(Associated Press) - April 24, 2018 - 12:00am
MANILA, Philippines — Kuwaiti police arrested two Filipinos for allegedly convincing housemaids to run away from their employers' homes as Ambassador Renato Villa came under fire for comments about the Philippine embassy's work in rescuing abused Filipino workers.
Citing a statement from the Ministry of Interior, Kuwait News Agency (KUNA) reported on Sunday the two Filipinos admitted convincing the maids to leave.
It wasn't clear what law the two men were accused of breaking, though KUNA said the two "confessed to the crime in addition to other similar offenses that had been committed in various regions of the country."
The arrests came after the Kuwaiti government summoned Ambassador Villa over his reported offensive comment against the Arab state and for the alleged misconduct of Philippine diplomatic staff who rescued distressed Filipino workers.
Foreign Affairs Secretary Alan Peter Cayetano defended Villa yesterday.
Cayetano maintained that Villa and the diplomatic staff did not abuse their diplomatic privilege because embassy officials rescued distressed Filipino workers in coordination with Kuwaiti officials.
"Why did we rescue the Filipino workers ourselves? Because these cases involve grave danger and it may be a matter of life and death for the overseas Filipino workers," Cayetano told reporters at the Ninoy Aquino International Airport (NAIA) yesterday.
"If they are bleeding, likely beaten and the abuse is continuous, if we will wait for the process, it will take time before we can rescue them," he added.
Cayetano made the comment while he and ACT-OFW party-list Rep. Aniceto Bertiz lll were welcoming the last batch of repatriated undocumented overseas Filipino workers (OFWs) who availed themselves of the amnesty program of the Kuwaiti government.
The Philippine rapid response team on Thursday located abused Filipino domestic helpers in Kuwait who requested to be rescued.
In the video that has gone viral, the embassy staff were seen whisking an abused Filipina domestic helper away from her employer.
Villa was also seen allegedly saying that the Philippine embassy did not need the aid of Kuwaiti officials in helping undocumented Filipino workers in the Arab state.
On Saturday the government of Kuwait served protest notes to Villa and summoned him for the supposed "inappropriate behavior" of Philippine diplomatic staff and for the offensive comments he made against Kuwait.
Cayetano said on Monday he will present the side of the Philippines on the issue to Kuwaiti Ambassador Musaed Saleh Al-Thuwaikh and will thank the Kuwaiti government for its amnesty program for undocumented workers.
"It's normal to have misunderstanding. We will do our best to clarify all of these and to assure our friendship with the Kuwaiti government and that our people there are safe," he said.
"I believe the misunderstanding will be resolved. What is most important is we listen to the complaint and ensure that the system works for us before we sign an agreement and lift the deployment ban (to Kuwait)," he added.
Senators also supported the move of Villa and his staff to rescue distressed Filipino workers.
Sen. Joseph Victor Ejercito said it is the duty of any public official, particularly the country's diplomats, to protect the lives and welfare of Filipino citizens.
Sen. Joel Villanueva, chairman of the Senate committee on labor, lauded the efforts of the Department of Foreign Affairs to rescue workers.
"But I would like to believe that the ambassador, given his training on foreign diplomacy, has put premium on the importance of respecting Kuwait's sovereign laws," he added.
For Sen. Sherwin Gatchalian, the extraordinary rescue missions conducted by the Philippine diplomatic staff were borne out of an urgent necessity to save Filipinos from abusive situations.
"With all due respect to my counterparts in the Kuwaiti parliament, I believe that their call for the expulsion of (Villa) is an unreasonable reaction to the desperate circumstances on the ground," he said.
"It is my understanding that the Philippine rescue teams do not act on their own except in emergency cases, and only after a clear showing of inaction on the part of Kuwaiti authorities despite due notice to them of the dire circumstances being faced by the OFWs in danger," he added.
President Duterte has banned Filipino workers from heading to Kuwait over abuse cases, culminating in February with the discovery of Filipina domestic worker Joanna Demafelis' body stuffed in a freezer inside an abandoned apartment in Kuwait.
Duterte has complained that cases of abuse reported by Filipina domestic workers "always" seem to be coming from Kuwait.
There have been prominent cases of abuse in the past, including an incident in December 2014 where a Kuwaiti's pet lions fatally mauled a Filipina maid.
Cayetano commended the repatriated Filipino workers from Kuwait who arrived yesterday at NAIA.
"You helped the Philippines when it was struggling, that is why President Rodrigo Duterte gave to us his specific instruction to assist all overseas Filipino workers all over the world whatever happens," he said.
"We are also quietly working on Filipinos with cases around the world and we don't want it publicized because it might cause diplomatic hiccups, they might think we are complaining against their country," he added.
At least 5,066 OFWs and 517 infants were repatriated from Kuwait after they availed themselves of the amnesty program of the Kuwaiti government. Forty-two workers, including a Filipina who escaped her employer who attempted to rape her, were also repatriated from Saudi Arabia.
More than 260,000 Filipinos work in Kuwait, many of them as housemaids. Kuwait and the Philippines have since been negotiating for new rules governing Filipino workers there.
Philippine officials have demanded that housemaids be allowed to hold their passports and cellphones, which is normal for skilled workers like teachers and office workers. But many Kuwaiti employers seize their phones and passports. – With Pia Lee-Brago, Paolo Romero, Mayen Jaymalin, Rudy Santos