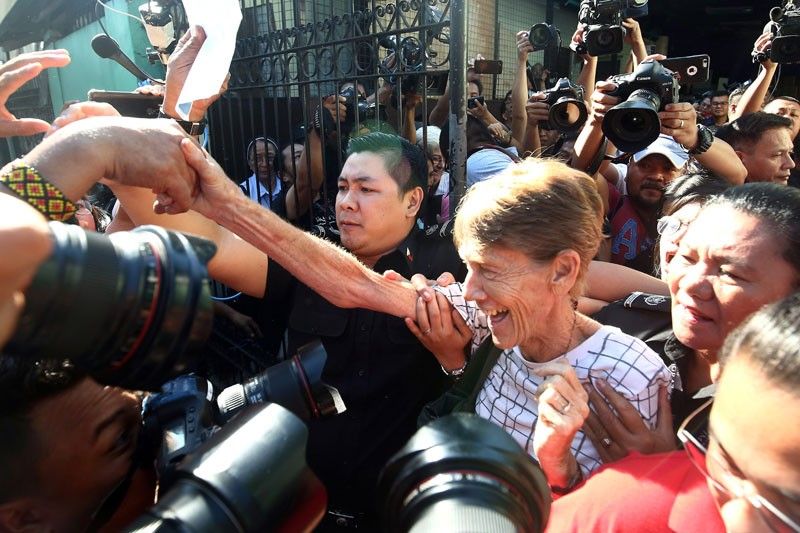 Australian missionary Sister Patricia Fox is welcomed by human rights activists as she is escorted by immigration officers following her release from the Bureau of Immigration compound in Manila yesterday.
Miguel de Guzman
Australian nun released, faces deportation
MANILA, Philippines — A 71-year-old Australian Catholic missionary walked out of detention at the Bureau of Immigration (BI) yesterday, hours after being held for alleged involvement in anti-govern- ment activities in violation of the conditions for her stay in the country.
Sister Patricia Anne Fox left the BI's Civil Security Unit (CSU) at around 3:15 p.m., more than an hour after her release was announced and almost 24 hours after she was held for questioning at the agen- cy's main office in Intramuros, Manila.
Immigration authorities said Fox re- mains under investigation for possible deportation.
On Monday, six immigration agents went to Fox's house in Quezon City to serve her a mission order.
BI Commissioner Jaime Morente ap- proved yesterday the recommendation of the agency's legal division chief Arvin Cesar Santos to release the nun for further investigation after she was able to produce her passport and prove that her missionary visa is valid until Sept. 9.
She had to leave her passport at the BI to ensure that she would attend the legal proceedings.
She was released to the custody of her lawyer Jobert Ilarde Pahilga and former Bayan Muna representative Satur Ocampo.
Santos told Morente that Fox was not engaged in protest actions when served the mission order.
This means, Santos said, that Fox is not covered by inquest proceedings which would only apply to aliens caught in flagrante violating immigration laws.
He added that under BI rules, Fox should undergo preliminary investigation to determine if deportation charges should be filed against her before the bureau's board of commissioners.
"As of now there is no sufficient basis to hold her in continuous detention. The case has not yet been dismissed and we are required to file our counter affidavit in 10 days from today to answer the allegations that she participated in anti-government rallies," Pahilga said.
He said photos provided to the BI by the National Intelligence Coordinating Agency (NICA) in Region 11 showing Fox at a rally in Tagum, Davao were used as basis for holding her for questioning.
But Pahilga said that Fox was able to give a satisfactory explanation that it was not a rally. "They were visiting farmers who were in prison which is part of her advocacy as a missionary to promote justice, peace and human rights, so there was no probable cause as of now. But since there is a formal complaint we need to file an answer and to undergo the proceedings," her lawyer said.
He added they might file a motion that she be allowed to leave for Australia in May. He said Fox would certainly return to continue her missionary work in the Philippines.
Fox has been living in the Philippines for the last 27 years. She has learned to speak Filipino and Visayan.
"She is not an undesirable (alien). Her work here is very much desired by the farmers and the indigenous people," Pahilga pointed out.
Fox said that when she was brought to the BI, she thought that she would just answer questions.
Unexpected
When asked if her detention was a form of government harassment, she said, "I have been living in the country since the 1990s, around 27 years, and this is the first time that has happened to me."
She also denied joining anti-government rallies, as alleged by the BI. "(They were) not anti-government rallies. As a religious, I have been joining pro-human rights rallies, for the farmers, for their land rights, to release political prisoners," she said.
"So if you call it political, I call it part of our duty as religious that we support the poor, which is supposed to be where we're standing with the poor. I haven't joined political rallies in terms of party politics, but I have been active in human rights issues," Fox maintained.
Fox, who is suffering from back pains, slept on the floor inside the BI-CSU. According to her companion Sister Joey, Fox was provided one blanket that she used as a mattress. She had no extra blanket to protect her from the cold draft from an air-conditioning unit.
She reportedly slept for only two hours – from 2 a.m. to 4 a.m. – and took three pain relief pills to help ease her back pain. She also failed to take her injection Monday night for her back pain.
Several members of the religious such as Manila Auxiliary Bishop Broderick Pabillo, Monsignor Clemente Ignacio of the Archdiocese of Manila, emeritus Kalookan Bishop Deogracias Iniguez, Sister Mary John Mananzan and running priest Fr. Robert Reyes visited her during her detention.
Some militant groups also staged a demonstration outside the BI office demanding her release.
The Commission on Human Rights (CHR) said the government should follow due process in handling any deportation case against Fox.
"We urge the government to observe the rule of law and ensure protection of human dignity by respecting of the rights of all, while we carefully consider our national interests," CHR spokesperson Jacqueline de Guia said.
"Even foreign nationals are granted the right to peaceful assembly so long as they do not interfere with national security, public safety, public order, public health or morals or the rights and freedoms of others," she added.
Sen. Nancy Binay, chair of the Senate committee on social justice, said the BI had exercised "excessive use of authority" in arresting Fox.
"The question is, how can a 71-year-old nun be a threat to society? How can an Australian religious person be as outlawed as those Chinese syndicates in the country involved in drugs, gambling and prostitution?" she said.
She maintained the BI "clearly overreacted on something that is not of clear and present danger."
Sen. Francis Pangilinan, president of the Liberal Party, also assailed the BI for Fox's arrest and Giacomo Filibeck's deportation.
"The emerging trend on crackdown against foreign activists in the country is alarming as exhibited by the harassment and casual arrests of the two human rights advocates, who were not even in protest activities or rallies when taken into custody," Pangilinan said.
"These incidents will trigger more questions on what the government is trying to conceal," he said.
Probe sought
Lawmakers are also seeking congressional inquiries into the detention, arrest and deportation of foreign activists.
Akbayan Rep. Tom Villarin yesterday said he would file a resolution asking the House of Representatives to look into the detention and deportation on Sunday of Filibeck.
For their part, leftist party-list representatives belonging to the Makabayan bloc said they would seek an inquiry into the arrest and detention of Fox.
"He was part of an international mission that visited communities affected by extrajudicial killings last year and openly called for a probe into the ongoing drug war of President Duterte in a press conference in October in Manila," Villarin said, referring to Filibeck.
The Italian activist's deportation "only shows how paranoid this government is in keeping the rest of the world blind from the damage President Duterte has done to our country," he said. – With Jess Diaz, Paolo Romero, Rhodina Villanueva, Ding Cervantes