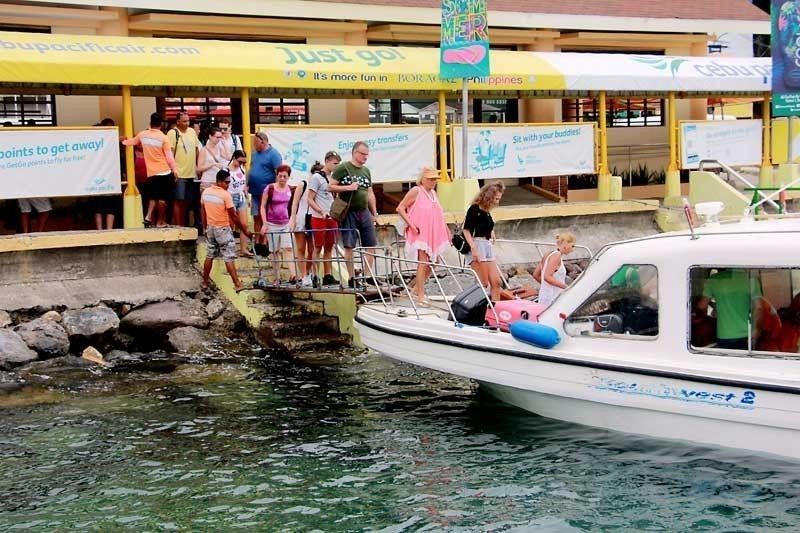 Tourists board a motorboat as they leave Boracay island. The Philippine tourism industry is scrambling to manage the fallout from the temporary shutdown of its world-famous island, which threw into chaos trips planned by hundreds of thousands of tourists.
AFP/File
Media still allowed to cover Boracay beyond 5 p.m., DOT says
MANILA, Philippines — The Department of Tourism on Tuesday clarified members of the media will still be allowed to cover the rehabilitation of Boracay beyond the 8 a.m. to 5 p.m. working time earlier announced.
DOT Assistant Secretary Frederick Alegre, spokesman of the tourism agency, explained that the working media time is just a general guideline.
"It is a general guideline, but we will allow upon request for special occasions," Alegre said in a Palace briefing held in Boracay.
Alegre said the inter-agency committee composed of the DOT, Department of Environment and Natural Resources, and Department of Interior and Local Government and the communications group recommended that the media can cover beyond 5 p.m. during the first few days of the island closure between April 26 to 30.
He however, said the members of the media will be requested to go back to Caticlan since overnight stays are not allowed.
"Why are we doing this? The DILG mentioned we want to make sure that the people covering are doing it escorted by us as well," Alegre said.
Members of the media who wish to cover beyond 5 p.m. after April 30 should coordinate with the authorities and specify where they want to go, he said.
He said the media may also be shown the work that has been done in Boracay on a regular basis but "not necessarily every day."
"The reason behind that is that we want the work to be done unhampered. We don't want to also put you in harm's way and we want to make sure that the media is able to cover it properly as well," Alegre said.
The Tourism spokesperson said there won't be activities on the island anyway.
Alegre said the media will have a designated media office at the jetty port where they can set up for live coverage.
The DOT issued media accreditation guidelines for members of the press who wish to cover the environmental rehabilitation of Boracay in the next six months last Saturday.
The department started accepting media accreditation applications on Monday.
The guidelines indicated the number of people allowed to cover the Boracay island during the shutdown.