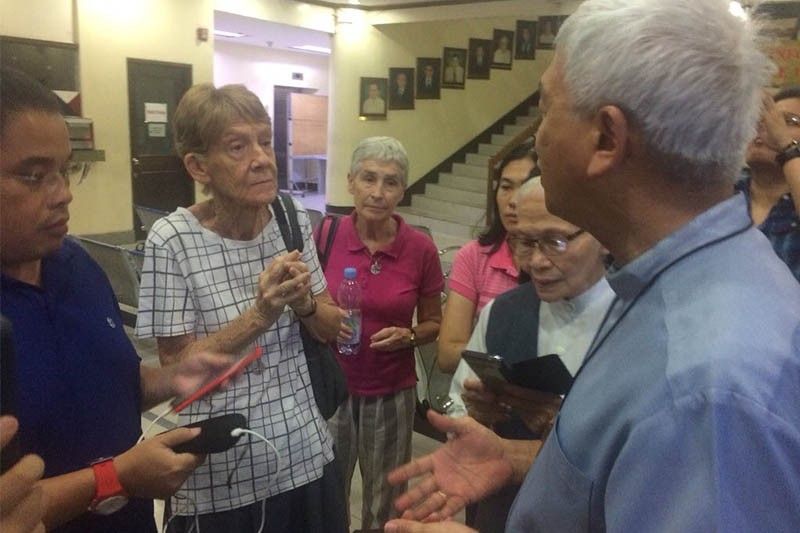 Patricia "Sister Pat" Fox has been detained in the Bureau of Immigrations office since late afternoon of Monday, April 16.
Twitter/CBCP news
Immigration: Foreigners banned from joining pro-government rallies too
MANILA, Philippines — Foreigners are also banned from participating in pro-government "partisan activities" in the country, the Bureau of Immigration said on Tuesday.
Antonette Mangrobang, Immigrations spokesperson, told ANC Early Edition that the detention of rights advocate Patricia "Sister Pat" Fox was for her reported violation of an immigrations order banning any political assembly.
"It can be for or against the government," Mangrobang stressed.
READ: Immigration apprehends, detains Australian land reform advocate
Fox, a 71-year-old lay missionary, has been detained in the immigrations office since Monday late afternoon.
According to Bishop Broderick Pabillo, Manila Auxilliary Bishop, who was also interviewed by the ANC, Fox has been doing humanitarian work in the Philippines for about 27 years.
Her work revolves around helping "farmers, workers, urban poor," and visiting those who are in jail.
Pabillo said that Fox was "taken aback" when immigrations agents "visited" her on Monday afternoon. He added that the Australian missionary did not "complain of any mistreatment at all, he stressed that Fox is an elderly who also needs to take regular medications for her ails.
Political rally participation
Mangrobang said that the "apprehension" of the Australian lay missionary was due to an intelligence report of "political activity undertaken" by Fox.
Asked why Fox was apprehended only now, Mangrobang said that the information they received was "based on activity which happened recently, a violation of her visa was concerned."
"We cannot assume that this has been going on in the past but we can say the mission order was issued based on intelligence [reports]," the spokesperson added.
Mangrobang said that they are still waiting for the presentation of documents regarding Fox's status.
Fox was also arrested during a protest in Hacienda Luisita, Tarlac in 2013.
Mangrobang was referring to Immigrations Operations Order No. SBM-2015-025 that provides: "Foreign tourists are prohibited from engaging in any political activity as defined by law and jurisprudence, such as but not limited to, joining, supporting, contributing or involving themselves in whatever manner in any rally, assembly, gathering, whether for or against the government."
This was also the ground cited by the Immigrations when they deported Giacamo Filibeck, an official of the Party of European Socialist, who was barred from entering the country on Sunday.
Immigrations Commissioner Jaime Morente said that Filibeck violated the country's law for tourists when he was part of the seven-member delegation in October 2017 who denounced the rising spate of killings in the country.
Filibeck has since been placed in the immigration's blacklist.