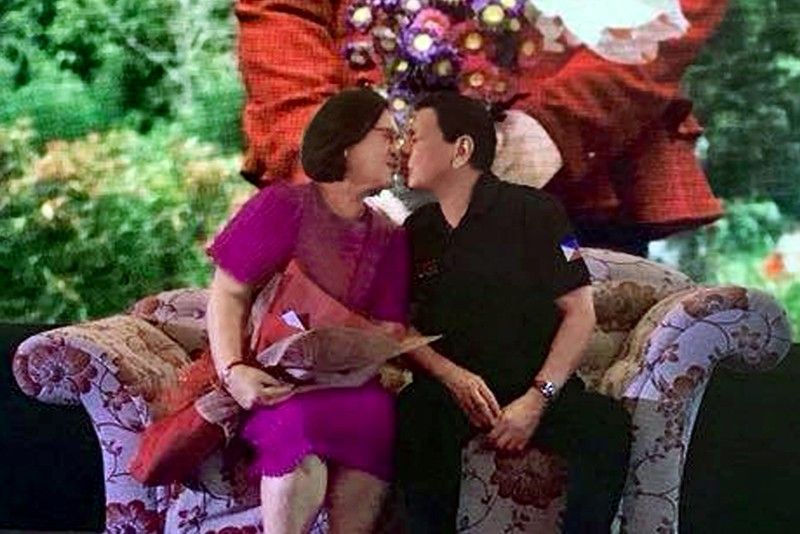 As time goes by… President Duterte and his former wife Elizabeth Zimmerman share a kiss during the celebration of her 70th birthday at the Davao Convention Center on Saturday night.
Photo taken from a Facebook post by Jefry Tupas.
'I would marry her all over again'
DAVAO CITY, Philippines — With a song and a kiss, President Duterte professed undying love to his ex-wife last Saturday, saying he would marry her again if given another chance.
The occasion was Elizabeth Zimmerman's 70th birthday, which she celebrated in this city where she and Duterte started their family and raised their three children.
Even before he became president, Duterte has openly admitted his relationships with women, even mentioning them in speeches.
His womanizing has become a political issue, one that is repeatedly hurled against him every campaign period in his almost three decades of government service.
Take it or leave it, he would say.
"Given another chance, another life, I would still marry Elizabeth because that is love," the President said as he serenaded his former wife with George Canseco's "Ikaw" during a gathering of family and close friends at the Davao Convention Center the other night.
His marriage with Elizabeth, a German-American former stewardess of Philippine Airlines, was annulled in 2000 upon her initiative. But their bond remained strong through the years, with her still using his family name as the marriage has not been nullified by the Catholic Church.
They have three children – Paolo, Davao City Mayor Sara and Sebastian – and 10 grandchildren.
Elizabeth, who was diagnosed in 2015 with Stage 3 breast cancer, went on a month-long trip with Sara and some friends and relatives around Mindanao and the Visayas to campaign for her ex-husband before the run-up to the May 2016 presidential elections.
It was a delight for their children and guests to see the President and Elizabeth dancing sweetly to Frank Sinatra's "The Things We Did Last Summer." They also kissed as the President joined Elizabeth on stage with an LED background of a photo of her in a red dress, holding flowers.
The crowd also witnessed during the birthday party the endearment the President still shares with Elizabeth even to this day when they lead separate lives.
Duterte also makes it a point to see his children and grandchildren whenever he comes home for the weekend, which he has never failed to do since assuming office on June 30, 2016.
In his speeches, the President acknowledges that he has two wives—Elizabeth and common-law partner Honeylet Avanceña, with whom he has a 14-year-old daughter Veronica, also called Kitty. – With Alexis Romero